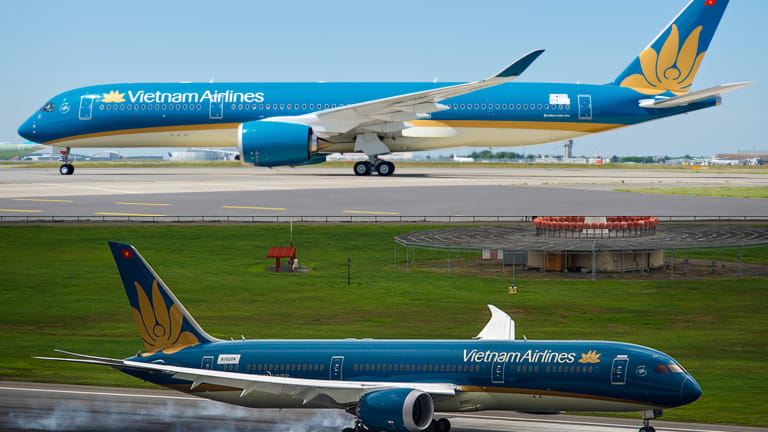 Boeing 787 and Airbus A350 Will Both Enter Vietnam Air Fleet
Vietnam Air will become the second carrier in the world, after Qatar Airways, to fly the two most modern aircraft, the Airbus A350 and the Boeing 787.
NEW YORK ( TheStreet) -- Vietnam Airlines on Tuesday is at the center of world aviation as it prepares to become only the second airline to take delivery of both the Airbus A350XWB and the Boeing 787 Dreamliner.
Airbus delivered an A350 to Vietnam Airlines June 30 in Toulouse, France. On Monday, Boeing (BA) - Get Report staged an event at Washington Reagan National Airport, displaying the 787-9 that is scheduled to be delivered to Vietnam Airlines later this month and declaring that Vietnam could take delivery of eight 787-10s going forward.
The carrier has said it plans to acquire 14 A350s and will use the first to fly from Hanoi to Paris, about 5,700 miles, while its first 787 will serve London Heathrow.
Teal Group analyst Richard Aboulafia said he expects the new aircraft also will enable Vietnam to fly non-stop to the United States.
"Let's say you are a flag carrier from a medium-sized economy," he said. "All of a sudden, you've got long range twin-engine jets that allow you to access the U.S. market.
"People won't have to take Singapore or Emirates," he said. "You can offer them non-stop service with efficient aircraft.
"Vietnam is at the epicenter of route fragmentation," Aboulafia said. "Routes are getting smaller and more direct. That's something that everyone anticipated except for Airbus in building the A380 and thinking 'people will always want to change in Tokyo or Frankfurt.'"
Both new aircraft can fly long distances. The A350-9 can fly 7,600 miles while the 787-900 can fly 8,500 miles. In the past, only larger aircraft could carry sufficient fuel to fly such long distances with full loads. That made it inefficient to fly routes that didn't provide enough traffic to fill the aircraft without significant fare discounting.
At the moment, Qatar Airways is the only airline to fly both the A350 and the 787. Qatar took delivery of the first A350 in December 2014. It now operates four aircraft and expects to operate five by the end of 2015.
Qatar has said that in March 2016 it will begin A350 service on Doha-New York, a 6,689-mile route, and Doha-Boston, a 6,514-mile route. Lufthansa also has said it will begin flying the A350 from its Munich hub in late 2016.
At the Washington ceremony on Monday, Pham Viet Thanh, chairman of Vietnam Airlines, said in a prepared statement, "I'm glad to introduce the very first Boeing 787 Dreamliner for Vietnam Airlines, marking the start of 19 of these new aircraft to expand our fleet and operations."
At the event, Vietnam Airlines and Boeing signed a "memorandum of collaboration" toward the goal of Vietnam Airlines' fleet replacement and expansion. Boeing said it has offered the airline eight 787-10 and eight 777-8Xs, but the two didn't specifically announce a deal.
In announcing delivery of the A350 to Vietnam Airlines last month, Airbus noted that Vietnam air traffic is expected to grow at 8.4% annually over the next 20 years, a higher than average rate.
"Vietnam Airlines' no. 1 A350 XWB - an A350-900 version - initially will be flown on the carrier's Hanoi-Ho Chi Minh route, and will begin long-haul services from these two Vietnamese cities to Paris, France later in the year," Airbus said. "The airline will introduce a total of 14 A350-900s into its fleet, composed of 10 received from Airbus and the other four from lessors."
Vietnam Airlines became a member of the Skyteam alliance in 2010.
Boeing shares rose 0.1% in trading Tuesday. The stock is up about 8% year to date.
This article is commentary by an independent contributor. At the time of publication, the author held no positions in the stocks mentioned.