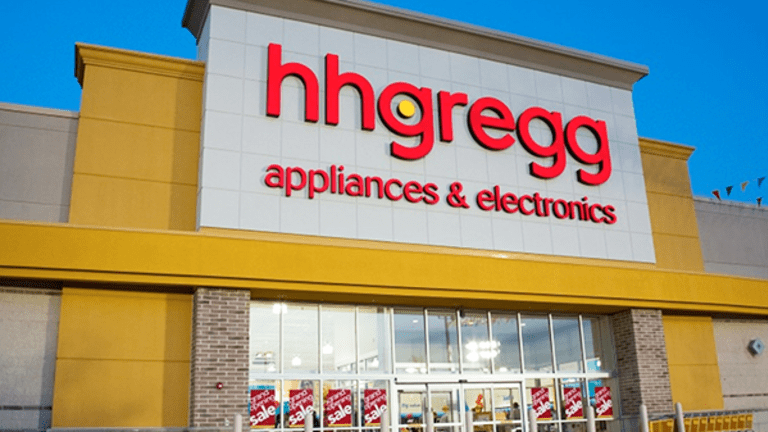 Video: Bankrupt HHGregg Seems Pumped Up About Going Out of Business, Judging by this New Commercial
HHGregg moves to get people excited about its going out of business sales.
HHGregg moves to get people excited about its going out of business sales.
HHGregg (HGG) apparently wants shoppers to know it went down fighting. 
The struggling electronics and appliance retailer began liquidating its assets on April 15 after failing to find a buyer following an early March Chapter 11 bankruptcy filing. The company plans to close all of its 220 stores by the end of May, resulting in roughly 5,000 layoffs across the U.S.
HHGregg recently began running a going out of business commercial (seen below), which sounds like it's set to music fresh off the movie Gladiator. A little over the top, perhaps, given the gravity of the situation. 
Once HHGregg's liquidation sales are through, Best Buy (BBY) - Get Report could be one of the biggest winners according to Deutsche Bank analyst Mike Baker.
HHgregg mostly sold furniture and appliances including chairs, refrigerators and tables. But, the company also hawked a good amount of electronics such as computers, wearables, headphones and everything else for which Best Buy is known. More than 32% of Best Buy's annual sales come from consumer electronics, while more than 8% are derived from appliances.
In March, Best Buy reported a fourth-quarter revenue miss and a same-store sales slip of 0.9% in North America. Executives blamed weak revenue on declines in the phones, tablets, wearables, computing and drones categories. So with HHgregg vanishing, those struggling categories for Best Buy may improve.
Best Buy CEO Hubert Joly told analysts at the time that some $1 billion in sales would be up for grabs should HHGregg disappear. Baker says if Best Buy were to pick up 20% of HHGregg's market share in appliances and electronics, it would add about $335 million in sales, or 0.9% to same-store sales.