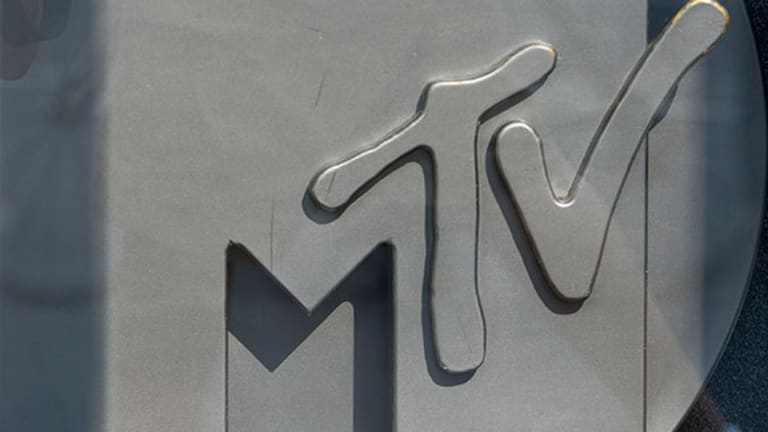 Philippe Dauman Loves 'Sponge Bob, Square Pants'
Viacom CEO Philippe Dauman may not seem like the kind of guy to run Nickelodeon or MTV, but after a stellar 2013, he has the media company at the top of the charts.
NEW YORK (TheStreet) --It's always a bit strange to see Viacom (VIA) - Get Via Renewables, Inc. Class A Report CEO Philippe Dauman at investor conferences talking Sponge Bob Square Pants or Dora the Explorer.
The button-down Dauman, 59, whose style could be called aristocratic, may not seem like a natural fit for a children's television network yet alone MTV, the consummate young-teens, early-20s cultural powerhouse that keeps on giving some 30 years after it all but created the music video.
Yet Dauman is coming off of his best year ever at Viacom since taking over the entertainment company's day-to-day operations in 2006. Improved rating and a strengthening advertising market allowed Dauman to remake and refine his flagship networks, which have struggled when ratings have faltered.
"He's managed to institute a pretty good turnaround on the cable-network side and buy back a boatload of shares, and make it the best performing large cap media company last year," Tony Wible, an analyst at Janney Montgomery Scott in Philadelphia, who has a "buy" rating on Viacom shares, said in a phone interview.
Viacom, which is scheduled to report its fiscal first-quarter earnings before the market opens on Thursday, outperformed its Big Media peers - Time Warner (TWX) , 21st Century Fox (FOXA) - Get Fox Corporation Class A Report, Disney (DIS) - Get Walt Disney Company Report and Comcast (CMCSA) - Get Comcast Corporation Class A Report -- over the past 12-months, jumping an enviable 38%. If Wible is right that the advertising market is expanding faster-than-expected, Viacom could sustain that performance through 2014.
During the company's investor conference call, Wible said he expects Viacom executives to offer further details on its share buyback plans. Viacom purchased $2.7 billion worth of its own shares during the quarter ended September, when it doubled the size of its buyback program to $20 billion
Analysts are forecasting Viacom will earn $1.16 a share on sales of $3.29 billion, according to data compiled by Bloomberg.
For its fiscal fourth-quarter, Viacom posted a 25% jump in net income to $806 million as advertising revenue increased 10%. For the quarter ended December, Dauman has tried to temper expectations by forecasting advertising to show a percentage increase in the mid-single digits.
Dauman has had success of late attracting greater pools of advertising dollars for newer hit shows such as "Paw Patrol," while extracting ever higher retransmission fees from the pay-TV providers who carries those Viacom network along with BET, Centric, VH1 and Comedy Central.
That's vitally important for a company that gets 90% of its annual operating income from its television properties, you're only as good as your latest hit show.
Viacom also plans to start a new children's TV channel called My Nickoledeon Junior, that initially will be available in the coming months to customers of Verizon Commuications' FiOS TV service, and then through other pay-TV operators, the Wall Street Journal reported on Jan. 14.
Chances are, Dauman will be talking Dora the Explorer at Thursday's conference. Of course, anyone receiving an annual compensation package valued at $37.17 million, as Dauman received in 2013, would probably be comfortable talking for hours about Sponge Bob Square Pants.
Viacom shares were falling 1.1% to $81.38 in afternoon trading.
--By Leon Lazaroff in New York.
>Contact by Email.