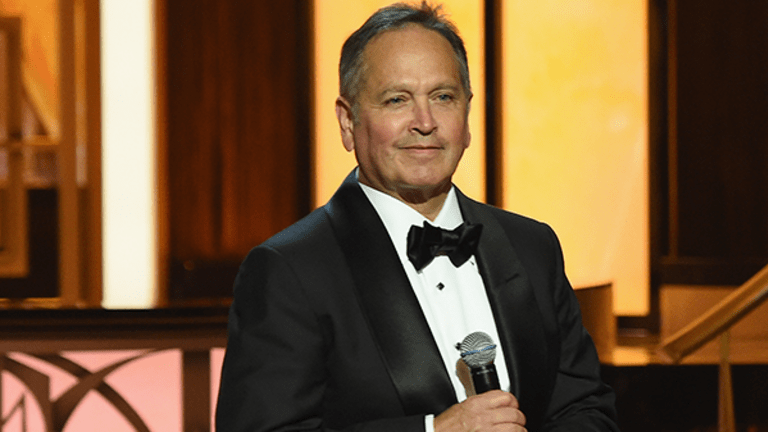 Viacom Takes First Big Step in Turnaround With Rebranding of Spike
Kevin Kay, a longtime television executive at the MTV and Comedy Central owner, talks about the company's efforts to transform work culture and remake its cable TV networks.
In late January, Viacom Inc.  (VIAB) - Get Report held a company party in Los Angeles to celebrate the opening of its new West Coast headquarters in Hollywood after a longtime stay in nearby Santa Monica, Calif.
CEO Bob Bakish was at the center of the festivities, joined by nonexecutive vice chairman Shari Redstone, the controlling shareholder who had been all but designated persona non grata by former CEO Philippe Dauman. Gone was the overhang of the bitter, very public feuding about longtime chairman Sumner Redstone's health, holdings and sex life that had weighed on Viacom's employees, grinding creative energies to a halt.
On this day, Snoop Dogg performed, Shari Redstone spoke, and for a few fleeting moments, Kevin Kay, a veteran TV executive at the company, thought he was in a time warp.
"It was like, 'We have a new leader, we have a new board of directors, and we're having a party like we used to have back in the old days,'" Kay said, speaking at Viacom's New York headquarters in Times Square. "All of a sudden, it felt like we worked in a whole new company."
Bakish, who officially took over as CEO in December following an interregnum overseen by Thomas Dooley and then Bakish as acting CEO, has cautioned investors not to expect to see the fruits of a Viacom turnaround until 2019. Revenue has been flat or falling for more than two years as once-proud networks such as MTV sputtered, taking advertising sales with them. Earnings before some costs including taxes fell a whopping 33% in the two years ended in September, according to Bernstein Research.
Most prominently, Paramount Pictures, Viacom's Hollywood studio, lost $445 million last year, and its film pipeline continuesto underwhelm.
Yet if there is evidence of change seven months into Bakish's reign, it may be exemplified by the pending transformation of Spike into the Paramount Network, which will officially debut early next year. The decision to rebrand Spike was announced in February as Bakish designated six of the company's more than 20 networks -- Nickelodeon, MTV, Nick Jr., BET, Comedy Central and Paramount -- as flagship channels that will get the bulk of new programming dollars and pay-TV distribution.
Not surprisingly, those six networks accounted for 85% of the company's operating income in 2016. 
Spike's rebranding -- its second, as it became Spike in 2003 after 20 years as the Nashville Network -- comes as subscriptions to pay-TV declined faster in the first quarter than at any time in the industry's history. The current pace of cord-cutting would put the decline at 3.4% for 2017, according to UBS. Fewer subscribers has everyone in the business on edge -- not just Bakish and Kay.
Nonetheless, Viacom is particularly vulnerable given that young people, its core constituency, are watching less cable and broadcast TV than other demographics. Millennials have far more places to go for video entertainment: Facebook Inc. (FB) - Get Report , BuzzFeed Inc. and Vice Media Inc., along with Netflix Inc.  (NFLX) - Get Report , Hulu LLC and Amazon.com Inc.  (AMZN) - Get Report .
For Viacom, the only option is to invest in programming in hopes that it can win back viewers -- and increase its advertising rates, Kay said. The Paramount Network, he said, is Viacom's entry into high-quality premium TV exemplified by the subscription services, HBO, Showtime and Starz, though Kay adds that a more applicable model is the flagship of ad-supported AMC Networks (AMCX) - Get Report .
"We're in a world right now where your network has to be 'must have,' and the only way you become 'must have' is to deliver what consumers are demanding," said Kay, who has overseen Spike for 14 years and was recently named the head of the Paramount Network, TV Land and CMT. "If we can't get [rate] increases from our advertisers for doing higher-quality programming, we're doing something seriously wrong." 
Over the course of 10 years, current and former employees interviewed for this story related how Viacom fractured into many parts without a whole.
Cable networks operated separately from each other, rarely sharing programming, talent or ideas. Paramount Pictures and its television production business planned and executed a creative pipeline with little regard for the programming needs at Nickelodeon, MTV, Comedy Central or BET.
Bakish has made breaking down those barriers a central theme in talks with Viacom's nearly 10,000 employees. Every two weeks, network executives meet with Bakish to discuss programming ideas and trends. Also in the mix are executives from Paramount, which hired former Twenty-First Century Fox Inc. (FOXA) - Get Report movie chief Jim Gianopulos to replace Brad Grey, who headed the studio for 12 years, overlapping Dauman.
Grey died in May at age 59, just three months after leaving the company. 
"Everyone was on their own before," Kay said. "It was like Spike is your brand, and Comedy Central is your brand, and TV Land is someone else. You'd never be in the room with people from another network."
On that note, Kay is moving TV Land comedy "American Woman" to the Paramount Network, and secured the Weinstein Co.'s dramatic series "Yellowstone," starring Kevin Costner, for next spring. Kay has also green-lighted a six-episode documentary about the 2012 shooting death of unarmed Florida teenager Trayvon Martin, also produced by Weinstein with rapper Shawn 'Jay-Z' Carter.
Most reflective of Bakish's eagerness for Viacom's TV network group to share talent and ideas with Paramount Pictures is the development of its 1996 film "The First Wives Club" starring Diane Keaton, Goldie Hawn and Bette Midlerinto a television series. In years past, Kay said, Paramount's television production group treated Viacom's TV networks no different than it would stations owned by Time Warner Inc. (TWX) or Walt Disney Co. (DIS) - Get Report .
True to form, Paramount sold "13 Reasons Why" to Netflix, a blow to Viacom millennial-focused networks desperate for hits and the distribution leverage that goes with them. The same goes with talent. Kay said many within the company lament that more effort wasn't done to find a place for comedian Samantha Bee, who left Comedy Central's "The Daily Show" for Time Warner's TBS in March 2015.
"Under the prior leadership, it was, 'You guys run your own business, you have your own P&L," Kay said, referring profit and loss. "My feeling was always, 'What about us? We're here. We're in the same company.' There were lots of ideas, but we weren't able to connect."
To be sure, Viacom remains a company with an uncertain future. The board cut its quarterly divided in half in September, providing new management with more liquidity. But long-term debt stands at roughly $11 billion, a halting reminder that Dauman spent nearly $10 billion on share buybacks between October 2012 and March 2015, at an average price of $73.58.
On Thursday afternoon, Viacom shares were down 3.1% to $33.99, leaving the stock down 3.2% in 2017, a reminder that changing Viacom's corporate culture is but a step on the road back to recovery.