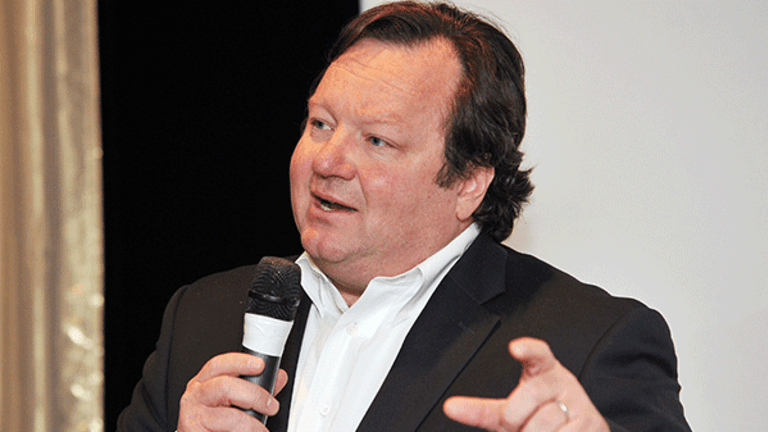 Viacom's Nonsports Skinny Bundle Might Actually Be Profitable
The company is spearheading an effort to create a skinny bundle without sports or news that consumers could access as a standalone digital service or through their cable TV provider.
It was scoff heard 3,000 miles away -- right into the office of Viacom (VIAB) - Get Viacom Inc. Class B Report CEO Bob Bakish.
Disney (DIS) - Get Walt Disney Company Report CEO Bob Iger, speaking on his company's May 9 quarterly conference call, chided any company or any consumer who would be so foolish as to create or subscribe to a bundle of cable TV networks that didn't include sports -- or, heaven forbid, his ESPN.
"Someone was out there today talking about a $10 bundle that didn't include sports," Iger said in an answer to an equity analyst's question. "I don't know how many channels you could fit into a $10 bundle, but I would imagine there wouldn't be any channels that were particularly attractive. Maybe someone will go out with a very low-cost set of channels. But I don't see how that's practical in terms of gaining much penetration."
Well, Bakish, who was officially promoted to CEO at Viacom in December, happens to be working on just such a bundle. And unlike the wave of newfangled digital pay-TV platforms from AT&T's (T) - Get AT&T Inc. Report DirecTV, Hulu, Dish Network (DISH) - Get DISH Network Corporation Class A Report and Alphabet's (GOOGL) - Get Alphabet Inc. Class A Report YouTube, Bakish's package of entertainment networks might actually turn a nice profit.
Viacom, which declined to comment on its plans beyond Bakish's recent comments, is working to create a skinny bundle of entertainment networks at a price point of $20 per month. Other companies that may add their channels to such a package include Discovery Communications (DISCA) - Get Discovery, Inc. Class A Report , AMC Networks (AMCX) - Get AMC Networks Inc. Class A Report and Scripps Networks Interactive (SNI) .
Bakish's motivation comes in part from having been largely left out of the new digital multi-channel offerings. All of its core networks -- MTV, Nickelodeon, Nick Jr., Comedy Central, BET and Spike (which will be remade as the Paramount Channel at the start of 2018) are only carried by SlingTV.
Earlier this week at a JPMorgan (JPM) - Get JPMorgan Chase & Co. Report investor conference in Boston, Bakish took aim at the new offerings, most of which carry more than 45 networks, with all of them carrying Disney's ESPN.  
"That tier is not really economically sustainable," he said. "Talking to people that run those companies, they say things like 'very difficult to make money here,' which is code for losing money on a variable basis. One of those guys that are priced at $40 has a product cost of $46."
It just so happens that Hulu's Live TV service is priced at $40 per month. Hulu is a joint venture between Disney, 21st Century Fox (FOXA) - Get Fox Corporation Class A Report , Comcast's (CMCSA) - Get Comcast Corporation Class A ReportNBCUniversal and Time Warner (TWX) . Among the other new entrants into digital multichannel pay-TV, YouTube TV costs $35 per month; Sony's (SNE) - Get Sony Corp. Report PlayStation Vue offers a basic $40 per month package, though it contains a limited number of sports networks.
DirecTV Now offers package of 150 channels or more for $50 and $60 per month for the first year before they balloon to $90 and $110. But it's most attractive package is likely to be found in its $35 per month offering. And that's where AT&T's multi-channel digital product could struggle to be profitable.
"By stacking their base package with all the best networks - likely a requirement for getting the programming contracts at all - they still have the same problem that was highlighted initially," wrote MoffettNathanson back on Nov. 29. "Put simply, they aren't going to make any money."
DirecTV Now's people freely admit that their main product isn't meant to be a skinny bundle, which highlights the difficulty in creating genuinely low-priced bundles that involve the major broadcasters and their most expensive cable TV networks. Only Dish's Sling TV includes offerings that could be called skinny bundles.  
In addition to pursuing a standalone digital service, Viacom is also seeking to convince pay-TV providers such as Charter Communications (CHTR) - Get Charter Communications, Inc. Class A Report to offer an entertainment package of channels that exclude higher-priced sports and news networks, according to a source close to the matter. Earlier this year, Charter relegated Viacom's core six networks to its non-basic channel packages for new subscribers and those changing their service packages, moves that could cost Viacom money.
Whether or not any of these new digital pay-TV platforms are profitable remains unclear. All of the media companies contributing networks to these services insist they're getting paid the same affiliate fees that they receive from cable TV operators. 
If true, much of the expense goes to owners of sports networks and 24-hour news channels. As is well known, ESPN charges pay-TV providers more per subscriber than any other network. If you subscribe to cable TV, nearly $8 of your monthly bill goes to Disney to pay for ESPN. Time Warner's TNT is a distant second at about $2 per subscriber per month.
Fox News is the fourth-highest at about $1.55 per month per subscriber (after the Disney Channel) followed by the NFL Network and Fox Sports 1. ESPN 2 is actually the ninth-most expensive network at nearly $1. By contrast, the combined cost of Viacom's six core networks -- the six networks Bakish said will occupy the great majority of the company's time and money --  is $2.47, according to data compiled by SNL Kagan. 
That's it: $2.47 to carry Viacom's six core networks. If Bakish's entertainment package included Discovery's 12 networks, the cost would increase by $2.03, according to SNL Kagan. Throw in channels from AMC Networks at a cost of $1.19 per subscriber per month and Scripps Networks Interactive at 81 cents per sub, and the combined fees for Bakish's entertainment bundle would be an even $6.50 per month.
If subscribers were willing to pay $20 per month for a truly skinny bundle free of sports and news, Bakish might have a very profitable product. 
"If it's the right content, it could be successful," said Ezra Kucharz, former president of CBS Local Digital Media. "If you're in the commoditized, perishable content business, your business will have some serious issues. If it's high-quality scripted material, it could work but only if it's the right content."
The move to digital bundles comes amid an accelerating decline in pay-TV subscribers. Every network owner is scrambling to offset so-called cord-cutting. In the first quarter, subscribers declines reached their fastest pace ever. The drop highlighted both the transition to digital distribution away from cable TV as well as the increasing preference of consumers to create their own bundles, collections that usually include the dominant subscription video-on-demand services, Netflix (NFLX) - Get Netflix, Inc. Report , Hulu and Amazon (AMZN) - Get Amazon.com, Inc. Report Prime.
In a broad survey conducted by media consultancy Magid Advisors, 52% of households with a television said they were "interested or very interested" in paying for a skinny bundle, defined as a smaller number of channels at a lower price than traditional cable TV or satellite. On average, they said they'd be willing to pay $48 per month for such an offering.
"Skinny bundles without sports, without news, are not going to be big, big hits," Magid Advisors president Mike Vorhaus said from Los Angeles. "They'll be solid revenue producing, modest plays. This won't be a huge win for Viacom, but they'll have another positive contributor to revenue."
For Viacom, such an offering could help to bolster revenue, which steadily declined under former CEO Philippe Dauman. Viacom is in the midst of a wholesale makeover both at its cable networks and Paramount Pictures, its largest asset. Creating a digital platform to showcase nonsports networks could become a new source of cash and a means to remain important to cable TV operators. 
"The transformational opportunity is to really bring in a new entry segment at a much lower price point, Bakish added on Monday. "It's designed to be a path to bring someone into high-quality entertainment at a low price. And ultimately, be a tier that people can trade up from and trade down to as household needs change."
Jim Cramer and the Action Alerts PLUS team have some thoughts about Comcast and other holdings of their investment club. To find out what they are telling their members, get a free trial subscription to Action Alerts PLUS.
Editors' pick: Originally published May 25.