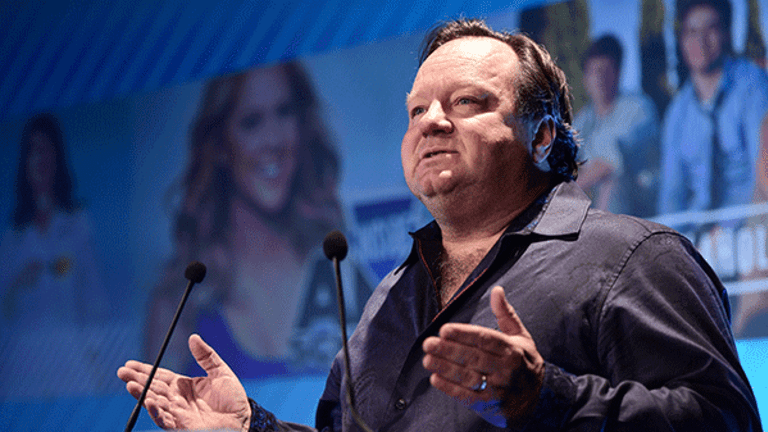 Viacom's Bakish Focuses on Breaking Down Silos Amid Ongoing CBS Merger Talks
The acting CEO says the media company is poised for a turnaround as he focuses on improving operations and not being distracted by ongoing merger talks with CBS.
Bob Bakish, who holds the title of acting president and CEO of Viacom (VIAB) - Get Viacom Inc. Class B Report , is trying to get all parts of the media conglomerate to work with each other.
After more than 10 years of running Viacom's international operations, Bakish returned to New York this fall to run the owner of MTV and Paramount Pictures after the ouster in August of former CEO Philippe Dauman, who lost a long-running power struggle to assert his authority over the company.
"What became very apparent to me when I returned to New York was that the company was being run in silos," Bakish said at the UBS Global Media and Communications Conference in New York on Monday. "There's opportunities to take what we've learned from the product side and import them."
Toward that end, Viacom on Monday replaced the executive in charge of managing U.S. distribution for its pay-TV networks, which include MTV, BET, Comedy Central and Nickelodeon, by promoting Tom Gorke, previously in charge of sales and business development for the group. Denise Denson, who held the position, is leaving the company, Viacom said.
A week ago, Viacom replaced the chief operating officer of Paramount, hiring Andrew Gumpert from Sony Pictures Entertainment. Gumpert, who will report to studio chairman Brad Grey, replaced Frederick Huntsberry, who also left the company.
Bakish made clear that he's spending considerable time focused on both Paramount and MTV, both of which have lost considerable ground to rivals. Paramount, he said, has had "two rough years," which has forced the studio to re-examine its movie slate financing.
MTV, meanwhile, has struggled against a bevy of networks focused on Millennials, although internationally it has grown its audience for three straight years, he said. The network, he added, can increase advertising as its audience expands through better distribution.
"I'm confident MTV's audience story will begin to turn by late first quarter," he said.
As for speculation that Viacom was preparing to make an investment in Vice, Bakish shot down those reports, declaring "we're not doing a Vice deal." 
But more than jump-starting operations at one particular network, Bakish said it was essential that he convince investors that Viacom remains a global media conglomerate with television and film holdings that can increase revenue once the operational side of its business is improved.
Viacom revenue has fallen in each of the past three years. 
"Lost in some of the drama of the past 18 months is what an incredible company Viacom is," Bakish said, referring to the Dauman's legal battles with Shari Redstone, daughter of the company's controlling shareholder, Sumner Redstone, and the elder Redstone's own haggling with former girlfriends. 
"There's a lot that we're doing to redefine what it means to be a media company in the digital age," he said.
As for the ongoing conversations between Viacom's board of directors and CBS over a potential merger, Bakish said he's focused on the company's operations and isn't distracted by the talks. Earlier in the day, CBS (CBS) - Get CBS Corporation Class B Report CEO Leslie Moonves was similarly circumspect about the negotiations between special committees of both companies.
COO Tom Dooley was promoted to interim president and CEO in August after Dauman's dismissal, which ended a web of litigation but handed the company's former CEO a handsome $73 million severance package despite Viacom's losing more than 50% of its market value over the previous two years.
The company in late October subsequently named Bakish to the top job, effective Nov. 15.
For Viacom, the decision to hire Dauman's replacement from within the company made good sense. If Viacom does agree to an acquisition by CBS, Bakish is very unlikely to top Moonves for head of the merged company, yet it is likely he would be retained to run Viacom's cable TV networks.
For that reason, Bakish was also given the title of CEO of the Viacom Global Entertainment Group, combining the company's international networks with its music and entertainment holdings. CBS doesn't own any networks apart from its flagship network and its premium Showtime service, although it does have the online subscription-based All Access service, which taps its extensive library.
Shares of Viacom rose 0.3% to $36.63 on Monday, paring their 2016 loss to 11%.