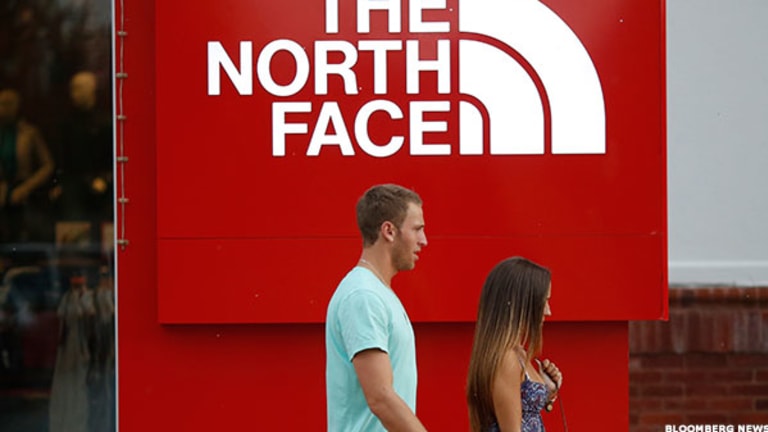 VF Corp. Blows Past Earnings Estimates
VF Corp. shares are surging 4% after the company said net income jumped 14% year over year and announced a four-for-one stock split and dividend hike.
NEW YORK (TheStreet) - VF Corp. (VFC) shares were surging 4% as the market opened Monday, after it reported net income that jumped 14% year over year and announced a four-for-one stock split and dividend hike.
The parent company behind North Face, Vans and Timberland said third-quarter profit rose 13.7% to $433.7 million, or $3.89 a share, from the year-earlier period. Adjusted earnings per share, which excludes 2 cents a share related to the acquisition of Timberland, rose 11% to $3.91 a share. Last year's third-quarter adjusted earnings of $3.52 a share excluded 10 cents a share of acquisition-related expenses.
Revenue, which includes net sales and royalty income, rose 4.7% to $3.26 billion.
Wall Street was looking for $3.78 a share on $3.34 billion of revenue, according to Yahoo! Finance.
The company's gross margin improved 90 basis points in the quarter from a year earlier to 47.6%.
VF Corp. also announced a four-for-one split of the company's common shares to be payable in the form of a stock dividend. Shareholders of record as of the close of business on Dec. 10, will receive three additional shares of common stock for each share of common stock they own, payable on Dec. 20, 2013.
VF Corp. also increased its quarterly dividend by 21% to $1.05 a share.
Shares were rising 3.9% to $212.30.
"VF is at its best when we empower our brands to deliver innovative products, connect with consumers, and operate with efficiency and discipline," Eric Wiseman, VF Chairman and CEO, said in an earnings release. "Our third-quarter results validate our growth strategy and our ability to deliver strong results in a challenging economic environment."
"Our solid year-to-date results allow us to make significant, incremental brand investments while still delivering on our long-term earnings growth target," Wiseman said. "The announced 21% increase in our dividend and stock split demonstrate the confidence we have in our ability to consistently generate strong returns for VF shareholders."
The company reiterated its guidance for the full year.
Revenue is still expected to be approximately $11.5 billion in 2013. Full-year adjusted earnings per share guidance remains at $10.85 (or $10.78 on a GAAP basis), up 13% over 2012, even with incremental marketing expenses of $40 million, or about 25 cents in earnings per share. The company recognized $10 million in the third quarter and another $30 million is expected to be recognized in the fourth quarter, VF Corp. said. The company upped its gross margin for the year to 48%, an increase of 150 basis points over 2012.
-- Written by Laurie Kulikowski in New York.
Disclosure: TheStreet's editorial policy prohibits staff editors, reporters and analysts from holding positions in any individual stocks.