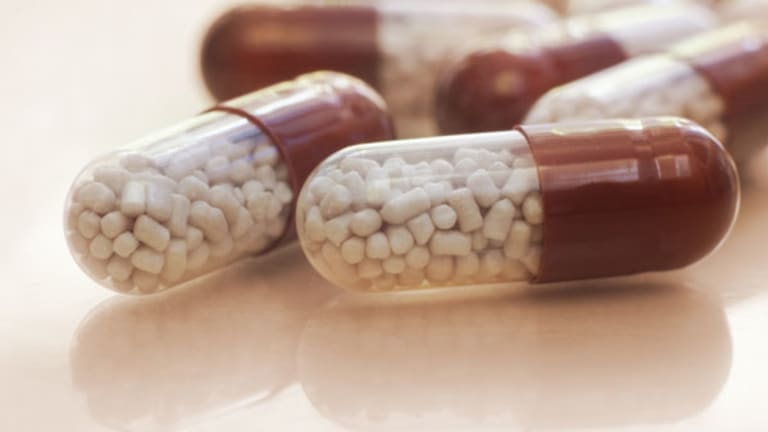 Vertex Unveils More Promising Hep C Drug Data
Telaprevir, which its developing with J&J, may be a breakthrough treatment for hard-to-treat patients, according to new data.
An experimental hepatitis C drug from Vertex Pharmaceuticals (VRTX) - Get Vertex Pharmaceuticals Incorporated Report was effective in treating patients who failed to respond previously to currently prescribed hepatitis C drugs, according to preliminary data presented at a liver disease meeting in Europe Thursday.
The Vertex drug, telaprevir, has already shown in previous studies the ability to cure hepatitis C patients who are newly diagnosed and haven't yet been treated. Vertex and
Johnson & Johnson
(JNJ) - Get Johnson & Johnson Report
are co-development/marketing partners with the drug.
The new clinical data, however, shows telaprevir may also be a breakthrough treatment for so-called non-responder or relapsed hepatitis C patients. These are patients considered the hardest to treat because they either did not respond to current drugs like interferon and ribavirin, or their virus returned after treatment.
The new clinical data on telaprevir in treatment-resistant hepatitis C patients, while positive, is still preliminary and will have to be confirmed with longer-term patient follow-up.
But if telaprevir is found to be effective for these hardest-to-treat hepatitis C patients, the commercial potential for Vertex is significant. There are an estimated 350,000 hepatitis C patients in the U.S. who have failed current interferon-ribavirin therapy and are waiting for something new and more effective to be approved so they can be retreated, and hopefully cured.
This is one of the major reasons why the race to develop and market a new hepatitis C drug is so frenzied. Vertex and J&J are facing off with companies like
Schering-Plough
( SGP),
InterMune
(ITMN)
,
Roche
and
ViroPharma
(VPHM)
-- all of which are hoping that their respective hepatitis C drugs are superior or can be approved first to be the go-to drug for treatment-resistant patients.
Researchers presented the new telaprevir data from the Study 107 clinical trial Thursday at the annual meeting of the European Association for the Study of Liver Disease, being held this week in Milan, Italy.
This new study enrolled hepatitis C patients from the control arms of Vertex's phase IIb telaprevir studies, known as PROVE 1, PROVE 2 and PROVE 3. These patients failed to respond or relapsed after interferon-ribavirin therapy but were then offered the chance to roll over to a treatment combining telaprevir plus interferon and ribavirin.
After four weeks with this telaprevir combination therapy, 82% of these hard-to-treat patients (49 of 60 patients) showed a significant reduction in the amount of hepatitis C virus in their body.
When measured with a more sensitive test that can detect a commonly used standard for when the virus falls below undetectable levels, the number of patients responding after four weeks fell to 56%.
Still, that's much higher than is ever seen when these types of patients are retreated with just interferon and ribavirin, suggesting that the addition of telaprevir is making a big difference and could lead to higher cure rates.
Based on previous studies, roughly 10% of treatment-resistant hepatitis C patients who are then retreated with interferon and ribavirin are successfully cured of their disease.
So far, 16 of the patients in Vertex's Study 107 have continued telaprevir treatment through 12 weeks and the antiviral response remains strong, according to data presented Thursday. All patients will continue treatment with the telaprevir combination through 12 weeks, then be switched to interferon and ribavirin alone for another 12 or 36 weeks.
The number of patients cured of their hepatitis C won't be known until six months after their treatment ends. Under current treatment guidelines, a patient must be cleared of the hepatitis C virus six months after treatment in order to be deemed cured.
That's why Thursday's telaprevir data are promising and exciting, but not conclusive.
"What we're showing here is unprecedented but early viral response data that gives us an indication that we have the only drug in our class with the potential to offer some of these patients a cure," said Kurt Graves, Vertex's chief commercial officer, speaking from the EASL meeting in Milan.
Schering-Plough also has run studies of its hepatitis C drug boceprevir in treatment-resistant patients, but the results so far have not been as strong as those seen Thursday with telaprevir.
Vertex is running a separate, larger study of telaprevir in treatment-resistant patients known as PROVE 3. Interim results from this study will start to flow into Vertex in May, although public disclosure of the data likely will wait until after the company meets with the U.S. Food and Drug Administration.
Thursday's positive results from Study 107 strongly hint at likewise positive results from PROVE 3, leading to some speculation that Vertex may seek an early FDA approval.
Graves deferred such talk, stating that any discussion of a telaprevir filing based on PROVE 3 (and Study 107) data is premature.
Telaprevir is a pill designed to attack hepatitis C by inhibiting the protease enzyme, one of the key enzymes the virus uses to copy itself. This "direct antiviral" approach differs from current hepatitis C drugs, which boost the immune system's ability to tamp down and eliminate the virus.
Phase III studies of telaprevir in newly diagnosed hepatitis C patients are ongoing, with data expected in mid-2010.
Vertex shares closed Wednesday down 3.9% at $25.95.
Adam Feuerstein writes regularly for TheStreet.com. In keeping with TSC's editorial policy, he doesn't own or short individual stocks, although he owns stock in TheStreet.com. He also doesn't invest in hedge funds or other private investment partnerships. Feuerstein appreciates your feedback;
to send him an email.