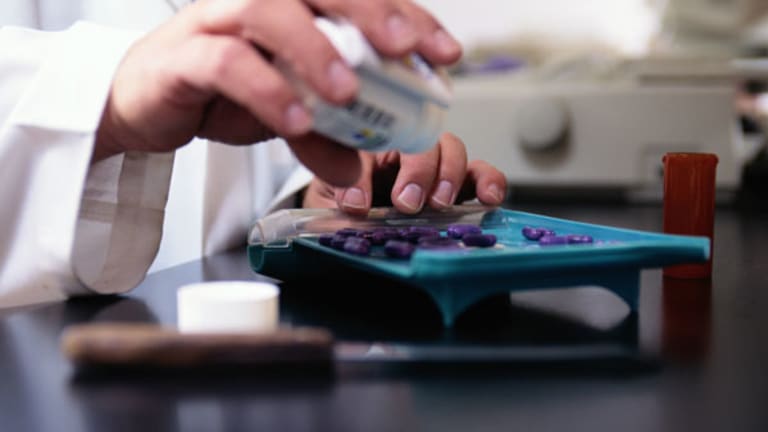 Vertex: Stellar Data for Cystic Fibrosis Drug
Results from a late-stage study prove Vertex's VX-770 to be the first drug to unlock a genetic fix for a specific type of cystic fibrosis.
Updated with stock price.
CAMBRIDGE, Mass. (
) --
Vertex Pharmaceuticals
(VRTX)
released clinical trial results Wednesday demonstrating that an experimental drug VX-770 significantly improved lung function by more than 10% and provided other clinical benefits in adults with a specific form of cystic fibrosis.
The results from the phase III study represent a potential scientific breakthrough because VX-770, if eventually approved, would be the first and only drug to repair the underlying genetic cause of cystic fibrosis rather than merely treating the symptoms of the disease.
Vertex shares were up 20% to $45.90 in Wednesday pre-market trading.
VX-770 corrects a genetic mutation found only in approximately 4% to 7% of the 70,000 cystic fibrosis patients worldwide. The number of cystic fibrosis patients who stand to benefit from VX-770 may be small, but the results from the study are so strong and clinically meaningful that Vertex stands to generate peak annual sales from VX-770 in the range of $400 million to $600 million if the drug is priced comparable to other expensive treatments for rare, genetic disorders.
Vertex said Wednesday that it plans to seek regulatory approval for VX-770 in the second half of the year.
Results from the phase III study known as STRIVE reported by Vertex showed that treatment with VX-770 through 24 weeks resulted in a mean absolute improvement in lung function of 10.6% compared to placebo. This clinical benefit in favor of VX-770 -- the primary endpoint of the STRIVE study -- was highly statistically significant and was even sustained through 48 weeks of treatment. The STRIVE study enrolled 161 patients aged 12 and older.
To put the 10.6% absolute improvement in lung function in perspective, Vertex designed the phase III study with the intent that a 4.5% improvement would be enough to yield positive results.
Wall Street's professional biotech investors, as a group, were expecting positive results from the VX-770 study but just barely. In a survey of investors conducted by ISI Group biotech analyst Mark Schoenebaum released Tuesday, 87% of respondents believed VX-770 would improve lung function by 5% or less over placebo. Just 6% of the investors in Schoenebaum's poll believed VX-770 could improve lung function by 10% or more.
Vertex shares closed Tuesday at $38.22 but the stock could easily move higher by $3-5 a share Wednesday based on these better-than-expected VX-770 data.
VX-770's robust data in cystic fibrosis is bolstered by positive secondary efficacy endpoints in the study. Patients treated with VX-770 were 55% less likely to suffer from a worsening of their cystic fibrosis symptoms compared to patients treated with a placebo. VX-770 patients gained an average of seven pounds through 48 weeks. VX-770 treatment also resulted in a significant reduction in the amount of salt in the sweat of patients compared to placebo, Vertex announced. So-called sweat chloride is a marker for the underlying cause of cystic fibrosis.
"The results from STRIVE are highly encouraging for the cystic fibrosis community and provide scientific evidence supporting our long-standing belief that targeting the underlying defect of cystic fibrosis may have a profound effect on the disease," said Robert Beall, CEO of the Cystic Fibrosis Foundation, in a statement.
Cystic fibrosis is caused by genetic mutations that result in a malfunctioning or missing protein known as CFTR required for the regulation of sweat production, mucus and certain aspects of digestion. Defective or missing CFTR proteins in lung cells results in the formation of thick, sticky mucus that leads to restricted airflow, chronic infections and lung damage.
Only one working copy of the CFTR gene is needed to prevent cystic fibrosis. Patients with the disease, therefore, inherit two defective genes, one each from their mother and father. Cystic fibrosis is most often diagnosed in childhood and current drugs do not address the underlying causes of the disease. Instead, patients are treated with antibiotics like
Novartis'
(NVS)
Tobi or
Gilead Sciences'
(GILD)
Cayston to treat or ward off lung infections. Other drugs and treatments may help loosen or remove the thick, sticky mucus from the lungs. None of the existing cystic fibrosis drugs cure the disease which gets progressively worse as lungs become more damaged over time. The average life span for a cystic fibrosis patient is around 35 years.
VX-770 is designed to be a genetic fix for the 4-7% of cystic fibrosis patients with a genetic mutation known as G551D. Patients with the G551D mutation have sufficient CFTR proteins on the surface of cells but the proteins are damaged and don't work correctly. VX-770 is a "potentiator" designed to improve the function of the damaged CFTR proteins, thereby fixing the root cause of cystic fibrosis in these patients.
A majority of cystic fibrosis patients have a different genetic mutation known as F508del that is not helped by VX-770. Cystic fibrosis patients with the F508del mutation have missing or insufficient CFTR protein on the surface of cells so merely improving the function of these proteins is not enough to reverse the course of the disease.
In a separate phase III study also reported by Vertex Wednesday, treatment over 16 weeks with VX-770 in cystic fibrosis patients with the F508del mutation resulted in a mean absolute improvement of just 1.6% compared to placebo. The result was not statistically significant was not considered clinically meaningful, Vertex said.
Vertex is developing a second cystic fibrosis drug, VX-809, that is designed to "correct" or increase the amount of CFTR protein on the cell surface which therefore may benefit F508del-mutation patients. Vertex is conducting a study investigating multiple combination of VX-770 and VX-809 in cystic fibrosis patients with the F508del mutation. Preliminary results from this mid-stage study are expected in the first half of the year.
Vertex is also running a separate study of VX-770 alone in children with the G551D mutation. Results from this study are expected in the middle of the year.
VX-770 was well tolerated in the phase III studies reported Wednesday. The most commone adverse event reported included pulmonary exacerbation in 13% of VX-770 patients compared to 33% in the placebo patients and bloody cough in 1% of the VX-770 patients compared to 5% in the placebo group.
One percent of VX-770 patients discontinued from the study through 48 weeks compared to 5% for placebo patients.
Most investors identify Vertex with research for new hepatitis C treatments. The company is awaiting an FDA approval decision for an experimental hepatitis C drug telaprevir expected on or before May 23.
--Written by Adam Feuerstein in Boston.
>To contact the writer of this article, click here:
Adam Feuerstein
.
>To follow the writer on Twitter, go to
http://twitter.com/adamfeuerstein
.
>To submit a news tip, send an email to:
.
Adam Feuerstein writes regularly for TheStreet.com. In keeping with TSC's editorial policy, he doesn't own or short individual stocks, although he owns stock in TheStreet.com. He also doesn't invest in hedge funds or other private investment partnerships. Feuerstein appreciates your feedback;
to send him an email.