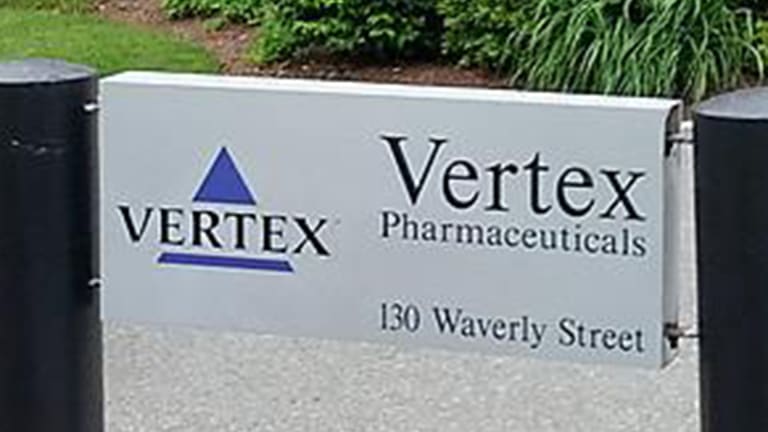 Vertex Pharma Jumps 14% After Rival Releases Poor Cystic Fibrosis Drug Results
Galapagos' new cystic fibrosis drug trial results were weaker than expected.
Vertex Pharmaceuticals (VRTX) - Get Free Report is trading at its highest price since late March with shares up 14% in mid-afternoon trading after competitor Galapagos NV (GLPG) - Get Free Report released mediocre mid-stage test results for its new cystic fibrosis drug Friday.
Shares for the Boston-based Vertex rose $20.78 -- 14.1% -- to $168.49 on the news that Galapagos' FEV-1 improvements in its Phase II trial came in below Wall Street's expectations. Galapagos, meanwhile, fell $4.29 -- 4.48% -- $91.52 in mid-afternoon trading as the company also announced that its possible collaboration with AbbVie Inc. (ABBV) - Get Free Report on a different triple combination therapy seems to no longer be in the works after AbbVie walked away from the project, Galapagos said in a press release.
Galapagos' FEV-1 improvements for its CF drug came in at 3.4%, which was under analysts' estimates of 5%. Sweat chloride levels were reported to decrease in patients compared to the placebo at 19.6 mmol/L but that figure still pales in comparison to Vertex's figures of approximately 30-40 mmol/L for its own CF drug.
Vertex, considered the leader in cystic fibrosis treatment, will remain the "dominant [cystic fibrosis] player for the foreseeable future," Brian Abrahams, an analyst for RBC Capital Markets, said in a note. Galapagos' results showed a small level of improvement in patients, but Abrahams does not think the company will be competitive with Vertex. 
Vertex generates about 87% of its revenue from lower-respiratory biopharmaceuticals, making up about 9% of sales of the industry, according to FactSet data.
Abrahams, who covers both companies, lowered his price target for Galapagos to $94 from $100. He thinks Vertex shares are on track to reach $202, according to the note.