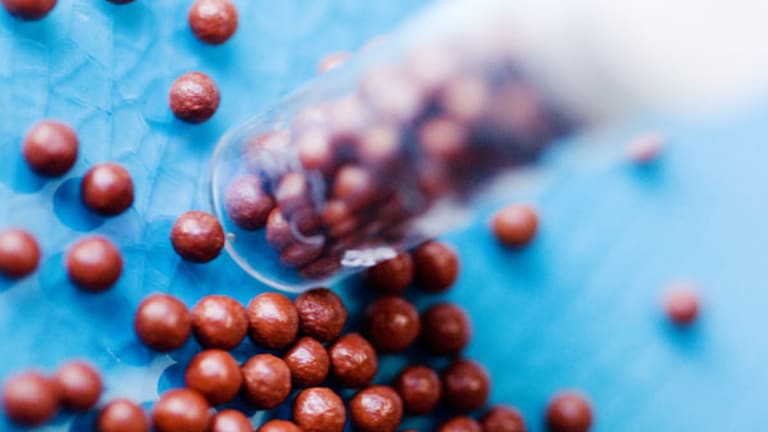 Vertex Pharma Cystic Fibrosis Combo Therapy Hits Key Endpoints in Two Pivotal Trials
Based on positive study results, Vertex will seek approval for the cystic fibrosis regimen of VX-809 and Kalydeco in the fourth quarter.
BOSTON (TheStreet) -- Combination therapy of two Vertex Pharmaceuticals (VRTX) - Get Vertex Pharmaceuticals Incorporated Report drugs, VX-809 and Kalydeco, produced a statistically significant improvement in lung function for patients with the most common form of cystic fibrosis. The two phase III studies dubbed "TRAFFIC" and "TRANSPORT" both met their primary endpoints separately. When the studies were pooled together, cystic fibrosis patients treated with the higher of two doses of VX-809 (also known as lumacafator) and Kalydeco saw their lung function improve by 3.3% on an absolute basis compared to placebo.
Vertex's combination regimen also achieved statistical significance versus placebo on two key secondary endpoints of the phase III studies -- a 30% and 39% reduction in pulmonary exacerbations and improvements in weight gain (body mass index.) [Vertex shared the study results with me on Monday night under embargo.]
OMG! This sounds like the home run scenario Vertex bulls were dreaming about for the TRAFFIC and TRANSPORT studies, right? 
Maybe not a home run, per se, but sticking with the baseball analogy, I'd say the study results are a base-clearing triple. Vertex skeptics are going to furrow their brow and question whether the 3.3% absolute improvement in lung function is clinically meaningful. Sure, a 5% absolute improvement in lung function would have been preferred, but the pooled, 3.3% lung function improvement (at the highest VX-809 dose) was highly statistically significant. Couple that with statistically significant reductions in pulmonary exacerbations and the weight gain -- both of which are really important clinical benefits for cystic fibrosis patients -- and you have a clear winner here.
By the way, the lower dose of VX-809 plus Kalydeco also produced a statistically significant, absolute improvement in lung function of 2.8% across the pooled studies. 
So, Vertex shares do what this morning?

WATCH: More market update videos on TheStreet TV

The stock deserves to open higher. Will Vertex shares reach $100-plus predicted for the home-run scenario? Probably not given the more modest absolute lung function improvement. Like I said, expect to hear naysayers talk down the study results, and at Monday's $66 close, Vertex's market value bakes in some expectations for positive TRAFFIC and TRANSPORT results But it's hard to argue with the consistency of the benefit observed with VX-809 and Kalydeco across two large phase III studies. The benefit for cystic fibrosis patients seen here is no fluke. 
Oh Adam, you're a Vertex fan boy. You predicted positive results for TRAFFIC and TRANSPORT in January and again last month, so of course you like today's news. What do independent observers say?
On Monday night, I spoke with Dr. Bonnie Ramsey of the University of Washington School of Medicine and the lead principal investigator of the TRANSPORT study. She was also briefed on the overall study results by Vertex. 
"It's up to the FDA whether or not [the VX-809 and Kalydeco regimen] is approved, but if approved, I think clinicians will use this in their [cystic fibrosis] patients," said Ramsey. 
While the FEV1 (lung function improvement) primary endpoint gets the most attention, the reduction in lung exacerbations and weight gain are also going to make her cystic fibrosis patients feel better, Ramsey added. "If this was just a chance finding, we'd only see improvements in one arm of one study. But we're seeing a consistent effect across all studies and endpoints. That tells me this regimen is real, something is going on here," said Ramsey. 
I also spoke with Vertex CEO Jeff Leiden on Monday night. Not surprisingly, he was excited about the TRAFFIC and TRANSPORT results. "This is a very important validation of the scientific approach we've taken to treat cystic fibrosis," Leiden said, adding, "The totality of the data are striking and we believe clinically meaningful. Absolutely."
When will Vertex seek approval for the VX-809/Kalydeco combination?
Vertex said regulatory approval filings will be submitted in the U.S. and Europe in the fourth quarter. The FDA has already granted the combination regimen Breakthrough Therapy Designation, which might accelerate the review process. As it stands, Vertex is all but guaranteed to get priority review from the FDA, which means an approval decision should come within 8 months of the filing date. 
Remind me again about the number of cystic fibrosis patients who will be eligible for treatment with VX-809 and Kalydeco.
In North America, Europe and Australia, there are 22,000 cystic fibrosis patients ages 12 and older with two copies of the 508del mutation, according to Vertex. This is the largest subgroup of cystic fibrosis patients and they make up the addressable patient population for the TRAFFIC and TRANSPORT studies.
Any idea what Vertex will charge for the combination regimen?
Vertex has not made any specific public comments about pricing, obviously, but in a recent buyside investor survey conducted by ISI Group analyst Mark Schoenebaum, the average "consensus" price for the VX-809/Kalydeco regimen was approximately $160,000 per patient, per year.
Can we walk through the study results in more detail? 
Sure, but I warn you, I'm about to bombard you with a ton of numbers. Both studies had identical designs and enrolled 1,108 cystic fibrosis patients total. The patients were randomized to one of three treatment groups: 1) VX-809 600 mg + Kalydeco; 2) VX-809 400 mg + Kalydeco; or 3) placebo. Each arm of the study was treated for 24 weeks. The primary endpoint was the absolute change in FEV1 compared to placebo. (FEV1 is a common measure of lung function.) The secondary endpoints are relative change in FEV1, change in weight, pulmonary exacerbations and quality of life.
In the TRAFFIC study, patients treated with 600 mg of VX-809 (also known as lumacaftor), had a mean 3.6% improvement in FEV1 compared to a mean 0.44% reduction in FEV1 for placebo patients -- an absolute difference of 4.0%. In the 400 mg arm of VX-809, the mean FEV1 improvement was 2.6%, so with the same placebo FEV1 decline, the mean absolute improvement was 2.6%. The FEV1 benefit for both treatment arms was highly statistically significant. 
On a relative basis, treatment with the high and low dose of VX-809 plus Kalydeco led to a mean 6.4% and 4% improvement in FEV1 compared to placebo. Again, these results were statistically significant.
Moving to the TRANSPORT study, the 600 mg arm of VX-809 achieved a mean absolute improvement in FEV1 of 2.5% over placebo. The 400 mg arm of VX-809 did slightly better, with a mean absolute improvement of 2.9%. While numerically lower than TRAFFIC, the TRANSPORT results were still statistically significant favoring the VX-809/Kalydeco regimen. The relative improvement in FEV1 was 4.4% and 5.3% for the 600 mg and 400 mg doses of VX-809, respectively. 
Was Vertex allowed to pool together the results from both studies? 
Yes, a pooled analysis was pre-specified. As I said above, when TRAFFIC and TRANSPORT were combined, the absolute benefit in FEV1 for the 600 mg dose of VX-809 was 3.3% compared to placebo. On a relative basis, the FEV1 improvement was 5.6%. For the 400 mg VX-809 dose, the absolute and relative FEV1 improvement was 2.8% and 4.8%, respectively. All the pooled analyses for FEV1 were statistically significant. 
What did the absolute change in FEV1 look like over the entire course of the six-month treatment? 
Ah! Good question. You remembered the concern about the efficacy of the combination therapy possibly waning over time. Vertex did not share the FEV1 treatment curves with me last night but the company did say the FEV1 improvement for the VX-809/Kalydeco regimen was apparent from the very beginning of the study and was statistically significant over placebo at all time points analyzed -- weeks 2, 4, 8, 16 and 24. Vertex CEO Leiden told me that the benefit of the combination regimen compared to placebo did not wane appreciably over the six months of the study. Vertex will give investors a look at the FEV1 curves on its conference call this morning.
And what about the details of the secondary endpoints? 
The rate of pulmonary exacerbations dropped 30% in the 600 mg VX-809 arm and 39% in the 400 mg VX-809 arm compared to placebo. Both results were statistically significant. "These were the most surprising and gratifying data from the studies," said Vertex Chief Medical Officer Jeffrey Chodakewitz, also speaking to me Monday night. Exacerbations include worsening signs of cystic fibrosis or disease flare-ups which require treatment with antibiotics. In some situations, patients require hospitalization. "Exacerbations contribute to loss of lung function, so showing a large and statistically significant reduction will be impactful for patients and payers, Chodakewitz added. 
The VX-809/Kalydeco regimen also contributed to statistically significant improvement in body mass index over placebo, another important clinical benefit for cystic fibrosis patients, Vertex said. 
The only significant miss on the secondary endpoints was in the patient-reported questionnaire tracking respiratory symptoms. Here, the combination showed a trend toward improvement over placebo but the results were not consistently statistically significant. 
Was the combination regimen safe?
Discontinuation from the study were 4.2% for the treatment arms versus 1.6% for the placebo arms. Seven patients treated with combination therapy experienced serious adverse events related to abnormal liver function tests compared to zero patients treated with placebo. Liver function tests returned to baseline levels for six of the seven patients following treatment discontinuation. The seventh patient's liver function test improved but did not return to normal. 
Okay, but a 3.3% mean absolute improvement in FEV1 lung function. Are you sure that's going to fly with investors? 
I get the apprehension. The TRAFFIC and TRANSPORT FEV1 data are not as robust as the 6%-plus absolute improvement in FEV1 Vertex produced in the phase II study of the combination therapy. This is going to disappoint some investors and there will be doubts expressed about whether or not doctors and insurance companies will find the new data clinically meaningful. But in Vertex's defense, the two phase III studies were powered to show a 3% absolute difference in FEV1 -- which is exactly what the combination therapy demonstrated. And better still, the statistically significant benefits in two key secondary endpoints are really important and I'd say better than what many investors expected to see. 
Vertex is holding a conference call at 8 am ET. 
I hate to sound so ADD-addled, but what's next for Vertex and cystic fibrosis? 
Ha! Don't worry, you won't be the only person asking this question. Obviously, Vertex needs to complete the regulatory filings for VX-809 and Kalydeco and get the regimen approved in the U.S. and Europe. Next up, however, is VX-661, which is designed to be an improved version of VX-809. Vertex expects results next year from a three-month study of VX-809 in the same type of homozygous 508del patients studied in the TRAFFIC and TRANSPORT studies. Based on these data, the company will choose a regulatory path and phase III studies for the drug, but will likely include triple-combination therapy to generate even greater improvements in lung function.
Last year, I laid out a roadmap for Vertex in cystic fibrosis under which Vertex could generate $10 billion in annual sales. Monday's results are a big step forward toward that goal, and so will continued development and success for even newer drugs like VX-661. 
Follow Adam Feuerstein on Twitter.
Adam Feuerstein writes regularly for TheStreet. In keeping with company editorial policy, he doesn't own or short individual stocks, although he owns stock in TheStreet. He also doesn't invest in hedge funds or other private investment partnerships. Feuerstein appreciates your feedback;
to send him an email.