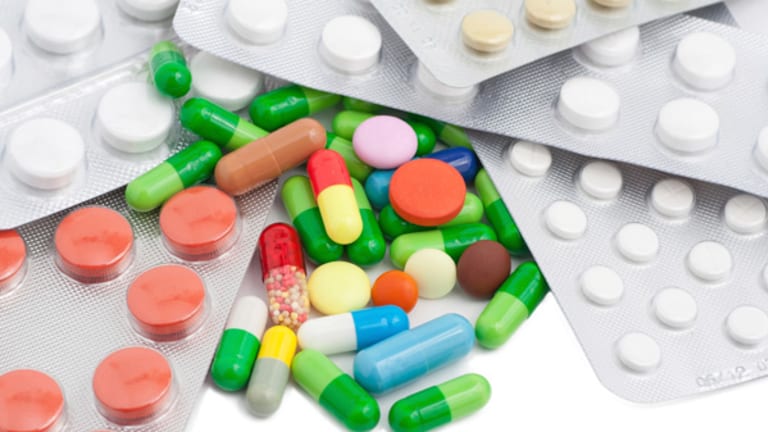 Vertex Overstates Cystic Fibrosis Drug Benefit
"Misinterpretation" of phase II data leads Vertex to concede that fewer patients benefited from its two-drug cystic fibrosis therapy.
Correction: The relative improvement in lung function over the course of the study was measured against a patient's own baseline and not against placebo as previously stated.
CAMBRIDGE, Mass. (
) --
Vertex Pharmaceuticals
(VRTX) - Get Vertex Pharmaceuticals Incorporated Report
overstated the response to its two-drug cystic fibrosis therapy earlier this month due to a "misinterpretation" of interim data from a phase II study, the company acknowledged Tuesday.
Fewer cystic fibrosis patients in the study saw their lung function improve by more than 5% following treatment with VX-809 and Kalydeco than was previously disclosed, Vertex said.
Vertex shares are down $10.87, or 17%, to $53.93 in Tuesday trading.
Of the cystic fibrosis patients treated with the two-drug therapy, 35% experienced an absolute improvement in lung function of 5% or more,
previously disclosed by Vertex in early May.
Likewise, only 19% of patients experienced an absolute improvement in lung function of at least 10%. That's corrected from May 7, when Vertex said 30% of patients saw this level of benefit.
None of the patients treated with a placebo achieved a 5% improvement in lung function, as previously reported.
The interim results from the phase II study were based on an analysis of 37 cystic fibrosis patients treated with three different dosing regimens of VX-809 and Kalydeco for 56 days compared to 11 patients with one or two copies of the F508del mutation who received placebo for 56 days. The entire study enrolled 108 patients.
The data announced on May 7 actually reported the relative improvements in lung function of patients after 56 days of treatment compared to their baseline but were described mistakenly at that time as absolute improvements, Vertex said Tuesday. The error was realized Friday night and was caused by a "misinterpretation" of data provided to Vertex by its outside data analysis provider, a Vertex spokesperson explained.
At Friday's close of $64.85, Vertex shares were trading at a 12-year high and are up 73% since interim results from the
VX-809-Kalydeco phase II study were announced on May 7
. Investors have been buying Vertex shares in bulk because of the potential for its two-drug therapy to treat a large swath of cystic fibrosis patients and
deliver peak annual sales of $4-6 billion
.
Yet now it appears that fewer cystic fibrosis patients benefit from Vertex's drugs, causing investors to lower their expectations or raise their risk assessment, particularly since Vertex was valued at $13.7 billion going into Tuesday.
Vertex CEO Jeff Leiden accepted responsibility for the data screw up on a conference call with investors.
"We take the accuracy of our science and our disclosures very, veryseriously, and we know you expect that from us and more importantly I guess patients except that from us. So, we take this seriously. This is a non-acceptable error and we are taking steps to fix it and make sure it doesn't happen and I just wanted to be clear on that," said Leiden.
To save face or perhaps assuage investor concerns, Vertex for the time Tuesday also announced that the mean absolute improvement in lung function for all VX-809-Kalydeco patients compared to placebo was 8.5% over the 56 days of the study. The improvement was statistically significant.
Investors had been speculating about the mean lung function improvement ever since the interim results were announced earlier this month. A buyside investor poll conducted last week by ISI Group analyst Mark Schoenebaum pegged the consensus expectation at a 4.3% mean absolute improvement in lung function.
Vertex appears to have easily surpassed investor expectations; however, the drugs' benefit is derived equally from the steeply declining health of placebo patients.
As a group, the lung function of cystic fibrosis patients treated with Vertex's drugs rose by an average of 4%. Over the same time period, the lung function of the placebo patients fell by an average of 4.6%.
Vertex still intends to move forward with a phase III study of VX-809 and Kalydeco in cystic fibrosis patients with the F508del mutation, the most common genetic mutation of the disease.
"I think when we look at all of the data and the data that we have shown you today, we remain very confident both from the responder analysis data, from the data of treatment effect versus placebo and from the data on treatment effect versus baseline that based on interim analysis we have an active drug here and therefore we are now planning and continuing to plan to move into Phase III," said Leiden.
Cystic fibrosis is caused by genetic mutations that result in a malfunctioning or missing protein known as CFTR required for the regulation of sweat production, mucus and certain aspects of digestion. Defective or missing CFTR proteins in lung cells results in the formation of thick, sticky mucus that leads to restricted airflow, chronic infections and lung damage.
Patients with the most common F508del mutation have missing or insufficient CFTR protein on the surface of cells. VX-809 is designed as a "corrector" drug that increases the amount of CFTR protein on the cell surface. Kalydeco, on the other hand, is a "potentiator" designed to improve he function of the damaged CFTR proteins.
Kalydeco was approved in January for cystic fibrosis patients with the G551D mutation. These patients have sufficient CFTR proteins on the surface of cells but the proteins are damaged and don't work correctly.
The phase II combination study treated cystic fibrosis patients with the F508del mutation with four weeks of VX-809 alone to increase the amount of CFTR protein, followed by another four weeks of VX-809 combined with Kalydeco to improve the function of the new CFTR protein. Three doses of VX-809 were studied along with a higher dose of Kalydeco.
--Written by Adam Feuerstein in Boston.
>To contact the writer of this article, click here:
Adam Feuerstein
.
>To follow the writer on Twitter, go to
http://twitter.com/adamfeuerstein
.
>To submit a news tip, send an email to:
.
Follow
TheStreet
on
and become a fan on
Adam Feuerstein writes regularly for TheStreet. In keeping with company editorial policy, he doesn't own or short individual stocks, although he owns stock in TheStreet. He also doesn't invest in hedge funds or other private investment partnerships. Feuerstein appreciates your feedback;
to send him an email.