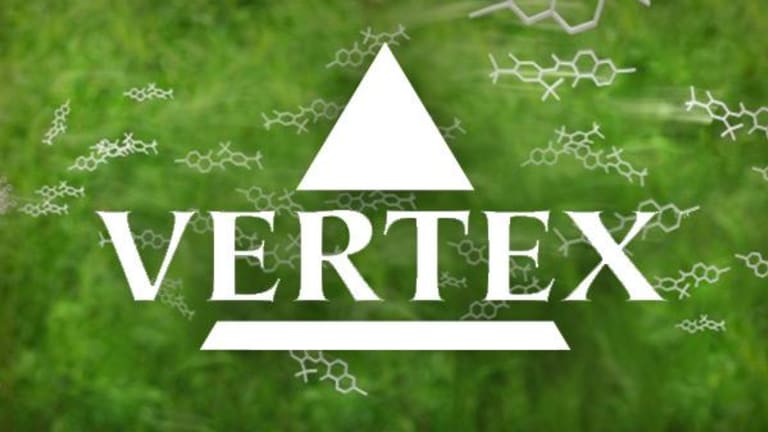 Publish date:
Vertex Pharma Shares Higher on Impressive Trial Results for New Cystic Fibrosis Drug
Vertex to seek marketing approval for new 'teza/iva' combination therapy for cystic fibrosis patients.
Vertex to seek marketing approval for new 'teza/iva' combination therapy for cystic fibrosis patients.
The future of Vertex Pharmaceuticals' (VRTX) - Get Report cystic fibrosis business looks stronger Tuesday night.
Vertex is announcing successful outcomes from two clinical trials involving tezacaftor, a second-generation "corrector" used in combination therapies to treat the underlying cause of cystic fibrosis. Importantly, the new efficacy and safety data reported from the tezacaftor studies improves upon the performance of Vertex's existing products.
Tezacaftor is a crucial drug for Vertex because it will enable the company to treat more cystic fibrosis patients and potentially blunt competitors racing to catch up.
Vertex shares closed Tuesday at $89.67 but rose 19% to $107 following the release of the trial news. The stock is up 45% year to date, factoring in Tuesday's night after-market reaction.
The larger of the two clinical trials announced today -- which Vertex calls EVOLVE -- enrolled just over 500 cystic fibrosis patients with two copies of a genetic mutation known as F508del. These patients represent about 40% of all cystic fibrosis cases.
Over 24 weeks, the combination of tezacaftor with an already approved Vertex drug ivacaftor (sold as Kalydeco) improved lung function by four percentage points compared to a placebo. The outcome was statistically significant, achieving the primary endpoint of the trial, Vertex said Tuesday.
The four percentage point improvement in lung function attributed to "teza/iva" compares well against Orkambi, Vertex's currently approved combination therapy for the same group of cystic fibrosis patients. Orkambi increases lung function by three percentage points, according to data from its own clinical trials included in the FDA label.
The safety profile of teza/iva also improves upon Orkambi. Thirteen percent of the patients treated with teza/iva in the EVOLVE clinical trial reported respiratory adverse events including shortness of breath, chest tightness or abnormal breathing. The comparable respiratory adverse event rate for placebo patients was higher at 16%.
In the clinical trials that led to Orkambi's approval, the respiratory adverse event rate was 22% compared to 14% for placebo.
"We treated low double-digits of patients with teza/iva and we really haven't seen symptoms of chest tightness and dyspnea that we clearly observe when patients are on Orkambi," said Dr. Steven Rowe, Director of the Cystic Fibrosis Research Center at the University of Alabama at Birmingham. Rowe was an investigator in the Vertex clinical trials of teza/iva.
Vertex reported $979 million in Orkambi sales in 2016 and forecasts growth to $1.1 billion to $1.3 billion this year. It seems odd to label a billion-dollar drug a commercial disappointment, but Orkambi has not lived up to pre-launch expectations because the drug is hard for cystic fibrosis patients to tolerate. In particular, complaints about chest tightness cause a significant number of patients to skip Orkambi doses or stop taking the drug altogether.
Vertex plans to submit the teza/iva combination for approval in the U.S. and Europe for the treatment of cystic fibrosis patients with two copies of the F508del gene mutation. If approved, Vertex will market teva/iva as a "new option" for these patients and not necessarily as a replacement for Orkambi, says Vertex Chief Operating Officer Ian Smith.
While Vertex expects some patients to switch from Orkambi to teza/iva, "There are a number of patients who are not on therapy. To trace that through to a revenue line, I think we will end up with more patients treated by the two medicines. More patients will result in a higher revenue number for that patient population," says Smith.
Teza/iva will also become the backbone of future combination therapies aimed at treating cystic fibrosis patients with genetic mutations that do not respond to Orkambi or Kalydeco. Vertex is developing additional corrector drugs that will be combined with teza/iva to create triple-combination regimens to be studied in future clinical trials.
The first Vertex data from triple-combination therapies in cystic fibrosis patients is expected in the second half of the year, Smith said.
The Belgian biotech firm Galapagos and partner Abbvie (ABBV) - Get Report are developing their own triple-combination therapies for cystic fibrosis, seeking to catch up to or even leapfrog over Vertex.
The second and smaller clinical trial from today's Vertex announcement enrolled cystic fibrosis patients that have one copy of the F508del gene mutation and a second gene mutation that results in residual CFTR function. There are approximately 1,500 such cystic fibrosis patients, Vertex estimates. Last year, regulators rejected Vertex's application to treat these patients with Kalydeco.
The study met the primary endpoint with patients treated with teza/iva demonstrating lung function improvement of 6.8 percentage points compared to placebo. Another arm of patients treated with ivacaftor as monotherapy showed a lung function improvement of 4.7 percentage points.
Based on these results, Vertex will also seek marketing approval for the teza/iva combination in this smaller cystic fibrosis patient population.
Adam Feuerstein writes regularly for TheStreet. In keeping with company editorial policy, he doesn't own or short individual stocks, although he owns stock in TheStreet. He also doesn't invest in hedge funds or other private investment partnerships. Feuerstein appreciates your feedback; click here to send him an email.