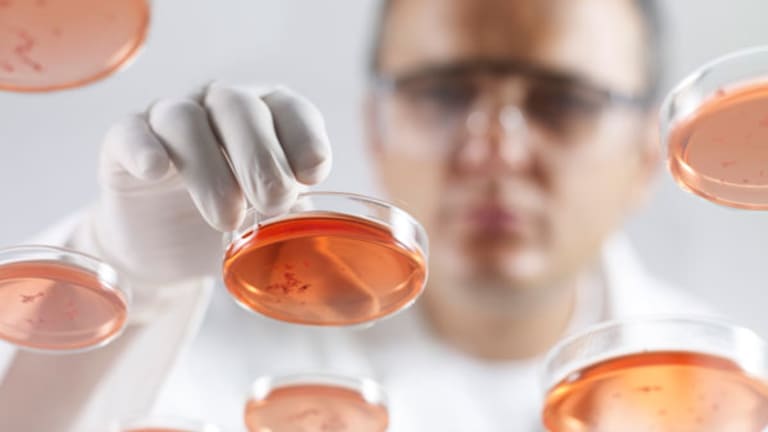 Vertex Drug Could Be Huge
Study results could make the company's telaprevir a breakout hepatitis C drug.
BOSTON -- The on-and-off love affair between Wall Street and
Vertex Pharmaceuticals
(VRTX) - Get Vertex Pharmaceuticals Incorporated Report
is on again.
Shares of the Cambridge, Mass.-based biopharmaceutical firm have jumped 35% since the end of June as investors grow more confident that telaprevir, Vertex's experimental hepatitis C drug, will be a game-changing blockbuster.
On Tuesday, Vertex Chief Medical Officer John Alam and CFO Ian Smith gave me an update on telaprevir. The body language of both men was very confident. Of course, Vertex executives have a reputation for being too cocky for their own good. This is especially true for CEO Joshua Boger -- and it's gotten him in some trouble with Wall Street in the past.
But in talking with Alam and Smith, the message came through loud and clear that a rational analysis of the information on telaprevir is convincing enough to erase any doubts about the drug's efficacy. This is a drug that will significantly increase the number of patients who can be cured of hepatitis C.
Equally important, telaprevir will help cure these patients in half the time required today, they believe.
In other words, telaprevir is going to be a big drug. Just how big -- $2 billion in sales? $3 billion? $4 billion? -- remains to be seen.
An important meeting of liver disease specialists in early November will be the venue for the release of the latest telaprevir clinical data from ongoing phase II clinical trials. This is a key meeting for Vertex and one that will be closely followed by investors.
In recent trading, Vertex shares were up more than 3% to $36.35. With an enterprise value of $4 billion already, Vertex isn't cheap, given that telaprevir hasn't yet started phase III studies (they're expected toward the end of the year) and approval is still two to three years away.
But if telaprevir lives up to its promise and generates sales on the upper side of the $2 billion-to-$4 billion range, Vertex at $36 and change might look fairly undervalued.
For more background on Vertex and telaprevir, check out this previous
column, but here's a quick recap:
Telaprevir is a pill designed to attack hepatitis C by inhibiting the protease enzyme, one of the key enzymes the virus uses to copy itself. This "direct antiviral" approach differs from current hepatitis C drugs, which boost the immune system's ability to tamp down and eliminate the virus.
The current standard of care for hepatitis C patients is a weekly injection of long-acting alpha interferon combined with daily oral doses of a generic drug, ribavirin. A normal treatment course for Type 1 hepatitis C (the most prevalent form) takes 48 weeks to complete. But the standard treatment cures only about 40% of patients, and many patients find the side effects, such as flu-like symptoms, anemia and depression, difficult to tolerate.
Telaprevir is being combined with interferon and ribavirin to create a more potent and less time-consuming hepatitis C treatment regimen. Three large phase II studies are under way, investigating various treatment schedules. The most promising combination right now treats hepatitis C patients for 12 weeks with the triple combination (telaprevir, interferon and ribavirin) followed by 12 weeks of interferon and ribavirin on their own.
That's 24 weeks of total treatment, or half the current standard of care.
Cutting treatment time is great, but the top priority for telaprevir will be to improve hepatitis C cure rates beyond the current low-40% range for Type 1 patients.
What will the cure rate (known formally as the sustained virologic response, or SVR) for telaprevir be after 24 weeks of treatment?
Cowen analyst Rachel McMinn believes telaprevir will boost SVR to the 50%-to-60% range in the current phase II studies, on the basis of modeling of currently available clinical data.
And when Vertex runs its pivotal phase III study later this year, telaprevir cure rates could jump into the 70% range, she says.
"An SVR rate of 60% for telaprevir would represent an approximate 50% improvement over the cure rate for hepatitis C patients today," says McMinn. Such an improvement, she adds, would trigger widespread adoption of the drug. "It would be a huge commercial success."
McMinn is one of the best hepatitis C analysts on Wall Street. She recently moved from Piper Jaffray to Cowen, where she picked up coverage of Vertex with an outperform rating. (She also made a great call on
ViroPharma
(VPHM)
last week, downgrading the stock the day before the company's hepatitis C drug HCV-796 blew up over toxicity issues.)
I asked Alam and Smith if they were comfortable with the analyst's prediction for telaprevir's cure rate, which, by the way, is in line with other Wall Street analysts. While not wanting to endorse a specific number, both said they felt that an SVR rate in the 50%-to-60% range was entirely possible from the current phase II studies -- and that even higher SVR rates were achievable in phase III.
Remember: The SVR data from the ongoing phase II studies will be presented Nov. 2 through Nov. 6 at the annual meeting of the American Association for the Study of Liver Disease.
Something else helping Vertex these days is that some of the competitors developing new hepatitis C drugs are stumbling.
InterMune
(ITMN)
is developing a drug similar to telaprevir, but its clinical program has been slow out of the blocks, with delays to the start of human clinical trials.
ViroPharma's drug looks dead because of problems with liver toxicity, while both
Coley Pharmaceuticals
( COLY) and
Anadys Pharmaceuticals
( ANDS) have been forced to shelve their respective drugs because of safety issues.
But don't think Vertex won't have competition. In fact, there are other hepatitis C drugs still moving well through clinical trials, but right now, telaprevir has a fairly commanding lead. If sustained, that could complicate efforts by other companies to get their hepatitis C drugs approved.
Adam Feuerstein writes regularly for RealMoney.com. In keeping with TSC's editorial policy, he doesn't own or short individual stocks, although he owns stock in TheStreet.com. He also doesn't invest in hedge funds or other private investment partnerships. Feuerstein appreciates your feedback;
to send him an email.