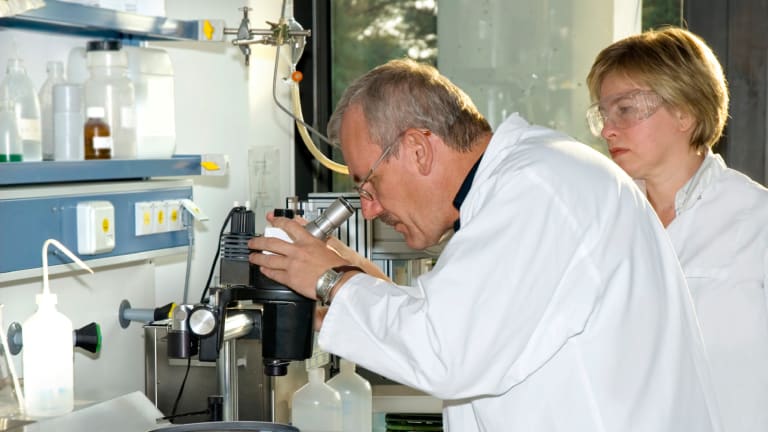 Intercept Sinks on Safety Issue, One Analyst Says Buy Anyway - Biotech Movers
The FDA on Thursday issued a safety announcement saying Intercept's liver disease treatment Ocaliva is being dosed incorrectly in some patients.
Shares of Versartis Inc. (VSAR) were down 86.34% to $2.95 in midday trading on Friday, Sept. 22, after the Menlo Park, Calif.-based company said its Phase 3 study of somavaratan in pediatric growth hormone deficiency did not achieve its primary endpoint.
"We are very surprised and disappointed to learn the outcome of the VELOCITY trial," said Versartis president and CEO Jay Shepard in a statement. "Somavaratan showed height velocity in the range we had hoped, but it was not sufficient to demonstrate non-inferiority in this trial."
Meanwhile, shares of Intercept Pharmaceuticals Inc. (ICPT) - Get Free Report were down 14.28% to $63.18 after finishing Thursday's trading session at $73.70, down 24.9%. The Food and Drug Administration on Thursday issued a safety announcement stating that Intercept's liver disease treatment Ocaliva (obeticholic acid) "is being incorrectly dosed in some patients with moderate to severe decreases in liver function, resulting in an increased risk of serious liver injury and death."
The FDA's announcement came after Intercept on Sept. 8 issued a letter to healthcare providers highlighting prescriber information for Ocaliva. Intercept wrote that "[l]iver injury, liver decompensation, liver failure, and death have been reported in patients with moderate to severe hepatic impairment when OCALIVA was dosed more frequently than recommended in labeling for such patients."
Jefferies LLC analyst Michael J. Yee in a note on Thursday called the stock reaction "overblown."
"In our view, today's details are largely in line with what was highlighted last week and we see current stock reaction to the news as overblown," Yee wrote. "We continue to recommend buying shares of the stock as it is trading at a level that ascribes no value to the much larger and valuable Phase III NASH program."
Other biotech stock movers include Juno Therapeutics Inc. (JUNO) , up 11.35% to $46.35. The Seattle firm on Thursday said it had priced its follow-on public offering of 6.1 million shares at $41 a share. Juno has also given underwriters a 30-day option to buy up to an additional 915,000 shares.
Juno said it plans to use the net proceeds for general corporate purposes and working capital.
More of What's Trending on TheStreet: