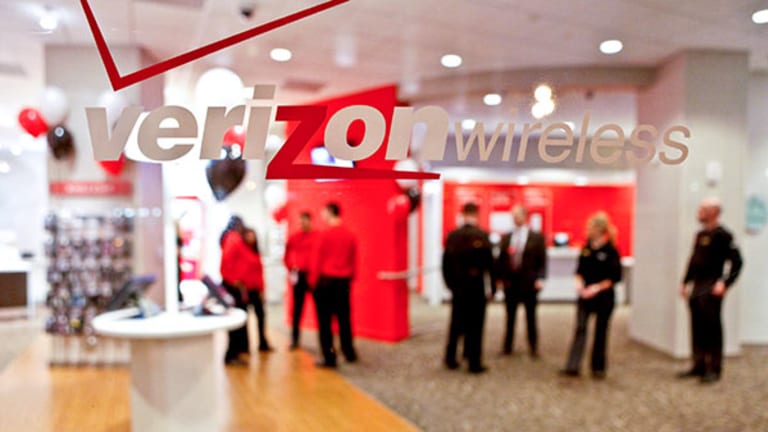 Why Verizon's Big Acquisitions Will Take Time to Pay Off
Just a week after agreeing to buy Yahoo's operating business for $4.8 billion, the telecom giant announces plans to acquire Fleetmatics Group for $2.4 billion.
Verizon Communications (VZ) - Get Verizon Communications Inc. Report once again demonstrated its aggressive, M&A-driven diversification efforts on Monday by agreeing to pay about $2.4 billion for Fleetmatics Group (FLTX) . Investors may need to be patient, however, to see the fruit of those efforts, analysts said.
New York-based telco's latest transaction values Fleetmatics at $60 per share. Shares of Fleetmatics rallied around 39% to $59.60 Monday afternoon. Verizon inched down 0.6% Monday to $54.83 per share.
The Fleetmatics acquisition is the latest in Verizon's string of deals this year. Just last week, it agreed to buy the operating business of Yahoo! (YHOO) for $4.83 billion with plans to merge it with AOL, which it purchased last year for $4.4 billion. So far in 2016, it has agreed to pay $1.8 billion for privately held fiber network operator XO Communications, and in June agreed to acquire telematics provider Telogis.
While the terms of the Telogis acquisition were undisclosed, The Deal previously reported that the company was shopping itself with a valuation target of approximately $1 billion after deciding not to pursue an IPO.
With its take-out of Fleetmatics, Verizon is showing its seriousness about telematics -- a segment of software under the Internet of Things (IoT) umbrella which tracks data to remove risks associated with driving. It first tapped into the telematics sector in 2012 by buying Hughes Telematics for about $612 million.
Investors need to take a much longer-term view for Verizon and its growth play centered around rapid diversification, said Macquarie Capital analyst Amy Yong via phone.
"These are not overnight successes," she said of the acquisitions.
While Verizon has been focused on driving top-line growth through its M&A activity, its rival AT&T (T) - Get AT&T Inc. Report has been less focused on bite-size acquisitions and more on large, transformative transactions that give it immediate scale, Yong added. For instance, AT&T paid a whopping $67 billion for DirecTV last year.
Still, Fleetmatics furthers Verizon's efforts in IoT, fleet management and telematics especially as the telco's wireline and wireless segments mature, Edward Jones analyst Dave Heger said via phone.
While Verizon has been pursuing a longer-term, diversification play through dealmaking, T-Mobile US (TMUS) - Get T-Mobile US, Inc. Report has enjoyed huge success in generating subscriber growth while Sprint (S) - Get SentinelOne, Inc. Class A Report is more in survival mode and can't afford acquisitions at the moment, Heger added.
Meanwhile, Verizon has been on a solid run this year, having rallied about 18.7% year-to-date, as the market has rewarded high dividend yields.