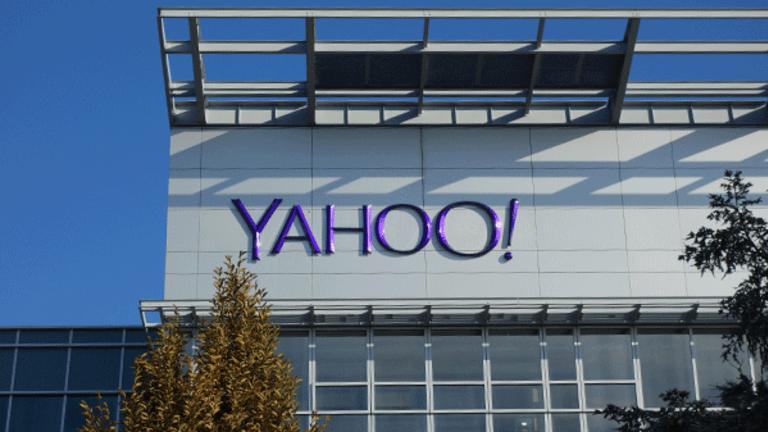 Verizon's $4.8 Billion Question: Try to Cut the Price of Its Deal for Yahoo!, or Run?
As Yahoo's number of disclosed hacks mount, so do questions for Verizon.
Yahoo! (YHOO) is not making life easy for Verizon (VZ) - Get Report CEO Lowell McAdam and AOL head Tim Armstrong as they decide whether to proceed with their planned $4.8 billion acquisition of Yahoo's core assets. On Wednesday, news broke of a massive cyber breach coming on the heels of an earlier breach disclosed in September. Should Verizon abandon the deal, it could look for different digital or pay-TV targets to augment its media portfolio.
"You could stomach one of these things, but now there is a second?" said Roger Entner of telecom consultancy Recon Analytics. "Right now, I would say the deal is more dead than alive."
Shares of Yahoo! were down 4.7% to $38.97 on Thursday afternoon, a day after the company said that another billion accounts were hacked in 2013.
"If they continue to pursue Yahoo, the price would obviously have to reflect the announcement," said Macquarie analyst Amy Yong, who had already discounted the price by $1 billion before the latest news.
If it drops the Yahoo bid, Yong suggested that Verizon could go after a larger media property such as cable provider Charter Communications (CHTR) - Get Report or satellite TV operator Dish Network (DISH) - Get Report . Or it could make digital investments along the lines of Comcast's (CMCSA) - Get Reportinvestments in Buzzfeed and Vox.
"A lot of options are now on the table," Yong said.
Comcast is a holding in Jim Cramer's Action Alerts PLUS Charitable Trust Portfolio. Want to be alerted before Cramer buys or sells CMCSA? Action Alerts PLUS Charitable Trust Portfolio
Verizon has only said that it is continuing to evaluate the situation. "We will review the impact of this new development before reaching any final conclusions," a Verizon spokesperson said in statement. The company did not immediately respond to a query about potential interest in Charter or Dish.
The telecom giant was already reportedly seeking a $1 billion price cut after the September announcement that 500 million accounts were hijacked in 2014. How much of a discount would one billion additional hacks merit?
Worse yet, the accounts hacked in 2013 use the MD5 encryption algorithm, Wells Fargo analyst Peter Stabler noted in a report, which is weaker than the bcrypt encryption used on the accounts hijacked in 2014. After this attack, Yahoo is requiring users to reset their passwords, instead of merely advising them to do so.
Verizon has prized Yahoo!'s user base, with McAdam and Armstrong speaking about the benefits of combining the user bases and advertising tech capabilities of Yahoo! and AOL.
"If you look at what we've paid on a per-sub basis for Yahoo! at $4.8 billion and 1.2 billion users on a monthly basis, you offer those folks some good services then you've got a great opportunity to monetize," McAdam said at a Dec. 6 conference in New York. McAdam remarked that niches in which Yahoo! produces content, such as sports, finance, news and entertainment, will be the "pillars" of Verizon's digital content.
When announcing the deal with Verizon in July, the companies said that Yahoo! had 600 million mobile accounts -- an important audience for Verizon, which is making substantial investments in its Go90 mobile video streaming service.  At the time, Yahoo! put the number of email subscribers who are active on a monthly basis at 225 million.
How Yahoo's users react to the hacks will have great significance to Verizon.
"We are all very skeptical about our data and how we interact with people who have access to our data," said Standard & Poor's analyst Elton Cerda. "If you are a user and your account may have potentially been hacked twice, you may think about whether you continue to use that service."
Even if Yahoo's users drop as a result of the data breach, the company will still have a portfolio of digital advertising properties such as automated ad-selling platform Brightroll, mobile analytics service Flurry and native advertising and search advertising outfit Gemini.
Yahoo! would also have a portfolio of online content sites that could plug into Verizon's digital ecosystem.
Drastic declines in users would undercut much of the value for Verizon, however.
"It's like a zombie where the flesh is falling off," Entner said. "The question is, is the skeleton in the end enough?"
Respondents to TheStreet.com's Twitter (TWTR) - Get Report poll suggest it isn't, with "Scuttle the deal entirely" receiving the most votes (34%) in response to a question about Verizon's likely reaction.