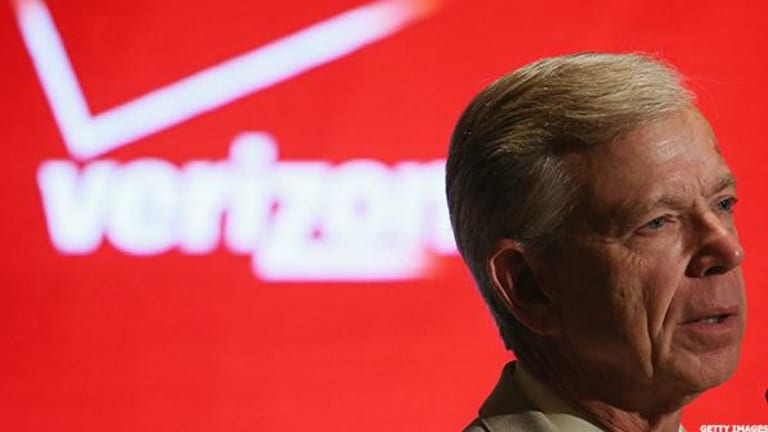 Verizon Shares Tank on Fourth-Quarter Earnings Miss
The giant telecom misses forecasts by three cents per share.
Updated from 7:16 a.m. with additional details and analysis.
Shares of Verizon (VZ) - Get Free Report  fell more than 4% Tuesday morning after the company missed fourth-quarter earnings forecasts by three cents per share and reported declines in wireless and wireline sales.
Running his first earnings call for Verizon, new CFO Matthew Ellis had no update on the company's $4.8 billion purchase of Yahoo (YHOO) .
"We are still working with Yahoo! to assess the impact of the breaches and we have not reached any final conclusions yet," Ellis said.
Shares of the buyer and seller went in opposite directions Tuesday morning. Verizon stock dropped 4.3% to $50.34, while Yahoo, which beat expectations after the close Monday, gained close to 4% to $44.07. Alibaba (BABA) - Get Free Report, which Yahoo owns 15% of, soundly beat expectations on Tuesday morning and was trading up sharply as well.
Verizon earned 86 cents per share in the quarter, while Wall Street expected 89 cents per share according to FactSet. Sales of $32.3 billion were just above forecasts of $32.1 billion.
Wireless revenues, Verizon's biggest line of business, dropped 1.5% to 32.4 billion. Wireless profitability came in below Street expectations, as Verizon reported that wireless Ebitda margins of 36.9% missed forecasts of 40.2%.
Verizon gained 591,000 net wireless subscribers, which includes 167,000 post-paid subscribers who pay traditional monthly phone bills. Barclays analyst Amir Rozwadowski suggested that the cost of gaining the subscribers squeezed margins and led to the earnings miss.
Revenue for Verizon's digital media group, which includes AOL, fell about 5% from the same quarter a year ago to $532 million. The unit was up 10% from the third quarter, however.
Usage of Verizon's millennial-targeting go90 app was roughly flat at 30 minutes per viewer, Ellis said. Verizon laid off 155 Go90 staffers, who became redundant following the purchase of online video company Vessel last year.
The digital business would benefit by adding Yahoo's 1 billion monthly average users, Ellis added.
Yahoo said the closing of the deal would be delayed from the first quarter to the second quarter after the close Monday. Despite the postponement, Yahoo CEO Marissa Mayer said "the opportunities ahead with Verizon look bright," in a press release.
The SEC has inquired about the massive security breaches that Yahoo! disclosed last year and why it took so long for Yahoo to disclose them, according to The Wall Street Journal. Yahoo revealed in December that a billion accounts were attacked in 2013, after reporting in September that 500 million accounts were hacked in 2014.
Verizon's Internet of things division, which includes telematics outfits Telogis and Fleetmatics, grew 21% to $243 million.