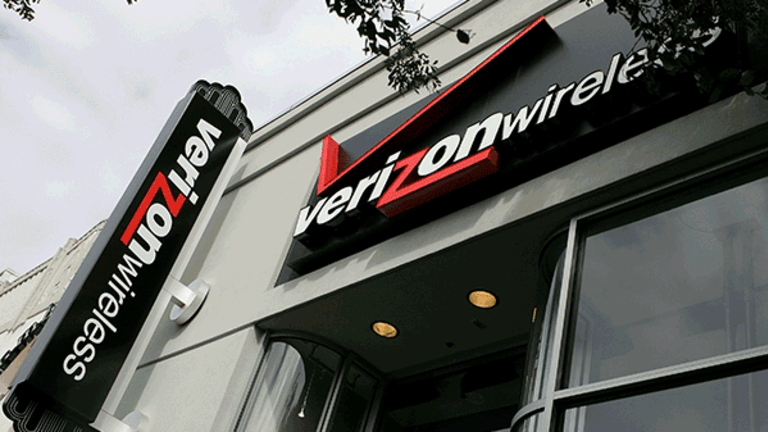 Verizon May Have a Bumpy 2017, But Hold Shares for the Long Term
The telecom giant is already down a massive 10% this year. Can this losing streak continue?
The year has barely just begun and already things don't look good for telecommunication company Verizon Communications (VZ) .
In fact, with its shares down more than 10% so far this year, Verizon Communications is the worst holding of the Dow Jones Industrial Average. So is it time to give up on this behemoth?
A big driver behind the company's excruciatingly awful stock performance was its fourth-quarter earnings announcement last month. The company missed expectations, causing investors to flee the stock.
Following the quarterly report, the stock had its worst intra-day performance in more than five years.
But missing Wall Street's forecast isn't the only problem for Verizon Communications.
The Internet has turned the whole world on its head. And traditional telecom companies have suffered.
With free voice and video calling services such as Microsoft's Skype and even Facebook's Messenger threatening the relevancy of traditional phone services, companies such as Verizon Communications and rival AT&T have had to focus on different aspects of technology.
AT&T has been hell-bent on becoming a major Internet player.
The company bought pay-television company DirecTV last year and is trying to push through a merger with entertainment juggernaut Time Warner for $85.4 billion. This would give the telecom giant a firm footing in the content and media business.
Verizon Communications has also been attempting to grow in size and scope, but it hasn't quite met with success. The company successfully acquired email pioneer AOL in 2015, but its attempt to buy Yahoo! has been a disaster.
Although Yahoo! was once one of the world's best Internet companies, one of the lucky few in its class to survive the explosion of the dot-com bubble, the company has struggled as upstarts such as Alphabet and Facebook have moved in.
Facebook and Alphabet are holdings in Jim Cramer's Action Alerts PLUS Charitable Trust Portfolio. See how Cramer rates the stocks here. Want to be alerted before Cramer buys or sells FB and GOOGL? Learn more now.
Yahoo! would bring lots of data to Verizon Communications' business. That would go a long way toward helping the company build out a massive video online advertising platform, as it is rumored to be considering.
But the deal has been rife with trouble. Yahoo! has suffered from years of mismanagement, and recently two major data breach incidents highlighted the company's flaws.
There are also rumors that Verizon Communications is considering a bid for Charter Communications, one of the country's biggest cable companies.
Charter Communications' existing neighborhood network could help Verizon Communications in its efforts to build out a 5G fiber-optic network. Of course, there is a more cynical analysis that indicates that the suggestion of a merger cold spur regulators to block AT&T's Time Warner deal.
Verizon Communications is an uncertain stock in an uncertain time. Although its performance so far this year has been awful, there is still a lot to like about the company's diverse and huge business.
If investors are willing to buy Verizon Communications and hold the stock for the long term, it could make an attractive value play.
But remember that things could get worst before they get better, and 2017 might be a bumpy ride.
---
If you're not willing to wait for the long term, sit this one out. There are better opportunities for making better money sooner. In fact, I know a way you can make as much as $67,548 per year starting right now. The trader who told me about this simple step-by-step process has been right more than eight out of 10 time! Go here for more information.
The author is an independent contributor who at the time of publication owned none of the stocks mentioned.