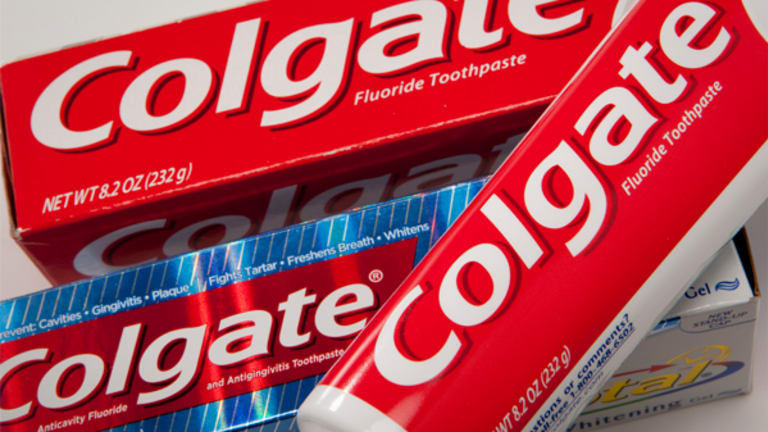 Publish date:
Verizon, Colgate, Walgreens, Shell Are Breaking Out: Must-See Charts
These four blue chips look primed to lead the S&P 500 higher this spring.
These four blue chips look primed to lead the S&P 500 higher this spring.
March has been a change of pace for the stock market -- and not in a good way.
After ripping higher since November, and setting new all-time highs in the process, the big S&P 500 index has been pumping the brakes in March. Tuesday's 1.24% drop in the S&P was its worst single day since September, and the overall index is basically still stuck at the same exact levels it was seeing six weeks ago.
But the big market averages are misleading. Delve deeper into the actual construction of the S&P 500, and some more interesting patterns are emerge.
For instance, during that six-week sideways stretch in stocks, one in four S&P 500 components are actually up 5% or more. And nearly two dozen of them hit new highs in Wednesday's trading session. In other words, a segment of this market is still working pretty well despite the correction that the averages show.
So, to figure out which big-name stocks look ready to outperform in the weeks ahead, we're turning to the charts for a technical look at four that are breaking out in March.
First, a quick note on the technical toolbox we're using here: technical analysis is a study of the market itself. Since the market is ultimately the only mechanism that determines a stock's price, technical analysis is a valuable tool even in the roughest of trading conditions. Technical charts are used every day by proprietary trading floors, Wall Street's biggest financial firms and individual investors to get an edge on the market. And research shows that skilled technical traders can bank gains as much as 90% of the time.
Every week, I take an in-depth look at big names that are telling important technical stories. Here's this week's look at four big stocks to trade.
Colgate-Palmolive Co.
Topping our list of potential breakouts is $65 billion personal products company Colgate-Palmolive Co. (CL) - Get Report. Colgate has been rocketing higher in 2017, up more than 12% since the calendar flipped to January. Don't worry if you've missed out on that burst of upside so far; a classic technical continuation pattern is signaling another leg higher in the near-term.
Colgate is currently forming an ascending triangle pattern, a bullish price pattern that's formed by horizontal resistance up above shares at $74.50, and uptrending support to the downside. Basically, as Colgate bounces in between those two technically significant price levels, shares have been getting squeezed closer to a breakout through that $74.50 price ceiling. When that happens, we've got a new buy signal in this stock -- and shares are within grabbing distance of that breakout territory as I write.
Relative strength is the side-indicator that's adding some extra confidence to upside in Colgate. This stock's relative strength line has been in a well-defined uptrend since the tail-end of January, an indication that the outperformance that's propelled Colgate-Palmolive higher in the last couple of months is still holding up today. When shares manage to move through $74.50, it's time to pull the trigger on this trade.
Verizon Communications Inc.
We're seeing the same price pattern setting up in shares of another blue chip: $203 billion telco Verizon Communications Inc. (VZ) - Get Report. Like Colgate, Verizon is teetering on the edge of breaking higher from an ascending triangle pattern. Unlike Colgate, the price pattern in Verizon isn't exactly "textbook" -- but it's tradeable.
The price level to watch here in Verizon is resistance up at $50.50.
In case you're wondering what makes the $50.50 level in Verizon so significant, it all comes down to the supply and demand created by buyers and sellers in this stock.
The $50.50 resistance level is a price where there has been an excess of supply of shares; in other words, it's a spot where sellers have previously been more eager to step in and take gains than buyers have been to buy. That's what makes a breakout above $50.50 so significant -- the move means buyers are finally strong enough to absorb all of the excess supply above that price level. From there, a retest of prior highs at $54 looks likely.
Walgreens Boots Alliance Inc.
Price patterns don't get much simpler than what's showing up on the chart of $88 billion drugstore chain Walgreens Boots Alliance Inc. (WBA) - Get Report. Walgreens has been bouncing its way higher in a well-defined uptrend for more than a year now -- as shares retreat towards trendline support for the fifth time in that stretch, it makes sense to buy the next bounce higher.
Walgreens' uptrend is formed by a pair of parallel trendlines that have done a good job of corralling this stock's price action, particularly its downside, since February 2016. Put simply, betting on a rebound off of support has been a high-probability trade over that entire stretch, and it makes WBA a "buy the dips" stock in March.
Actually waiting for that bounce is important for two key reasons: It's the spot where shares have the most room to move up before they hit resistance, and it's the spot where the risk is the least (because shares have the least room to move lower before the channel breaks, invalidating the upside trade). Remember, all trend lines do eventually break, but by actually waiting for the bounce to happen first, you're ensuring WBA can actually still catch a bid along that line before you put your money on shares.
Walgreens is a holding in Jim Cramer'sAction Alerts PLUS Charitable Trust Portfolio. Want to be alerted before Cramer buys or sells WBA? Learn more now.
Royal Dutch Shell plc
Last on our list of large-cap bullish chart setups is $219 billion energy company Royal Dutch Shell plc () . 2017 hasn't been kind to Shell so far -- this stock has been retreating all year long, shedding almost 7% of its market value while the big stock indices hit new highs. But this stock could be in store for a reprieve -- shares are looking "bottomy" in the immediate-term.
Shell has spent the last month and change forming an inverse head-and-shoulders pattern, a bullish reversal setup that indicates exhaustion among sellers. The pattern is formed by two swing lows that bottom out at approximately the same level (the shoulders), separated by a lower low (the head). The buy signal comes on a move through Shell's neckline just above the $58 level for its class B shares.
Lest you think that the head and shoulders is too well-known to be worth trading, the research suggests otherwise: An academic study conducted by the Federal Reserve Board of New York found that the results of 10,000 computer-simulated head-and-shoulders trades resulted in "profits [that] would have been both statistically and economically significant." That's good reason to keep an eye on Shell's shares this week.
At the time of publication, author held no positions in the stocks mentioned.