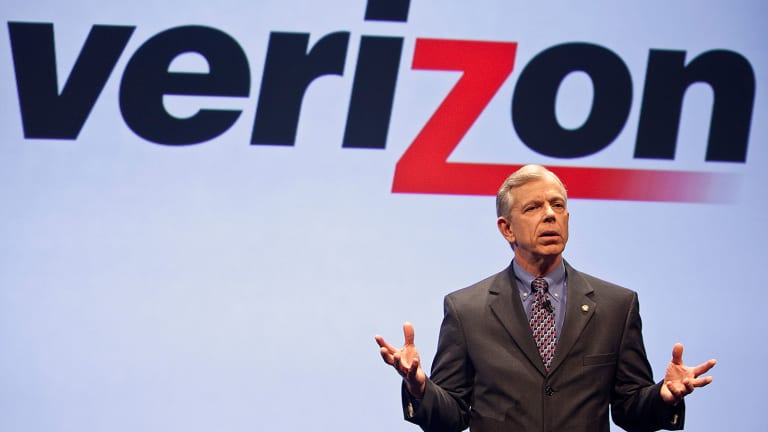 Verizon CEO: We'll Soon Have Pieces for Our Own Over-the-Top Streaming Video Service
5G will allow the telecom giant to provide a streaming service to rival AT&T's DirecTV Now, but Verizon does not have a launch date for it yet.
When Verizon (VZ) launches 5G wireless service in the coming years, CEO Lowell McAdam said Monday, the high-speed wireless offerings will allow the telecom to reach out to homes and businesses outside of its stronghold in the Northeast.
Verizon has so far built out its Fios network from Washington, D.C., to Boston, providing wired high-speed broadband, pay-TV and other services.
"There is a huge part of the U.S. that we don't provide those services to, and we knew going in and doing a Fios-like build didn't make any sense economically," McAdam told investors at the JPMorgan Tech, Media and Telecommunications conference in Boston on Monday.
Verizon's stock was up 0.1% to $45.49 on Monday and is down about 15% so far this year vs. the S&P 500's 7% rise.
The first wave of 5G service will be fixed wireless service that connects homes and businesses. Verizon is working with Intel (INTC) to develop home router technology that would allow the telecom to provide broadband and TV without the cost of stringing fiber to every new home.
"We could be a significant player for delivering broadband and video over-the-top," McAdam said.
The telecom is putting the pieces together the elements of an over-the-top video service, though McAdam was not ready to announce the launch of a service rivaling AT&T's (T) DirecTV Now.
"We've done some interesting things with Hearst," he said, referring to the joint investments the telecom and media groups have made in millennial-minded digital media outfits AwesomenessTV and Complex Media.
Verizon has also been lining up other media deals. The telecom has the rights to stream an National Football League game from London this season and has been carrying games of the National Women's Soccer League. The telecom plans to up its media game when it closes the $4.48 billion purchase of Yahoo (YHOO) in June.
"So the platform will be in place to do an over-the-top sort of play," McAdam said. "We'll go out and test it, but we have not committed to a launch date or anything, we are going to see how this evolves."
The Verizon CEO shooed away the notion that the telecom is likely to make a major media acquisition. Weeks ago, McAdam's comments that Verizon would have talks with someone like Comcast (CMCSA) , Disney (DIS) or CBS (CBS) sparked M&A buzz.
"There is a lot more energy in Wall Street and the media over these big M&A deals than there is in most businesses at this point," McAdam said on Monday.
Major deals involve tricky melding of cultures and operational integration, he said, pointing to the mergers of Sprint (S) and Nextel and AOL with Time Warner (TWX) as cautionary examples.
"The people who write articles like that [about mega-deals] haven't run big businesses before," he said.
While a merger of Verizon and Comcast is not likely, a wireless agreement between the companies went live last week when Comcast launched its new mobile service, which operates on Verizon's network. Jim Cramer and the AAP team discussed the rollout. Get a free trial subscription to Action Alerts PLUS.
Read More Trending Articles:
There's Something Bad Happening at Staples That Should Remind Everyone How Bleak Retail Is Right Now