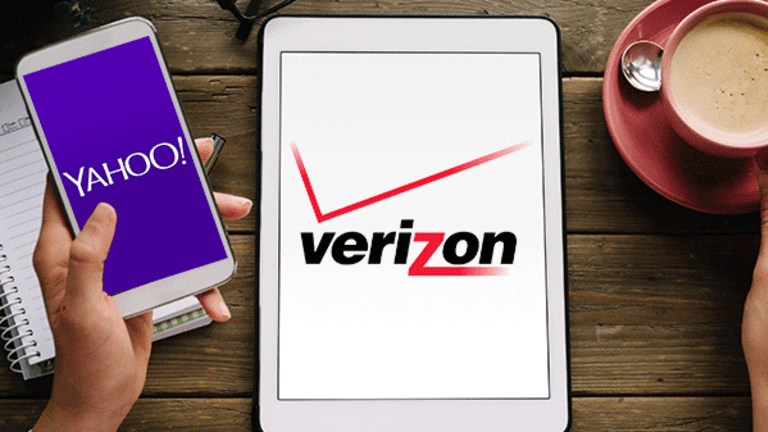 Verizon Hacks Away at $4.8 Billion Price Tag for Yahoo!'s Core Assets
After disclosures of massive security breaches rocked Yahoo! last year, the companies have reportedly agreed to reduce Verizon's original offer price and make other changes to the deal.
Updated from Feb. 15 with additional information.
The extended saga of Verizon's (VZ) - Get Verizon Communications Inc. Report  purchase of Yahoo (YHOO) may finally be nearing a close.
As reported by the Wall Street Journal and others on Wednesday, the companies are close to agreeing to a price cut of as much as $350 million in Verizon's original offer of $4.8 billion for Yahoo's core Internet business, citing sources familiar with the matter. Verizon and Yahoo declined to comment on the report.
Shares of Yahoo were down 0.4% to $45.46 on Thursday morning, while Verizon was up 0.2% to $48.19. On Wednesday, when news of the price cut was first reported, Yahoo shares rose nearly 1.4%, while Verizon's gained close to 0.2%.
Since the companies first agreed to the sale back in July, Yahoo! has disclosed a pair of massive cyber breaches. In September, the struggling internet company disclosed a 2014 hack of 500 million user accounts, while in December, it announced that another one billion accounts had been hijacked in 2013.
In addition to a price cut, re/Code reported that the company's that left after the sale, Altaba, would assume liability for any as-yet undiscovered hacking attacks. Buyers frequently negotiate earn-out clauses that tie compensation to performance following the completion of a deal; the Yahoo provision would represent what could be termed a hack-out clause.
Filing the revised deal would restart the process to closing the acquisition. "The next step could be Yahoo filing a revised proxy statement that includes the amended purchase terms and potentially, a date for the shareholder vote," SunTrust analyst Kunal Madhukar wrote in a Wednesday report.
Yahoo's revised proxy will be required reading for M&A lawyers. The hacks have highlighted the importance of cyber security in due diligence.
Since the revelations of the hacks, Yahoo investors have fretted over the possibility that Verizon could lower its price -- or even abandon the deal altogether.
As Cantor Fitzgerald analyst Youssef Squali observes, the majority of Yahoo's value still resides in the company's stakes in Alibaba (BABA) - Get Alibaba Group Holding Ltd. Sponsored ADR Report and Yahoo! Japan. The Alibaba stake accounts for $34.50 of Squali's $51 target share price for Yahoo, while Yahoo! Japan position gets a $6 per share valuation. Yahoo's core business makes up just $5 per share of the total value, while the company's cash holdings and investments add $6 per share.
A $300 million haircut for Yahoo shareholders could be a relief, given that previous reports had said Verizon wanted a $1 billion price reduction in the deal price.
As growth in its wireless business drags, Verizon has been positioning itself as a mobile media and ad tech company. The company hoped to plug Yahoo! into a digital media technology unit that includes AOL and is one of the telecom's growth niches. The unit generated more than $1 billion in revenues in the second half of 2016. Verizon has not disclosed sales for the entire year.
Verizon also teamed with media conglomerate Hearst Corp. to invest in millennial-minded digital media companies AwesomenessTV and Complex Media last year. Verizon has also cut deals with the NFL and NBA to provide content for its go90 wireless product.