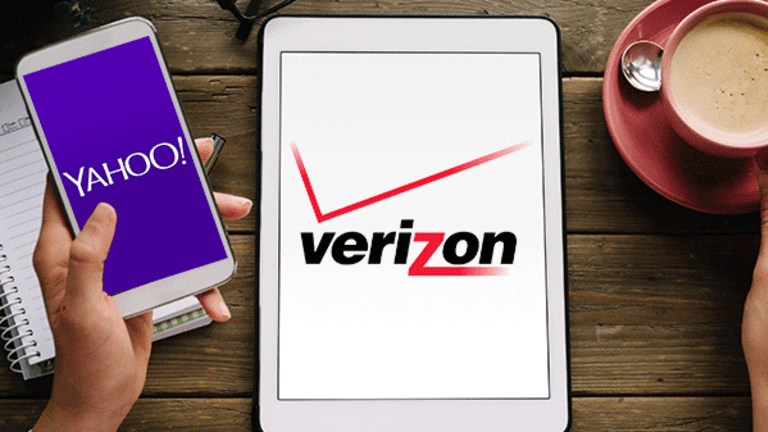 It's Official: Verizon Hacks $350 Million From Yahoo!'s Price Tag
After revelations of a pair of massive user hacks, Yahoo! has agreed to accept $4.48 billion in cash for its core assets.
Updated from 9:09 a.m. with additional details.
After months of investigation and negotiation, Verizon (VZ) - Get Verizon Communications Inc. Report  said Tuesday that it would drop its purchase price for the core assets of Yahoo! (YHOO)  by $350 million, from $4.83 billion to $4.48 billion in cash.
Verizon's rebate has slowly but steadily increased in recent weeks, from a reported $250 million. However, the latest ask is just more than a third of the $1 billion that Verizon reportedly asked for last year in the wake of the disclosures.
Post-sale Yahoo, which will be known as Altababa in recognition of its valuable stake in Alibaba (BABA) - Get Alibaba Group Holding Ltd. Sponsored ADR Report, will pay all liabilities for actions brought by the SEC or by shareholders. But the companies will evenly split liabilities related to other government inquiries or third-party litigation.
Shares of Yahoo were up slightly to $45.16 on Tuesday morning, while Verizon gained half a percent to $49.46. Shares of Yahoo rose last week on reports that a revised deal was close to being announced.
Since the companies first agreed to the sale back in July, Yahoo! has disclosed a pair of massive cyber breaches. In September, the struggling internet company disclosed a 2014 hack of 500 million user accounts, while in December, it announced that another one billion accounts had been hijacked in 2013.
Yahoo's exit from its operating business was difficult enough, with activist Jeffrey Smith's Starboard Value LP declaring at various times in 2015 and 2016 that investors had lost confidence in management and arguing for a break-up of Yahoo's Internet businesses from its overseas investments.
The hacks were an embarrassing epilogue to the auction and to Marissa Mayer's tenure at Yahoo. Fresh from Alphabet's (GOOGL) - Get Alphabet Inc. Class A Report Google, Mayer raised Yahoo's profile when she joined as CEO in 2012. Mayer championed Yahoo's "Mavens", an acronym for businesses centered around mobile, video, native advertising and social media. She also made a string of acquisitions, including the $1.1 billion purchase of blogging site Tumblr in 2013.
Initially, Yahoo's stock rose, although that was likely more because of Wall Street's recognition of the value of Yahoo's big stakes in Alibaba and Yahoo! Japan. Mayer's acquisitions drew criticism as a turnaround in the core business stalled.
As bad as the breaches were, they could have been more costly for Yahoo. Verizon initially sought a $1 billion price cut, according to reports.
in a press release Tuesday, Verizon's digital boss Marni Walden noted that Yahoo still has more than one billion users and 600 million mobile users.

The revised deal gives both sides something valuable. Verizon limits its vulnerability to the hacks, and Yahoo shareholders take a limited financial hit -- as long as the breaches don't lead to massive liabilities from the SEC and shareholders .
From the perspective of Yahoo shareholders, Kunal Madhukar of SunTrust notes that the price cut comes to just about 35 cents per share. "The next step could be Yahoo filing a revised proxy statement that includes the amended purchase terms and potentially, a date for the shareholder vote," he wrote in a Tuesday report.
The revised proxy will be required reading for M&A advisers, and should be a benchmark in the role that cyber security plays in due diligence.
As buyer and seller negotiated how they would divvy up responsibility for the breaches, Wells Fargo analyst Jennifer Fritzsche wrote about the importance of limiting Verizon's exposure. "Our concern had been once this closed -- [Yahoo's]'s problems of the past would be solely on [Verizon]," she wrote on Tuesday morning before the revised deal had been confirmed. 
Yahoo's January report may have assuaged Verizon's concerns about the breaches, as the attacks did not appear to substantially reduce user engagement.
"We believe the [Yahoo] assets combined with its AOL business should drive both expense and revenue synergies, particularly when paired with VZ's 114MM wireless subscribers," Fritzsche wrote.
AOL and Yahoo should both benefit financially, as Verizon will diversify its business, albeit only to a limited degree. Fritzsche cites eMarketer stats that put a combined AOL and Yahoo at 2% of global digital ad revenue, while Google and Facebook dominate with market share of 32% and 13%, respectively.