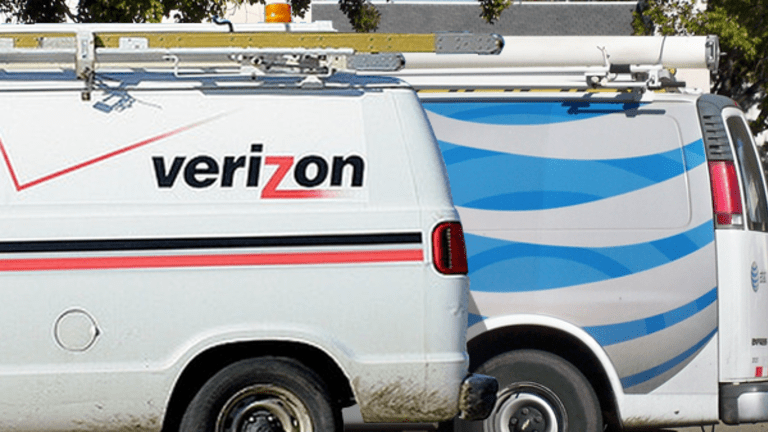 Verizon and AT&T Show Silver Linings Despite Recent Underperformance
Shares of the two biggest U.S. telecoms have been beaten down, but analysts see a few positive notes.
AT&T (T) - Get AT&T Inc. Report and Verizon (VZ) - Get Verizon Communications Inc. Report  are down 10% and 15%, respectively, so far this year. By comparison, the S&P 500 is up about 7.8%.
After a tough start to 2017, a pair of analyst notes on Tuesday suggest some positive developments for the two telecom behemoths. Both reports damn the dominant U.S. telecoms with faint praise in some places, however, and note the difficult competitive environment as unlimited plans and aggressive phone promotions proliferate. 
Craig Moffett of MoffettNathanson upgraded AT&T, but with caveats. While analyst boosted his rating on AT&T from sell to neutral, he actually lowered is target by $1 to $36 and noted that "every one of AT&T's major business segments is now contracting." Shares of AT&T gained 1.1% to $38.55 on Tuesday.
Verizon, which Moffett upgraded from neutral to buy in February, did not escape. The analyst cut his Verizon target to $50 from $56. Verizon gained 1.5% to $45.99.
"The first quarter was one of the worst in recent memory for the telecom sector," Moffett explained of the competitive environment. "But one doesn't have to believe that it will soon get lighter. Instead, one must only believe that it is unlikely to get even darker."
The dividends of AT&T and Verizon are safe over the next year and Moffett expect results to "at least stabilize" in the short term.  AT&T and Verizon valuations are "a little more rational" as the telecoms trade at 30% discount to the price to earnings ratios for the S&P 500, which Moffett notes is the largest markdown since the 2002 telecom crisis. 
Verizon's life could get a bit tougher on Wednesday, when the latest promotion from T-Mobile USA (TMUS) - Get T-Mobile US Inc. Report  starts. T-Mobile's "Ditch Verizon" targets customers who own some models of Apple (AAPL) - Get Apple Inc. Report iPhone and Alphabet (GOOGL) - Get Alphabet Inc. Report Google Pixel phone. T-Mobile will pay off the balance that the subscribers owe for the device if they switch. 
Comcast (CMCSA) - Get Comcast Corporation Class A Common Stock Report  recently launched its own wireless brand by reselling Verizon's service. Jim Cramer and the Action Alerts PLUS team examined Comcast's efforts to expand its business through wireless and other avenues. Get a free trial subscription to Action Alerts PLUS.
Competition should only get more intense with the launch of Apple's 10th anniversary iPhone later this year, as the carriers devise new promos to lure customers from their rivals. 
Even as the economics of the wireless sector get more challenging, BTIG analyst Walt Piecyk outlined how Verizon shares could ramp from the mid-$40s to the low $50s in a Tuesday report.
"[D]espite all the concerns about competition, Verizon's wireless margins and churn are still near record levels and there is the potential for a more benign competitive environment if Sprint (S) - Get SentinelOne Inc. Class A Report and T-Mobile are able to merge," BTIG analyst Walt Piecyk wrote in a Tuesday blog. A combination of Sprint and T-Mobile would reduce the field of competitors from three to four, and Verizon could get some breathing room while the wireless carriers undergo what would be a massive integration. 
Further, Piecyk noted that Sprint CEO Marcelo Claure has said he expects the pricing of unlimited plans to increase, which would lessen the squeeze on market-leader Verizon. 
Verizon's 5.1% dividend is one of the highest on the S&P 500, Piecyck added. 
The carrier trades at 13.3 times 2018 price to earnings, the analyst notes, versus the S&P 500's multiple of 18 times. If Verizon traded at 15 times it would have a $51 per share price and 4.5% dividend.
"We therefore acknowledge that the set-up for Verizon's stock is very tempting to take a shot on the long side," Piecyck wrote. 
It is not as though the clouds over Verizon are clearing, however. Piecyk cut his year-end 2018 estimate for Verizon's post-paid subscribers by 1.6 million to 109.3 million.
Both AT&T and Verizon face challenges. But the telecoms may have some upside because of how much the markets have beaten them down this year.
Read More Trending Articles:
Apple Is Now a Prodigious Chipmaker, Giving It Some Major Competitive Advantages