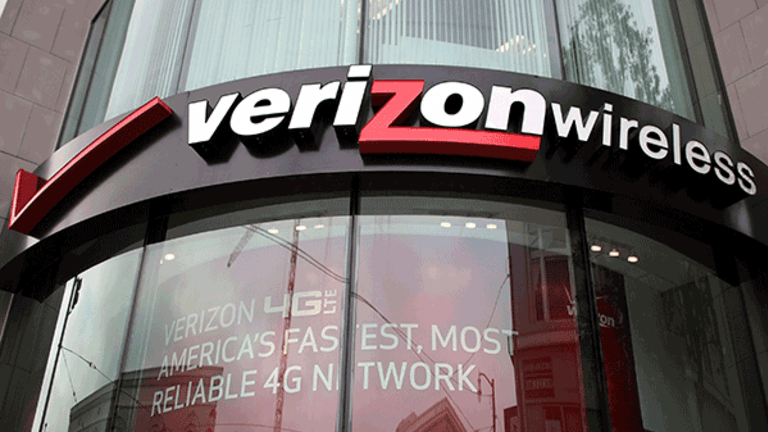 Verizon and AT&T Faring Better Than Rivals With Unlimited Data Plans
The big two make more per unlimited subscriber than Sprint and T-Mobile USA, Jefferies says.
AT&T (T) - Get Report and Verizon (VZ) - Get Report have been dragged into unlimited data offerings but they're actually doing better with it than their smaller rivals -- at least based on average revenue per subscriber. 
T-Mobile (TMUS) - Get Report and Sprint (S) - Get Report have used aggressive price promotions to lure customers away from the big two wireless carriers, and that's hurt their average revenue figure, according to Jefferies analyst Mike McCormack.
"We find that, at the average of [about] three lines per account, the more rational pricing of AT&T and Verizon would suggest the plans are accretive," McCormack wrote. 
Verizon Communications Inc. begrudgingly offered 1 line of unlimited data for $80 per month in February. Like all of the carriers, Verizon offers discounts for additional lines.
The carrier had previously said that the economics of unlimited service do not work, and banked on the superiority of its network to lure customers. Even with its new offering, Verizon Chairman and CEO Lowell McAdam seems unwilling to accept that on all-you-can-eat service is here to stay.
"Unlimited is not the end state, it's a step along the way," McAdam said at a May investor call, though he did not forecast when the offers might end or what would replace them.  
AT&T Inc. has unlimited offerings at $60 and $90 per line, with bundled HBO and other perks at the higher-priced service. The wireless carriers all have discounts for multiple lines. The carrier offered unlimited plans to DirecTV subscribers in early 2016, and expanded the offer to all subscribers in February.
T-Mobile USA Inc.'s unlimited plans, which offer a single line for $70 to $75 per month, are "relatively neutral" to average revenue per user, McCormack wrote. 
Sprint Corp. fares the worst in the Jefferies analysis. 
"Sprint's more aggressive promotions are likely to be dilutive," McCormack wrote. "In fact, even at a single line, Sprint's pricing appears dilutive to current ARPU levels," the analyst added. 
Sprint charges  $50 per month for one line, adds a second line for an extra $40 and provides up to three more lines for free. Someone who buys five lines from Sprint pays the same, per month, as a customer with a single line of AT&T's more expensive offering.
Since Sprint and T-Mobile USA have been the most aggressive promoters of unlimited service, it's not surprising that they had the highest percentages of unlimited subscribers, according to a Jefferies survey of 1,000 phone users.
About 62% of Sprint's users are on unlimited plans, based on survey responses, compared to about 57% of T-Mobile USA's users.
AT&T sells unlimited service to 30.5% of its users, while Verizon, which reintroduced unlimited plans on mid-February, is at 23%.
Sprint has the most at stake, according to the Jefferies survey. More than 95% of its unlimited subscribers surveyed said they would leave if Sprint dropped its unlimited plan. More than 85% of AT&T's unlimited subscribers said they would leave, while T-Mobile and Verizon's numbers were between 80% and 85%.
More of What's Trending on TheStreet:
The Federal Reserve Is Scared, So It's Hiking Interest Rates: Market Recon
A Sales Warning by General Motors Has Been Heard Around the World -- European Stocks Get Hit