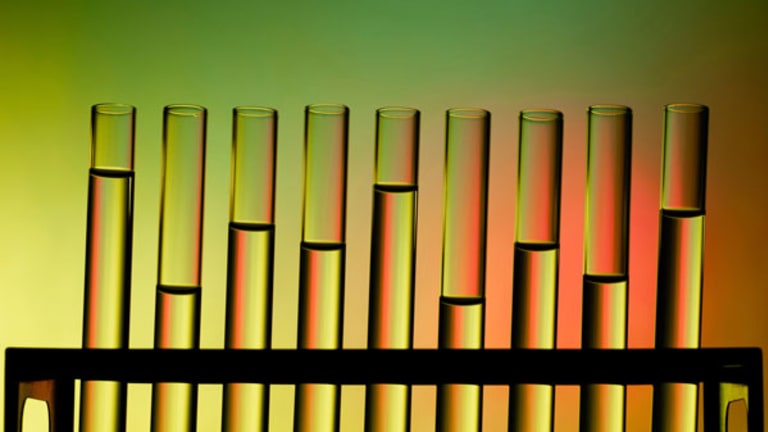 Vanda Vaults on Study Results
The stock surges nearly 60%.
Shares of
Vanda Pharmaceuticals
(VNDA) - Get Vanda Pharmaceuticals Inc. Report
soared Wednesday after the company reported positive late-stage trial results on a proposed insomnia drug.
The drug, dubbed VEC-162, showed a significant difference in leading to the onset of sleep when compared with a placebo. The medication was tested at three different dosage levels in patients with transient insomnia and circadian-rhythm sleep disorders, which are disruptions in the body's normal sleep-wake cycle.
The phase III trial involved 412 people who received 20 milligrams, 50 milligrams or 100 milligrams of VEC-162 or a dummy pill 30 minutes before bed time. Those who were given the drug saw an average improvement in time to persistent sleep of 21.5 minutes, 26.3 minutes and 22.8 minutes, respectively, for the dosage levels.
Vanda also said that the patients slept between 29.6 minutes and 47.9 minutes longer than the study participants who got a placebo. The drug was found to be safe and well tolerated.
The company's stock was surging $5.74, or 59%, to $15.50, setting a 52-week high. Trading volume was much heavier than normal.
"This study demonstrates VEC-162's ability to induce and maintain sleep," said Dr. Paolo Baroldi, Vanda's chief medical officer, in a prepared statement. "Also because VEC-162 is a balanced melatonin receptor agonist that works through the natural sleep-wake cycle, it appears to lack the side effects associated with hypnotics and sedatives and should not be scheduled as a controlled substance."
Sanofi-Aventis'
(SNY) - Get Sanofi Report
sleep drug Ambien and
Sepracor's
( SEPR) Lunesta are capable of causing next-day side effects in some patients and are classified as schedule IV controlled substances because of their risk for potential abuse.
VEC-162 would be especially helpful for hospital workers, airport employees and even entertainers and other individuals with long work hours or who work night shifts, Vanda President and CEO Dr. Mihael Polymeropoulos said in an interview. Eventually, the drug could be expanded to treat all types of insomnia, for both temporary and chronic disorders, he said.
The company expects to complete two additional studies in the same patient population by the end of 2008. Vanda plans to submit an application to the Food and Drug Administration for marketing approval of the drug in late 2008 to early 2009. The drug "could be available as early as 2010," Polymeropoulos says.