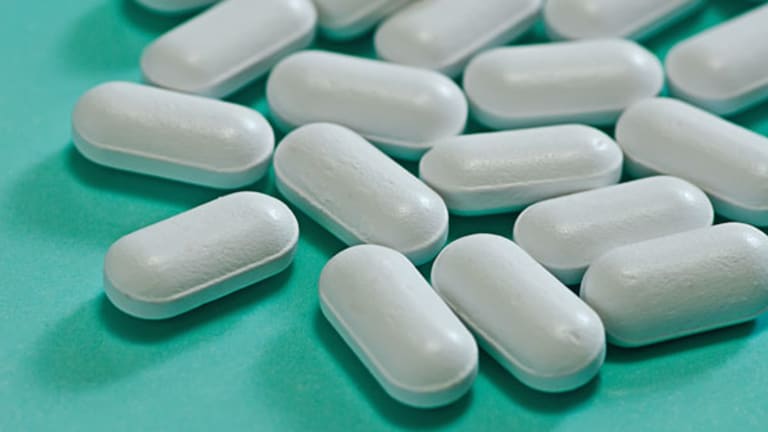 Vanda Sinks on FDA Rejection (Update)
Its lead drug, antipsychotic iloperidone, will require another clinical trial and more safety data before approval.
Its lead drug, antipsychotic iloperidone, will require another clinical trial and more safety data before approval.
Updated from 1:44 p.m. EDT
Vanda Pharmaceuticals
(VNDA) - Get Report
said Monday that the Food and Drug Administration rejected its lead drug, iloperidone, and will require another clinical trial and more safety data before it can approve the antipsychotic drug.
Shares plummeted $2.46, or 73%, to 90 cents in recent trading as investors stomach a possible multiyear delay and thin resources.
On a conference call Monday, CEO Mihael Polymeropoulos said he was very surprised by the FDA's request.
Specifically, the FDA was concerned about the drug's efficacy in schizophrenia patients relative to
Johnson & Johnson's
(JNJ) - Get Report
Risperdal, a standard drug used comparatively to gauge efficacy. The agency wants a trial comparing iloperidone to placebo and an active comparator such as
Eli Lilly's
(LLY) - Get Report
Zyprexa or J&J's Risperdal.
The agency also said it would require Vanda to obtain more safety data on iloperidone, marketed as Fanapta, for patients at a dose range of 20 to 24 mg per day.
Polymeropoulos said the efficacy study is similar to the one the company already completed -- which cost roughly $35 million -- and would take at least a year and a half, while the chronic safety data could take two years to complete.
Under the capital available to the company today, it would not be able to conduct both the additional efficacy study and the additional safety exposures, Polymeropoulos said.
The CEO said Vanda will have to examine a number of options, including potential partnerships and assets to divest, but it will first establish further clarity with the FDA regarding the non-approvable letter.
"Assuming VNDA obtains additional financing, completes the FDA required trials by 2009-10, gains potential FDA approval by 2011, and launch in 2012, we point out that the atypical antipsychotic market will be heavily genericized by then with multiple drugs coming off patent protection," wrote Citi analyst Lucy Lu in a note to investors. Lu slashed her $5 price target to $1.29 on Monday following the news.
Under a "best case" scenario, Lu says she shifted Fanapta revenue back by two years and significantly reduced R&D and SG&A expenses because the company has placed all Fanapta-related activities on hold.
Lu and other Street speculators, including
TheStreet.com
senior writer and
RealMoney.com
contributor Adam Feuerstein, were skeptical about the drug's prospects of getting approved on the first try without more data. "I base my skepticism on the existing clinical data, which to me, show Fanapta to be a me-too drug on efficacy and a mixed-to-worse side-effect profile," wrote Feuerstein in his
July 18 Biotech-Stock Mailbag
.
As of July 10, shares short were 31.2% of float.
However, the "non-approvable" letter still hit some as a surprise. "Based upon Fanapta's clinical package as we understand it, we believe a non-approvable letter is extremely unlikely," wrote Natixis analyst Corey Davis in a note to investors last week. "In our view, final approval is actually not out of the question but first-pass approvals are exceedingly rare, thus we have always conservatively assumed that Fanapta will get an approvable letter."
Vanda's shares were
when the company reported a late-stage study on insomnia drug tasimelte met its main goal but didn't demonstrate statistically significant improvements in secondary endpoints, the measure of sleep duration called total sleep time (TST) and wake after sleep onset (WASO), a sleep-maintenance measurement.
Vanda said Monday that as of June 30 its cash, cash equivalents and marketable securities totaled about $65.6 million.
Executives said they will further discuss the issue when the company reports its second-quarter earnings results next week.