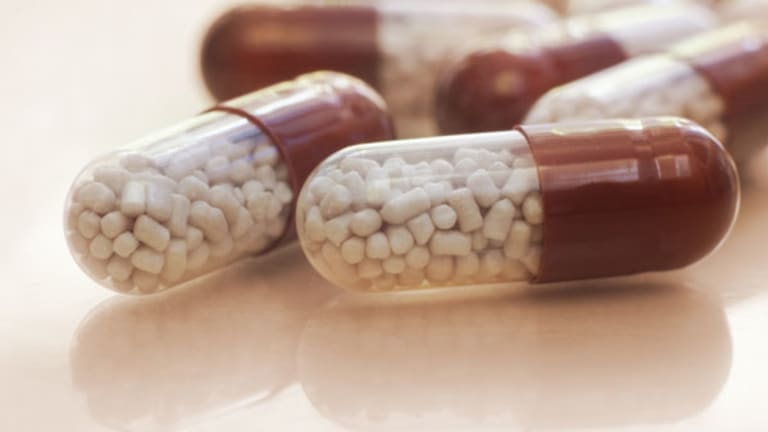 Vanda Ripe for Picking, or Dead on the Vine?
A bull and a bear make their cases for whether a larger drug company will buy Vanda Pharmaceuticals.
A bull and a bear make their cases for whether a larger drug company will buy Vanda Pharmaceuticals.
The bulls-eye view of
Vanda Pharmaceuticals
(VNDA) - Get Report
: The company's newly approved schizophrenia drug Fanapt will prove to be an irresistible acquisition target for a larger drug company seeking to tap into the $15 billion U.S. antipsychotic drug class.
And from the bears: Potential buyers will sniff at Fanapt but pass because health care reform, the looming threat of cheaper generics and the high cost of marketing a schizophrenia drug all conspire to make Fanapt a money-losing product.
Two divergent opinions of Vanda, each from a health care hedge fund analyst who spoke to me last week. Neither of them is allowed to be quoted publicly.
The first analyst, the bull, is buying Vanda's stock at current prices because he thinks an acquisition of the company is coming and the stock could double from here.
The bearish analyst is shorting Vanda's stock because he believes there will be no acquisition, forcing the company to raise cash dilutively in order to sell the drug on its own. Which it won't do very successfully, he says.
For those not yet aware, Vanda is the Cinderella story of 2009 after the U.S. Food and Drug Administration
on May 6 -- a decision that shocked and surprised just about everyone. Since then, Vanda shares are up 1,094%, closing Friday at $12.90.
But now Vanda must figure out how to market Fanapt, which as a schizophrenia drug will compete against similar drugs from
Eli Lilly
(LLY) - Get Report
,
AstraZeneca
(AZN) - Get Report
and
Pfizer
(PFE) - Get Report
, among others.
Mr. Bull, the hedge fund analyst buying Vanda stock, says the company is clearly for sale. Despite the drug's approval, management seems to be taking no steps to build a commercial operation of its own.
The company employs a part-time chief medical officer and part-time chief financial officer, and there are no indications from headhunters or on the company's Web site that recruitment of a sales and marketing executive or a salesforce is under way, he says. Contrast this inactivity to the 90 job openings listed on Dendreon's Web site as it begins to build up toward the launch of its cancer drug Provenge.
If, as he strongly suspects, Vanda management simply wants to sell the company, Mr. Bull thinks Fanapt is appetizing bait for a mid- to large-pharmaceutical company with an existing psychiatric drug business.
The best thing about Fanapt is that it's already FDA-approved, which eliminates a major risk for a potential acquirer. Getting new anti-psychotic drugs approved is typically very difficult and time consuming.
And while Mr. Bull doesn't think Fanapt is a good enough drug to bring in the $3 billion $4 billion in sales of drugs like Eli Lilly's Zyprexa or AstraZeneca's Seroquel, Fanapt does have a chance of competing well against Pfizer's Geodon, which racks up about $1 billion in sales.
Mr. Bear, the hedge fund analyst shorting Vanda right now, obviously isn't buying the takeout story. He has three major reasons for why Fanapt will be a disappointment.
First, health care reform is putting the squeeze on hospitals to reduce costs. For schizophrenia patients, that means stabilizing them as quickly as possible without lengthy in-hospital stays.
Doctors who treat patients in hospitals prefer a drug like Zyprexa because it doesn't require dose adjustments that can keep a patient admitted for a week or more. Fanapt, on the other hand, does require dose adjustments, which will prolong hospital stays and cost the health care system more money, says Mr. Bear.
Second, generic antipsychotic drugs are coming soon. As it stands today, Medicare and Medicaid rules do not require the use of generics over brand-name drugs, so doctors who treat a majority of schizophrenia patients are free to prescribe Zyprexa, Seroquel or Geodon first even though Risperdal is already generic and less expensive.
But by 2012, Zyprexa, Seroquel and Geodon will all be off patent and cheap generic versions will be available. With four generic drugs to treat schizophrenia in the market, Mr. Bear is betting that Medicare and Medicaid rules change, requiring the use of cheap generics before more expensive brand name drugs.
If that happens, Fanapt only has a short, two- to three- year window of opportunity to sell itself before market share is eroded, says Mr. Bear.
Lastly, Fanapt will be an expensive drug to market because schizophrenia is a highly specialized disease. Companies that have existing psychiatric drugs will still have to create a specialty salesforce and spend a lot of money on marketing to turn Fanapt into a successful product. But all that spending eats into the drug's profitability, making it a less desirable acquisition candidate, says Mr. Bear.
Vanda: One stock, two different opinions. We'll see who is right in the coming weeks and months.
Adam Feuerstein writes regularly for TheStreet.com. In keeping with TSC's editorial policy, he doesn't own or short individual stocks, although he owns stock in TheStreet.com. He also doesn't invest in hedge funds or other private investment partnerships. Feuerstein appreciates your feedback;
to send him an email.