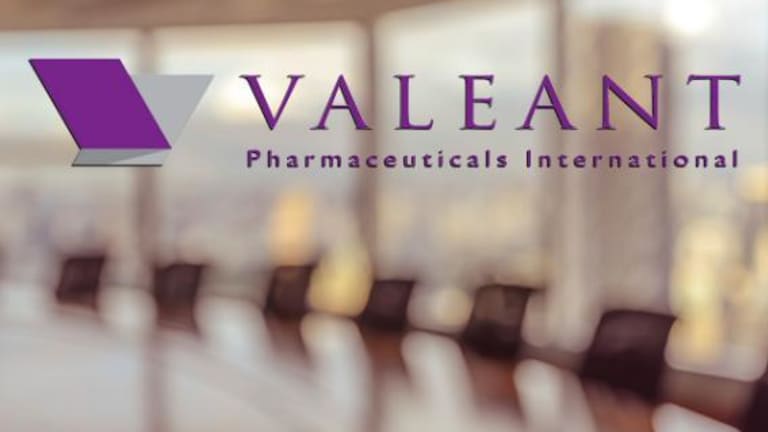 Valeant Tumbles on Earnings Woes
The troubled pharmaceuticals firm has lost some 86% this year.
Valeant Pharmaceuticals (VRX) was plummeting in morning trading Tuesday, with more than a quarter of the debt-laden drugmaker's market cap vanishing before the opening bell on a disastrous earnings rollout.
Shares of Valeant were down more than 20% at $14.95 a share in early trading after the struggling Canadian drugmaker posted third-quarter earnings far below consensus estimates, compounded by cuts to its guidance for the remainder of the year -- putting Valeant at risk of breaching covenants on some of its roughly $31 billion of debt.
Earnings clocked in at $1.55 a share for the third quarter, below average analyst expectations of $1.76, while sales of $2.48 billion for the period fell short of the $2.52 billion predicted. Valeant also slashed its earnings guidance to a range of $5.30 to $5.50 a share for the year, from a previous range of $6.60 to $7.
"We can't change the things in the past; we can only deal with them and change our future," Valeant's newly appointed CFO Paul Herendeen said on Tuesday morning's earnings call with analysts. "We are a new team, and we need to earn your trust. We will do that by being a good corporate citizen, by delivering on our commitments and by being transparent in our financial reporting."
Valeant stock fell by more than 25% at one point in premarket trading, although it recovered somewhat once the market actually opened. But all told, Valeant shares are down about 86% so far this year amid controversy surrounding alleged accounting problems and steep price hikes on products the firm acquired during years of debt-fueled acquisitions. The scandals led to the departure of Chairman and CEO J. Michael Pearson and CFO Howard Schiller from Valeant, which is a member of our "Stressed Out" list of stocks that face big debt pressures.
Valeant has previously admitted to roughly $58 million of improperly booked sales tied to its former partnership with mail-order pharmacy Philidor. Last fall, reports of alleged accounting misconduct involving Philidor ignited congressional and U.S. Securities and Exchange Commission investigations and led to a delay in Valeant's annual and first-quarter SEC filings. Those delays in turn put Valeant in apparent violation of its bond indentures and loan covenants, prompting a fight with creditors which hold Valeant's $31 billion of debt.
Employees of TheStreet are restricted from trading individual securities.