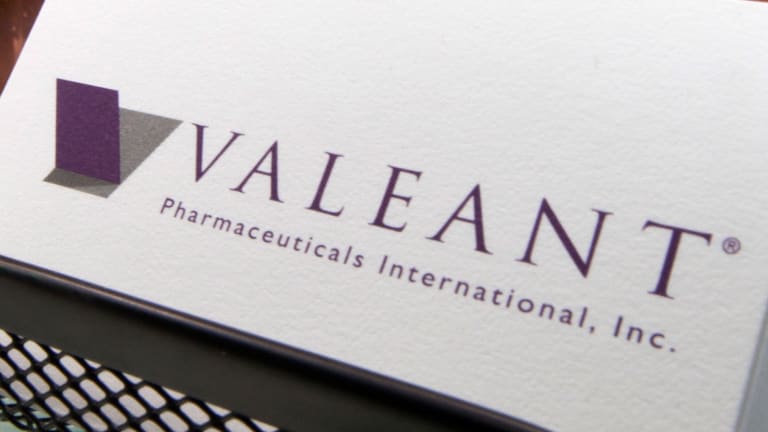 Can a Bold Name Change Help Valeant Escape Its Tarnished Reputation?
Valeant will become Bausch Health Cos. this summer. Here's what that could mean for the company as it continues to recover from controversy.
Valeant will become Bausch Health Cos. this summer. Here's what that could mean for the company as it continues to recover from controversy.
For Valeant Pharmaceuticals International Inc. (VRX) , this summer is all about reinvention.
About three years into a turnaround effort following a spate of scandals, Valeant announced this week that it will change its name to Bausch Health Cos., effective July 2018.
"Becoming Bausch Health Companies is a major step forward in our transformation," said Valeant CEO Joseph Papa in a statement to the Securities and Exchange Commission. Papa added that the Bausch name is a nod to J.J. Bausch, the founder of global eye health leader Bausch & Lomb, which Valeant acquired for $8.7 billion in 2013.
The name change is undoubtedly part of the effort to establish even more distance between Valeant and its past controversies. Before Papa took the reins, the company came under intense scrutiny from investors, insurers and customers over its business practices, namely allegations it would buy drugs and increase their prices to turn a fat profit.
Valeant also reported first-quarter earnings on Tuesday, tallying its first quarter of overall organic revenue growth since 2015. Valeant reported a loss of $2.69 billion, or $7.68 a share, for the first quarter. 
Revenue declined to $1.995 billion from $2.109 billion a year earlier, but topped analysts' forecasts of $1.949 billion. Valeant also raised guidance for the year, announcing it expects 2018 revenue between $8.15 billion and $8.35 billion, up from previous estimates of between $8.1 billion and $8.3 billion.
The revenue beat and optimistic guidance were enough to send shares higher more than 12% on Tuesday.
For Papa, the name change is another step in a turnaround effort that's earned him the respect of many on Wall Street.
"This was long overdue," said David Amsellem, a senior analysts at Piper Jaffray. "Purely from an optics perspective, it certainly cannot hurt given the tainted nature of the Valeant name, though no fault of the current management team."
Papa and his team have stepped up to the plate in recent years, heading an effort to overhaul Valeant's business practices and regain the good graces of investors and lawmakers. Most recently, Papa and his team have paid down about $6.9 billion in debt, initiated new financial reporting practices and capped price increases for branded prescription drugs to no more than 10% per year.
"This is not a particularly surprising move," said Raghuram Selvaraju, senior healthcare analyst and managing director at H.C. Wainwright. He said Papa had previously expressed to analysts that a name change would happen, but timing was key.
"They did not want to do it at the time when the company was struggling to execute a turnaround," Selvaraju said. Had Valeant announced a name change in the throes of controversy, it might have been taken as an insignificant last-ditch effort in avoiding "more substantive problems."
Selvaraju explained that Valeant's Papa-led turnaround was four-fold. First, the company had to get its debt load under control. Next, it had to reassure investors that there would be no fire sale in the wake of scandals. Third, it needed to communicate to Wall Street that it had the means and the motivation to achieve cost savings through positive restructuring. Lastly, Valeant must make it clear that the company can return to ongoing, sustainable organic growth.
Selvaraju said Valeant has largely realized the first three aims but remains tasked with proving growth prospects to the broader market in order to win back the favor of investors.
"They felt that with light at the end of the tunnel, so to speak, now would be the time to change the name of the company," Selvaraju said. He added that the Valeant name has, for all intents and purposes, been "irrevocably tainted."
The decision to land on Bausch as a new name was arguably strategic. "It's not surprising to me," Selvaraju said. "Bausch & Lomb remains the company's bread and butter."
Valeant has acquired dozens of businesses since its founding in 1959, but Bausch & Lomb is among the most historic. The company was founded by J.J. Bausch as an optical goods shop more than 165 years ago. Bausch would go on to create the first mass-produced contact lenses and would later invent for the military now-ubiquitous Ray-Ban sunglasses. Internationally in 2017, Bausch & Lomb represented 56% of Valeant's total revenue.
Valeant said it will "roll out a new corporate identity in July 2018, which will include new imagery and website." It will trade under the ticker "BHC" on both the New York Stock Exchange and the Toronto Stock Exchange.