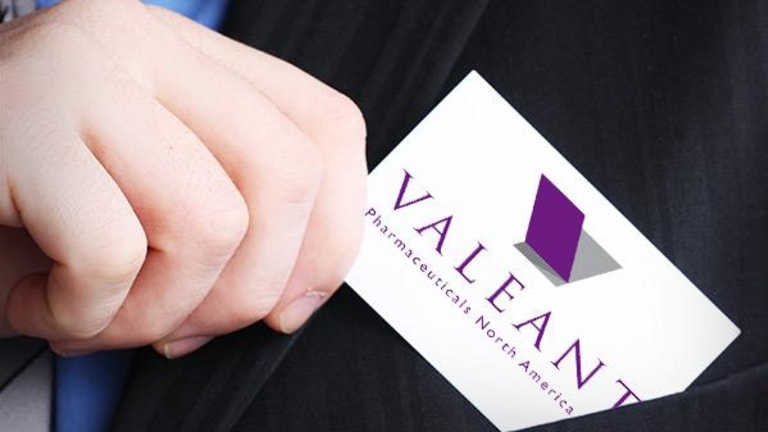 Valeant Shares Still Reeling From Ackman Exit
Bill Ackman's Pershing Square took a $2.8 billion loss on the investment.
Valeant (VRX) shares continued to tumble Tuesday following the announcement that Bill Ackman's hedge fund Pershing Square Capital Management has exited its investment in the company.
Shares fell 12.3% Tuesday, hitting $10.62 apiece and putting even more pressure on the already struggling healthcare company. They have plummeted hugely from a high of about $262 a share in August 2015.
Still, Wall Street was stunned when Ackman pulled his stake in Valeant late Monday, as previously he had insisted that Pershing remained committed to a turnaround at Valeant.
"Considering all of Pershing's efforts to create a turnaround situation with the new management team, we believe this 'throwing in the towel' at these levels sends a poor signal regarding the road ahead for Valeant," analyst Gary Nachman of BMO Capital Markets wrote in a note.
Valeant was active last week, first announcing on March 6 that it paid down $1.1 billion in senior secured term loans after closing the sale of its skincare assets to L'Oreal SA. Just a few days later, though, Valeant revealed a new loan offering of approximately $2.5 billion. The company's pile of debt remains somewhere near $30 billion.
Ackman did not signify whether this factored into Pershing's decision. In a statement, he said the investment represented a disproportionately large amount of time and resources, so he decided to sell the investment and realize a large tax loss.
Ackman's loss is about $2.8 billion in total. Ackman will remain on the board at Valeant until the company's next board election.
"We still think it's hard to interpret Pershing's decision at this time as anything but a realization that this turnaround situation may end up taking a lot more time and perhaps have greater challenges than originally anticipated," Nachman wrote.
Valeant has been struggling for over a year now. In October 2015, short-seller Andrew Left of Citron Research alleged Valeant and Philidor, a mail-order pharmacy and one of its customers, had engaged in a secret relationship to improperly hike revenues.
But the company's struggles did not stop there. Last March the company blamed its former CFO and former controller, Howard Schiller, for misstatements of earnings. Schiller left the company, but it continued to flounder.
Valeant has since been scrutinized for its alleged accounting problems and steep price hikes on drugs it acquired.
Valeant declined comment on the news. The company will present at Barclays Global Health Conference on March 15 at 8:30 a.m.