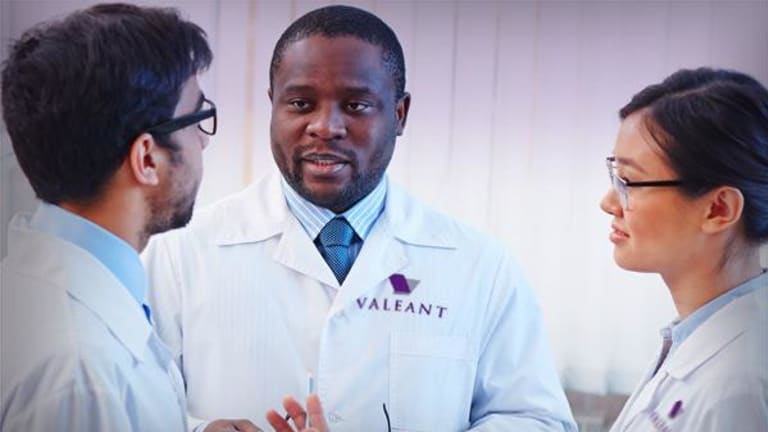 Valeant Shares Close Below $10 for First Time Since 2008
Can the drugmaker bounce back?
Valeant (VRX) shares slumped to their lowest trading prices since 2008, and continued to fall Wednesday even as the company attempted to woo investors with debt refinancing and the divestiture of its skincare assets.
Valeant shares closed at $9.52 apiece Wednesday afternoon, falling approximately 6.4% from market's open. The company fell approximately 5% Tuesday during trading hours as well. At one point the company had been valued at as much as $252 per share in 2015.
Valeant's last few days have been particularly worrisome for the company, but it's difficult to pinpoint what specifically is driving the selloff. Additionally, dipping below the $10 marker is a move some analysts, like Wells Fargo's David Maris, have written is one that particularly discourages investors.
Valeant, a Laval, Quebec-based drugmaker, has been floundering for over a year thanks to questions initially raised by short seller Andrew Left of Citron Research in 2015. He wrote a scathing report alleging that Valeant and its mail-order pharmacy Philidor, along with one of its customers, had engaged in a scheme to improperly raise revenues.
Then in March 2016, Valeant blamed its former CFO and former controller, Howard Schiller, for misstatements of earnings. Schiller left the company, as did former CEO J. Michael Pearson. Valeant has since been scrutinized for its alleged accounting problems and steep price hikes on drugs it acquired.
Pearson had also completed a series of acquisitions that bolstered Valeant's price to a high of nearly $252, but had been funding them with debt.
The company is now mired in nearly $30 billion in debt. Valeant refinanced that debt earlier in March, and its stock price popped as a result. But that share pop wasn't enough for Valeant to keep its head above water.
Since then, Pershing Square fund manager Bill Ackman pulled his entire stake from Valeant, taking a $2.8 billion loss. While activist investor ValueAct Capital bought up some of the shares Ackman divested, it wasn't enough to turn around the company's stock.
Pearson has also managed to make a reappearance in Valeant's struggles. Pearson on March 28 filed a suit in the U.S. District Court of New Jersey claiming that the Canadian drugmaker has refused to pay him for the three million shares he is owed.
Pearson is alleging that he is owed 580,676 shares and 2.5 million performance shares due November 3 under the terms of his separation agreement. Pearson stepped down back in May 2016. The lawsuit also alleges Valeant also owes $180,000 to Pearson for consultation fees.
According to the lawsuit, Valeant officials responded to requests from Pearson and his legal team by saying that making a payout would be "inappropriate."
This, as Valeant revealed that its CEO Joseph Papa took home a combined $62.7 million. This included a base salary of $980,769 a bonus worth $9.125 million and stocks and options worth nearly $52 million.
Most recently, Valeant filed a proxy form late Monday addressing investor concerns about this compensation. This filing came ten days after the company initially revealed Papa's compensation, causing investor outcry.
According to the company's most recent filing, Papa's pay package "reflects appropriate and customary terms for recruiting a sitting CEO at a major company." His compensation included a mandatory purchase of shares of Valeant worth $5 million when he was hired. He is required to hold those shares for multiple years.