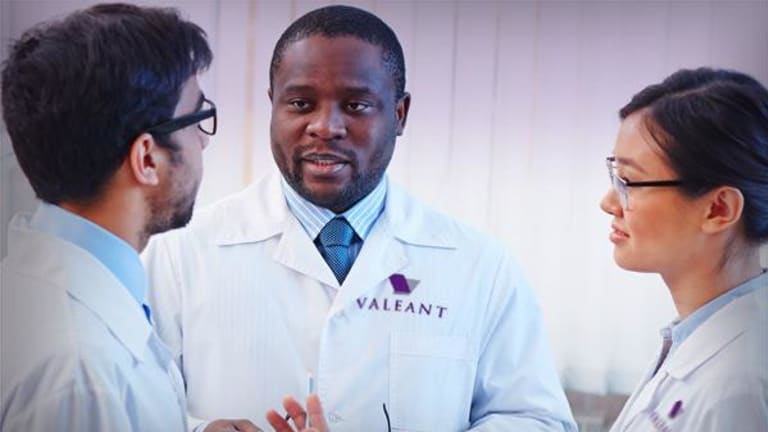 Valeant Gets Rocked as Investors Weigh Ability to Drive Organic Growth
The company also has a huge pile of debt hanging over its head.
Valeant (VRX) shares closed down more than 14% Tuesday after the company reported declining sales in the fourth quarter and provided guidance that was below expectations in certain areas.
The Laval, Quebec-based drugmaker's shares fell to about $14.35 apiece after it reported a 13% drop in sales during the fourth quarter  attributable to existing products. The drop came after the company closed up 3.2% Monday.
Still, the company reported better-than-expected results for the quarter. Valeant reported non-GAAP earnings per share of $1.26, as compared to consensus estimates of $1.20. The company reported revenues of $2.4 billion, as compared to estimates of $2.34 billion.
Though analysts suspect the company will reduce its $29 billion debt pile by about $5 billion in the coming year through divestitures, the company has a plethora of issues it must still overcome, including stagnant organic growth.
"It still doesn't appear that management has a realistic outlook on its organic growth," analyst Irina Koffler of Mizuho Securities wrote in a note.
Koffler noted that Valeant executives predicted 2% to 5% growth in its brand prescription business in 2017 despite 12.1% year-over-year declines. The company also predicted 5% to 7% growth in its Bausch & Lomb franchise despite flat performance.
"Bausch & Lomb/the international segment appears to be faring okay now," Umer Raffat of Evercore ISI wrote in a note. "It grew 2% year over year organically in the fourth quarter."
Growth for Bausch & Lomb was flat in the third quarter.
"Keep in mind Valeant did add $13 million in new revenues in Bausch business in the fourth quarter from acquisitions," Raffat added.
Valeant's guidance for Ebitda was also lower than expected. The company guided adjusted Ebitda of $3.55 billion to $3.7 billion, which is lower than consensus estimates of $3.88 billion.
"This lower Ebitda guide could drive weakness in the stock today, in our view," Koffler wrote in a note.
Part of Valeant's organic growth plans include the relaunching efforts to push its "female Viagra" drug, Addyi, company officials announced during Tuesday's conference call. 
The company previously doubled the price of the drug after acquiring it. Valeant had planned to distribute Addyi through its mail-order pharmacy, Philidor, but then cut ties with the company amid allegations that it altered doctor's orders to squeeze more money out of prescriptions.
The issues facing Valeant continue to highlight what has been a tumultuous past two years for the drug company.
In March 2016, the company pinned the blame on its former CFO and former controller, Howard Schiller, for misstatements of earnings. The drugmaker has since been scrutinized for its alleged accounting problems and steep price hikes on drugs it acquired during years of acquisitions fueled by debt. This, combined with its relationship with Philidor and its customer, R&O Pharmacy, as well as its legal but questionable accounting gamesmanship, caused Valeant's valuation to plunge.
Valeant's market value is now $5.7 billion despite efforts to cut costs and divest noncore businesses.
The company, last January, began a string of divestitures by selling its Valeant Group Cosmederme to Intega Skin Sciences, a subsidiary of Knight Therapeutics and Bloom Burton for undisclosed terms. And just last month, the company sold several skincare assets to L'Oreal for $1.3 billion in cash.
Valeant had been in talks with bankers to consider the sale of Salix, a move it confirmed at the beginning of November. However, buyers for that division have yet to surface. Raffat previously noted that technically, Valeant's IDP-118, a drug in phase III trials for psoriasis treatment, could be divested. And Koffler previously wrote in a note that she expects Valeant to divest its dental business as well as its interests in "select geographies."
Editor's note: This story was originally published at 9:30 am. and has been updated with details from the conference call and afternoon stock prices.