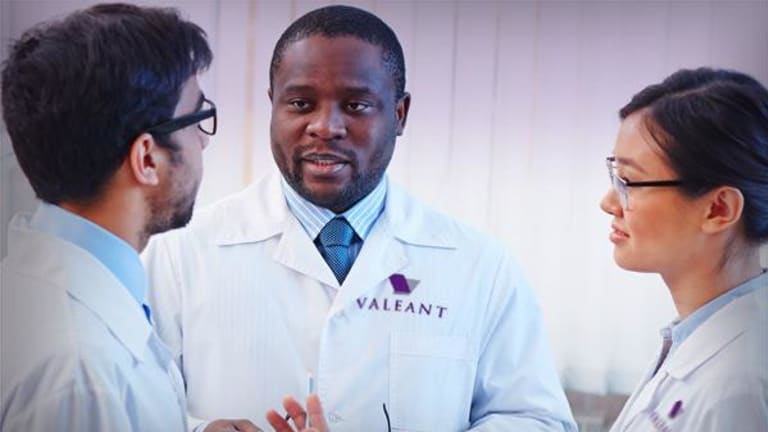 Valeant Shares Dive on Reports of New Debt
The Laval, Quebec-based biotech announced that it would pay down $1.1 billion in debt Monday.
Shares of  Valeant (VRX)  struggled Monday after the company announced it paid down $1.1 billion in senior secured term loans after closing the sale of skincare assets to L'Oreal (OR) . 
Valeant's shares fell 4.98% Monday, hitting $12.41 apiece. This is likely thanks to news reported by Reuters, that the company plans to line up a separate $3.06 billion incremental term loan as part of a debt restructuring. 
The Laval, Quebec-based biotech still has about $27.9 billion in debt after paying off this small piece. 
According to its announcement, Valeant will refinance and amend its existing credit agreement, borrowing new term B loans and issuing new debt securities. This will extend the maturity date of the revolving credit facility and term B loans that were expected to expire in 2022. It will also repay outstanding term A loans and remove maintenance covenants on term B loans and facilities. 
Valeant will also use the refinancing to repay a portion of its outstanding 6.75% senior notes due next year. 
If the refinancing is completed, it's expected to close in the first quarter of 2017. 
How should you play markets in March? Here's what Jim Cramer and four of our top columnists recommend.
Valeant has been struggling since last March, when it pinned the blame on its former CFO and former controller, Howard Schiller, for misstatements of earnings. The drugmaker has since been scrutinized for its alleged accounting problems and steep price hikes on drugs it acquired during years of acquisitions fueled by debt. This, combined with its concerning relationship with Philidor and its customer, R&O Pharmacy, as well as its legal but questionable accounting gamesmanship, caused Valeant's valuation to plunge. The company's shares have lost 80% of value since March 2016.
Valeant's market value is now $4.35 billion despite efforts to cut costs and divest noncore businesses.
The company, last January, began a string of divestitures by selling its Valeant Group Cosmederme to Intega Skin Sciences, a subsidiary of Knight Therapeutics and Bloom Burton for undisclosed terms. And just last month, the company sold several skincare assets to L'Oreal for $1.3 billion in cash.
Valeant had been in talks with bankers to consider the sale of Salix, a move it confirmed at the beginning of November. However, buyers for that division have yet to surface. Raffat previously noted that technically, Valeant's IDP-118, a drug in phase III trials for psoriasis treatment, could be divested. And Koffler previously wrote in a note that she expects Valeant to divest its dental business as well as its interests in "select geographies."
Valeant representatives could not be reached for immediate comment Monday.