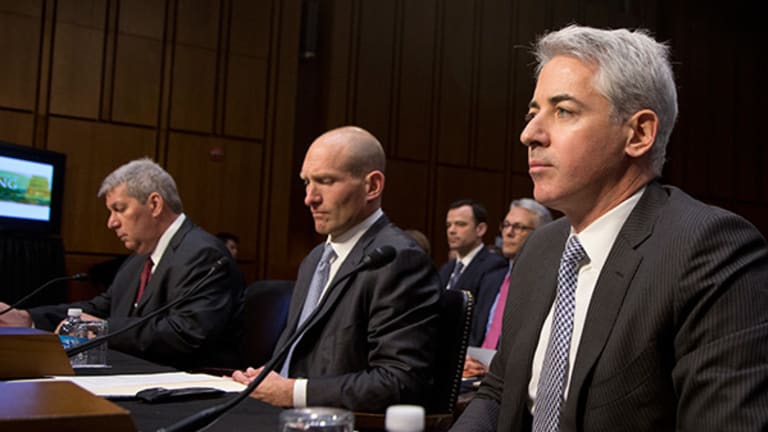 Publish date:
Valeant's Share Price Tumbles, Even as Papa Reiterates Plans for Divestitures
Some analysts say the company could be worth a second look, though, as they expect top line growth.
Some analysts say the company could be worth a second look, though, as they expect top line growth.
After reporting lower-than-expected earnings Tuesday, Valeant's (VRX) new CEO Joseph Papa reiterated that he planned to divest the company's non-core assets.
These reiterations, though, did little to quell investors' concerns about the company, and shares fell nearly 15% Tuesday, to $24.67.
Papa highlighted what he believes is the best solution to pay down the company's debt - divestitures - during the company's Tuesday morning earnings call.
"[M&A] can certainly generate cash to pay down debt and it can reduce some of the complexities of our business," Papa said in the Laval, Quebec-based company's earnings call on the morning of June 7.
Papa added that these divestitures will be both in products and geographic areas.
According to analyst Raghuram Selvaraju of Rodham and Renshaw, Obagi, the company's skincare product division, or Dendreon, which makes Provenge, a prostate cancer drug (and which Valeant bought out of bankruptcy) are likely to be some of the non-core assets it decides to slough off.
"Valeant should not be a seller in a desperate situation," Selvaraju said. "No one will offer Valeant anything near an appropriate price. They had best take it on the chin with those assets that are poor quality."
He added that if Sanofi's (SFY) - Get Report $9.3 billion hostile bid for Medivation (MDVN) fails to pan out, the company could look to buy Dendreon.
Papa, who was appointed CEO a month ago, previously announced that the company would look to divest its non-core assets on May 23 at the UBS Global Health Conference, again citing the complexity of Valeant and debt as major reasons for the divestitures.
Valeant's shares plunged Tuesday following the news that the company was reporting adjusted earnings per share of $1.27, 7% below estimates. The company's GAAP earnings per share were $1.08.
"Its core business is being eviscerated while its sales force falls apart," founder of TheStreet Jim Cramer said.
The company also cut its earnings guidance for the year by about 24%, from $8.50-$9.50 per share, which it estimated in March, to $6.60-$7, which it estimated Tuesday.
"The company has put itself in a position where they have to deliver on these expectations or they're going to be in serious trouble," Selvaraju said. "From our perspective it's not an auspicious start to Papa's tenure as a CEO."
Selvaraju noted that Rodman and Renshaw had one of the lowest estimates on the street, with $7.60 projected earnings per share for the year. Valeant's lowered guidance just less than a dollar lower than that.
"The first quarter's results reflect, in part, the impact of significant disruption this organization has faced over the past nine months," Papa said in a press release.
Valeant, which was once the pharmaceutical industry darling, began to falter in March when it slashed its earnings guidance, shocking the market.
About a month later, the company revealed government probes into its operation, particularly an investigation into its relationship with mail order pharmacy Philidor Rx Services and Philidor customer R&O pharmacy, as well as how it reported earnings.
Following the accounting missteps, Howard Schiller, who resigned as CFO in June of 2015 and was interim CEO in the beginning of 2016, said he would not seek re-election to the board. The company also said it would appoint three new board members. Since then, Valeant has also replaced its distribution with one from Walgreen (WBA) - Get Report, but according to Papa, things aren't quite smooth sailing between the two.
"The dermatology segment was most likely benefiting from the Philidor relationship," analyst Tim Chiang of BTIG said. "They dismantled that." According to Chiang, this could be why the dermatology sector is now struggling.
Cramer provided more detail on why the segment is faltering, noting that competition is fierce in the industry.
"Allergan (AGN) - Get Report is eviscerating Valeant," Cramer said, pointing specifically to the company's dermatology products. "All that Valeant has is Restylane and that's a Juvederm competitor."
Despite this competition and guidance cuts, Selvaraju still believes investors could give Valeant a look.
"Even with the reduced guidance and unsure forward expectations, this company seems to be undervalued," he said. "I don't understand why it continues to trade as if there was a default risk."
He added that he expects top line growth by year's end, and that the company is trading at an extremely low price. It may be worth that extra look.