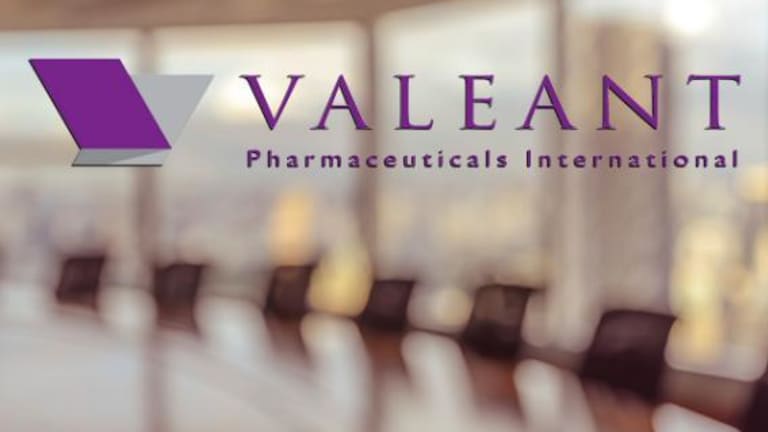 Valeant Plummets on Reports of Salix Takeover Breakdown
Valeant shares fell Wednesday on news that talks with Takeda to take over Valeant's Salix unit have broken down.
Valeant shares fell Wednesday on news that talks with Takeda to take over Valeant's Salix unit have broken down.
More bad news has come down the pike for Valeant Pharmaceuticals (VRX)
The drugmaker's shares fell more than 8% Wednesday on reports that its talks with Japan's Takeda Pharmaceuticals (TKPYY) to sells its Salix division have broken down.
Valeant shares fell about 9%, or $1.56 per share, to $15.58 mid-morning Wednesday on a Wall Street Journal report that the sale was on ice.
Takeda has been rumored to be an interested buyer for Salix, Valeant's gastroenterology business, since the beginning of November. Rumors said the Japanese pharmaceutical company could pay up to $10 billion for the unit. 
Neither Valeant nor Takeda could be reached Wednesday to confirm the reports. However, Valeant previously confirmed that it is in discussions to sell multiple assets, not just Salix. 
The news is dismal for Valeant investors who were looking for the Laval, Quebec-based company to sell the division to keep the company afloat and lighten its massive debt load. 
"Given the amount of uncertainty this speculation has created for the company and its employees, we would hope to hear closure on this issue soon," Deutsche Bank analyst Gregg Gilbert wrote in a note. "On the surface, it is not a 'no-brainer' to sell what could be a [growing] and durable business."
Meanwhile, Valeant announced Nov. 29 that it is expanding its sales force for its drugs Xifaxa, which treats irritable bowel syndrome with diarrhea and Relistor for opioid induced constipation. 
While an expansion sounds good on the surface, competition is likely to enter the market soon, making the move useless down the line. 
"We think that the expansion is a reasonable, but ultimately futile," Mizuho analyst Irina Koffler wrote in a Wednesday note. 
This is the latest in a long string of news keeping Valeant in the spotlight. 
The drugmaker has been under the microscope for its alleged accounting problems and steep price hikes on drugs the company acquired during years of acquisitions fueled by debt.
Valeant has seen its valuation suffer thanks to allegations relating to its relationship with mail-order pharmacy Philidor Rx Services and Philidor's customer R&O Pharmacy, as well as the company's legal but questionable accounting gamesmanship. Valeant in March pinned the blame on its former CFO and former controller, Howard Schiller, for its misstatements of earnings.
On Nov. 17, the U.S. Department of Justice announced charges against former Valeant and Philidor executives for engaging in "a multi-million dollar fraud and kickback scheme." Gary Tanner, a former executive at Valeant, and Andrew Davenport, the former CEO of Philidor were charged. 
Valeant has a market cap of $5.37 billion.