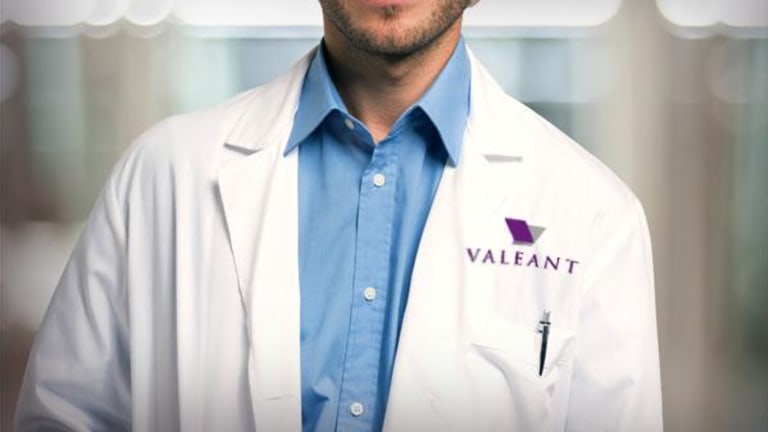 Valeant Plummets After Revealing Jaw-Dropping Payday for Its CEO
Investors are ticked off about the CEO's bonanza amid dismal results.
Valeant's (VRX) shares fell 5% Monday and continued to slump Tuesday after the company released details on executive compensation.
Valeant's shares were down 2.87% Tuesday, fallen to $10.17 apiece.
Why the fall?
The Laval, Quebec-based drugmaker filed a proxy form late Monday addressing investor concerns about executive compensation. This filing came 10 days after the company filed an initial proxy form, which showed that its CEO Joseph Papa took home a combined $62.7 million. This included a base salary of $980,769 a bonus worth $9.125 million and stocks and options worth nearly $52 million.
This was while Valeant's stock lost nearly 62% of its value over the past year.
According to the company's most recent filing, Papa's pay package "reflects appropriate and customary terms for recruiting a sitting CEO at a major company." His compensation included a mandatory purchase of shares of Valeant worth $5 million when he was hired. He is required to hold those shares for multiple years.
In addition to sharing more detailed information on Papa's compensation, Valeant officials highlighted his accomplishments from 2016, including building a new leadership team, and "improving relationships" with shareholders, debt-holders and customers like Walgreens (WBA) .
The board, as a result, rewarded Papa with a bonus of 50% of his annual target incentive.
It makes sense that Papa is paid a lot - as Akash Tewari of Evercore wrote in an email - Valeant officials "need to offer good compensation in order to retain and hire talent at this point."
Not to mention, much of the compensation is held in the company's stock, which means Papa's salary is tied to the company's performance.
The company has also approved director pay reductions that it says will "ensure good firm governance and director independence." The annual equity retainer for directors was reduced from $375,000 to $250,000 per person. Meanwhile, a cash retainer was increased by $25,000 to $100,000.
Additionally, the share ownership requirement was changed to be five times the annual cash retainer. According to Valeant officials, the median compensation for a Valeant director will decrease by more than 20%.
This detailed information comes one week after former Valeant CEO Michael Pearson filed a suit in the U.S. District Court of New Jersey alleging that the company refused to pay him for the three million shares he is owed.
Pearson is alleging that he is owed 580,676 shares and 2.5 million performance shares due November 3 under the terms of his separation agreement. Pearson stepped down back in May 2016. The lawsuit also alleges Valeant also owes $180,000 to Pearson for consultation fees.
Valeant responded to Pearson previously by citing Valeant's poor performance as a reason to avoid making these payments.
Trending news on TheStreet: