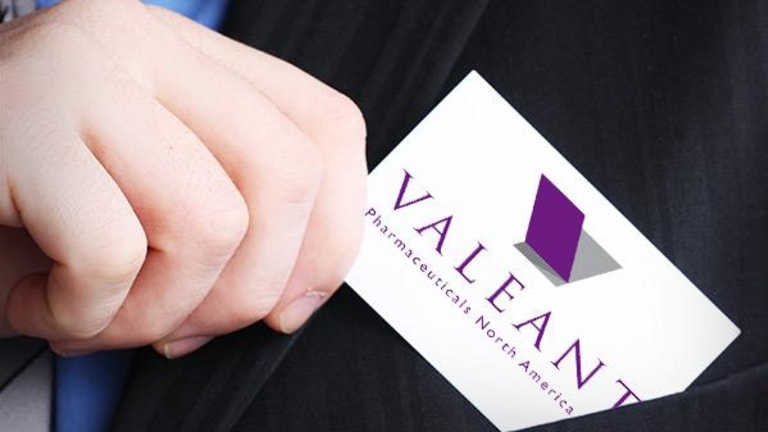 Valeant Launches Loan Offering Days After Paying Down $1.1 Billion in Debt
This offering puts Valeant's debt at roughly $31 billion.
Just days after paying down $1.1 billion in debt, embattled biotech Valeant (VRX) is taking out $2.5 billion more in senior secured notes. 
The company's shares were trading at heavy volume just after opening bell Thursday. At the time of writing, the shares were hovering around $11.79 apiece, down nearly 1% from market's open. 
The notes are being offered privately to institutional investors in two tranches: one matures in 2022, the other in 2024. According to Valeant's press release on the matter, it will use the proceeds from this capital raise to pay off other loans, and to finance a tender offer of up to $600 million from its outstanding 6.75% senior notes due next year.
The latest offering puts Valeant's debt at around $31 billion.
Valeant made the announcement as Morgan Stanley analyst David Risinger cut the company's price target from $17 per share to $12 per share. 
According to Risinger, there may be positives ahead that result from this refinancing. "Valeant has stated that it is in the process of refinancing some of its debt, and we understand that in conjunction with doing so the company may be able to adjust or eliminate Term B secured debt maintenance covenants," he wrote in a note. "Valeant may also be able to adjust covenants in its $1.5 billion revolving credit facility, including lowering the thresholds."
Valeant has been struggling for about a year now. Last March the company blamed its former CFO and former controller Howard Schiller for misstatements of earnings. The drugmaker has since been scrutinized for its alleged accounting problems and steep price hikes on drugs it acquired during years of acquisitions fueled by debt.
This, combined with its concerning relationship with Philidor and its customer, R&O Pharmacy, as well as its legal but questionable accounting gamesmanship, caused Valeant's valuation to plunge. The company's shares have lost 82% of value since March 2016.
Irina Koffler, analyst at Mizuho Securities, said she expects the company's value to continue to plunge and recommends selling the stock. Koffler has a $9 price target on the stock. 
"We expect revenue will continue to decline and model a contraction in OpEx as the company divests assets, shrinks and focuses on debt repayment," Koffler wrote in a note. 
Valeant likely will continue a string of divestitures it began last year. Last January, the company sold its Valeant Group Cosmederme to Intega Skin Sciences, a subsidiary of Knight Therapeutics and Bloom Burton for undisclosed terms. And just last month, the company sold several skincare assets to L'Oreal OR for $1.3 billion in cash.
Valeant confirmed in November that its in talks with bankers about selling Salix, but buyers have yet to surface. 
Koffler said by phone Wednesday that she believes the company could sell selectively from its Bausch & Lomb portfolio, including its international business, surgical instruments or consumer segments. Outside of Bausch & Lomb, Koffler said, the company could look to sell its dentistry assets.
Valeant officials did not respond to multiple requests for comment.