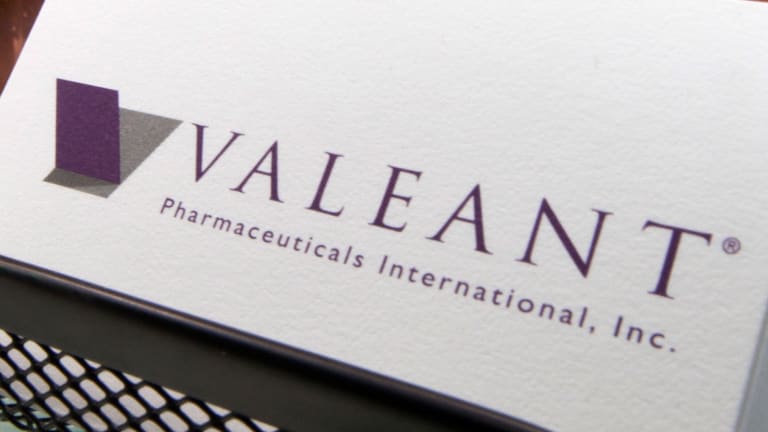 Valeant's Explosive Gains Make the Stock Look Buyable Again
Valeant has long been a stock that nobody wanted to touch -- but drama-free earnings and a bullish breakout move are actually making this stock look buyable in the final stretch of 2017.
It's been a frustrating year for shareholders of Valeant Pharmaceuticals International Inc. (VRX) -- in the past 12 months, shares of this $4.8 billion drug maker have shed about a third of their value.
Then again, that 12-month performance looks downright tame compared to the selloff that's dragged shares around 95% lower from their 2015 peak. Simply put, any risk-averse investors have avoided this stock like the plague -- and wisely, too.
Thing is, Valeant's third-quarter earnings show that it is starting to look like a company again, not just a sideshow. And after underperforming for a prolonged period of time, it might finally be time to think about becoming a buyer in this beaten-down drug maker.
Valeant earned adjusted profits of $1.06 per share during the quarter, besting the 89-cent earnings that Wall Street was expecting, on average. The firm also maintained its guidance for the rest of the year, as well as achieving moderate sales growth numbers for its biggest drug, gastrointestinal treatment Xifaxan.
But earnings are only a part of the story here. There's even more to be gleaned from the approximately 16% rally shares saw in reaction to them.
To figure out how to trade Valeant from here, we're turning to the chart for a technical look.
Valeant has been trading in a relatively "choppy" range all year long, with the latest clear trend taking shape back in July. Shares had been stuck in a well-defined downtrending channel between shares' peak back in the summer and the start of November, but Tuesday's big earnings reaction rally is potentially about to kick off a change in trend here.
At this point, the breakout above the top of Valeant's channel is minor -- shares started Tuesday's session within the range, but quickly broke through trendline resistance. Confirmation of the breakout later this week would be a major buy signal for shares.
A side-indicator that's confirming the possibility of a change in trend in Valeant at this stage is momentum, measured by 14-day RSI up at the top of the chart. Momentum indicators like RSI tend to become range-bound when prices trend higher or lower -- that was the case with VRX's most recent downtrend as our momentum gauge stayed boxed within the blue rectangle on the chart. The break above that range in RSI with Tuesday's price move provides some extra evidence that what we're seeing may be buyable.
At this point, it makes sense to wait for an open clearly above VRX's downtrend tomorrow before pulling the trigger on a buy here. After under-performing the rest of the pharma sector all year long, Valeant could finally be ready to make up for lost time.
Here's why a former Apple CEO is making a big bet on healthcare:
More of What's Trending on TheStreet:
This article is commentary by an independent contributor. At the time of publication, the author held no positions in the stocks mentioned.