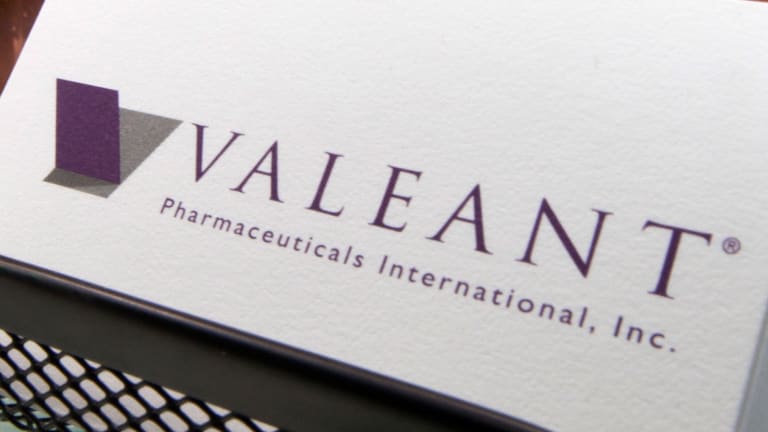 Valeant Defends Business Practices, Investors Take Sides
Two Valeant investors, one long, the other short, offer their views for what happens to the stock in the months ahead.
Valeant Pharmaceuticals (VRX) says all of its accounting practices and financial dealings with specialty mail-order pharmacy Philidor Rx Services are legal and appropriate. However, Valeant's board of directors is forming a special committee to review allegations made against the company about its business arrangement with Philidor, the company said.
These allegations include Valeant employees working at Philidor using fake names, as reported by the Wall Street Journal.
Armed with 90 Powerpoint slides on a long, Monday morning conference call, Valeant executives and board members tried to convince investors and analysts there was nothing improper or unusual about its relationship with Philidor. Valeant also insisted its roll-up business model -- acquire smaller drug companies, strip out excess costs, and raise the prices of the remaining drugs -- can still generate significant growth. There's no need to significantly invest in drug research or development, the company said.
"The worst-case scenario that Valeant was booking fake revenue through Philidor is off the table," said one institutional money manager, explaining to me why he's buying a long position in Valeant. [His fund's compliance rules prohibit him from speaking on the record to the media.]
"Valeant's directors were on that call attesting to the fact that there was nothing fraudulent going on," he said. "That was comforting to me."
It's still possible that Valeant's special board committee finds something wrong with the way Philidor dispensed the company's drugs, but the punishment for fix for this would be relatively small, he said.
"You make money by taking advantage of hysteria, as long as you're willing to ride out the volatility over the long term," he added. "Twelve months from now, my bet is that Valeant's stock price will be higher than where it trades now."
The opposing, bearish view on Valeant comes from another Wall Street money manager. He was short Valeant going into the recent slide in the stock, and he's covered some of that position, but all told, remains short Valeant.
"From today forward, to make significant money on a Valeant short probably requires more shoes to drop," he says, referring to new allegations of financial improprieties or government regulators raiding the company's offices. "I don't know what the odds of that happening are, but they are definitely not zero," he says. [His fund's compliance rules also prohibit him from speaking on the record to the media.]
Even without more explosive charges against it, Valeant will be challenged to conduct business as usual, this investor believes, because regulators, insurance companies, pharmacy benefits managers and journalists are all taking a closer look at the company. Finding companies willing to be acquired -- which Valeant still needs to fuel its future growth -- will also be more difficult.
"Maybe [Bill] Ackman steps in and takes Valeant private, but outside of him, I find it hard to believe there are many other investors will want to own this stock now given all the risks," he says.
Valeant shares are down 1% to $115.17 on Monday.
Adam Feuerstein writes regularly for TheStreet. In keeping with company editorial policy, he doesn't own or short individual stocks, although he owns stock in TheStreet. He also doesn't invest in hedge funds or other private investment partnerships. Feuerstein appreciates your feedback; click here to send him an email.