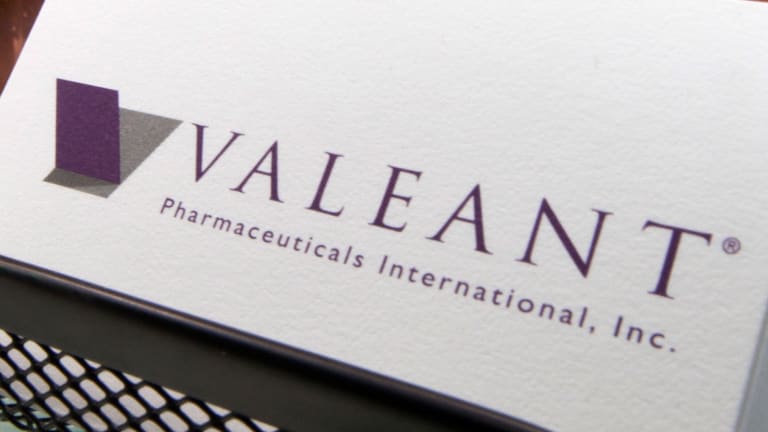 Valeant CEO: Drugmaker Knee-Deep in 'Turnaround Effort of a Lifetime'
With the stock of the drugmaker hovering around $23 a share and its reputation bloodied, CEO Joe Papa tried to explain his company's comeback efforts to investors.
Valeant Pharmaceuticals International Inc. (VRX) , a company that carries around a tattered reputation, is showing signs of tossing off that image thanks to a turnaround campaign.
At the JPMorgan Healthcare Conference on Wednesday, Jan. 10, CEO Joe Papa tried to sell his company's journey from drug price gouger to comeback player as the "turnaround effort of a lifetime."
Papa showed how Valeant had shed $6.5 billion in debt since the end of 2016's first quarter, mostly through divesting some 13 noncore businesses and pulling down $3.8 billion from the transactions. Besides deleveraging its balance sheet by selling off assets, Valeant also bought itself time to improve the company's performance by restructuring its longer-term debt, pushing off maturity dates and locking in security by changing out adjustable interest rates.
None of the company's nearly $26 billion in debt now is set to come due before 2020.
The company's bedrock business sectors, Bausch & Lomb and Salix Pharmaceuticals, are expected to generate growth rates that dovetail with Valeant's turnaround goals. The company wanted vision care specialist B&L to grow 5% to 7%, and it turned in a 6% increase in organic growth. Salix, focused on gastrointestinal and dermatology health, grew at a rate of 6% in the third quarter.
Papa said his company is in the second of a three-phase cycle. Following a stabilization stage in 2016, Papa said Valeant is knee-deep in a turnaround and that he hopes it will soon emerge into the last segment of transformation. The latter phase is labeled "2018+" in a version of the presentation filed with the Securities and Exchange Commission.
Part of the company's turnaround will be seeking to capture more of the U.S. market. Valeant derives 72% of its business from overseas, and it is the No. 1 vision care brand in China.
While vision care and gastrointestinal products and sales are improving, Papa confessed that the company's Ortho Dermatologics business is lagging in the comeback effort. But the company is pumping resources into the sector, growing its dermatology sales force by 25%.
Valeant grew its business and stock price via a nontraditional route, forsaking internal research and development as too expensive, instead acquiring mature products and taking on debt. The company ratcheted up drug prices and worked with Philador Rx Services LLC, a secretly related specialty pharmacy. In 2015, a Deutsche Bank study showed the company had jacked the prices on more than 50 drugs by as much as 66%, making it a poster child for runaway drug prices.
Short investors began using the term "fraud" to describe the company's growth, even as Bill Ackman of hedge fund Pershing Square Capital Management LP ran interference and the company received subpoenas from the feds. The SEC opened a Valeant probe. In 2016 a pair of former Valeant executives were arrested on fraud charges.
The company has settled or seen dismissal of more than 70 lawsuits springing from its Wild West days. During Valeant's investor presentation, Papa pointed to the settlement last month of a lawsuit by Valeant springing from its unsolicited takeover try along with Pershing Square of Allergan plc (AGN) - Get Report as an example of his company moving on. While Valeant was originally on the hook for 60% of the costs of the action, it is now picking up just 33% at a cost of about $100 million, which Papa said will be paid via the company's insurance.
The CEO said his company is back in the R&D business and looking to grow from development of new offerings and increasing portfolio products. As an example of Valeant's desire to grow organically, Papa pointed to seven current products that in the aggregate totaled about $100 million in sales. But over the next five years, the company believes the same group will see total sales jump to $1 billion.
Valeant shares on Wednesday afternoon were down 2.2% to $23.34. The stock has gained 42.4% over the past 12 months.
Allergan is a holding in Jim Cramer's Action Alerts PLUS Charitable Trust Portfolio. Want to be alerted before Cramer and the AAP team buy or sell AGN? Learn more now.
More of What's Trending on TheStreet: