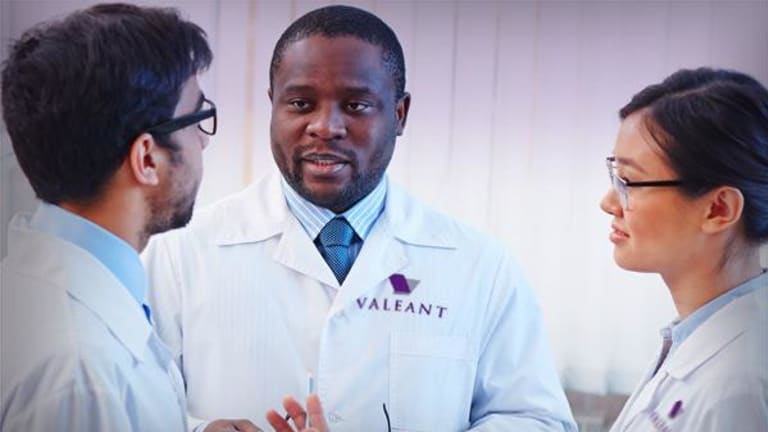 Valeant CEO Compensation Revealed, Shares Climb
CEO Joseph Papa takes home approximately $62.7 million yearly.
Valeant's (VRX) proxy form, filed Thursday, March 23, revealed far more than news that it will not seek replacements for Bill Ackman and other board members who will leave their positions at the end of 2017.
Perhaps most shocking for some investors was the high take home pay of CEO Joseph Papa. According to the proxy filing, Papa took home a combined $62.7 million. This included a base salary of $980,769, a bonus worth $9.125 million and stocks and options worth nearly $52 million.
This was while Valeant's stock lost nearly 62% of its value over the past year.
While there was quite an outcry on Twitter over Papa's pay, Valeant's stock made positive moves on the news Thursday. The company's shares were up 2.5% from market's open, hitting $10.95 apiece at the time of writing and continuing to climb.
It makes sense that Papa is paid a lot - as Akash Tewari of Evercore wrote in an email - Valeant officials "need to offer good compensation in order to retain and hire talent at this point."
Not to mention, much of the compensation is held in the company's stock, which means Papa's salary is tied to the company's performance.
The filing also served as an announcement to shareholders that the company's annual meeting will be held on May 2. At the meeting, shareholders will vote on ten directors to lead the company's board in 2018.
The directors proposed in the filing include ten incumbents. The three directors, including Ackman, who previously said they planned to step down, will not replaced. Worth mentioning is the board's diversity problem -- just two women serve on the 10-person board. The board also includes no people of color.
Studies show that companies with more than three women on boards outperform their peers, meaning adding more diversity to Valeant's board could help to pull it out of the embattled position the company has put itself in.
Valeant has been struggling since 2015, when short seller Andrew Left of Citron Research wrote a scathing report alleging that Valeant and its mail-order pharmacy Philidor, along with one of its customers, had engaged in a scheme to improperly raise revenues.
Meanwhile, last March Valeant blamed its former CFO and former controller, Howard Schiller, for misstatements of earnings. Schiller left the company, but it continued to flounder.
Valeant has since been scrutinized for its alleged accounting problems and steep price hikes on drugs it acquired.
Most recently, Pershing Square fund manager Ackman pulled his entire stake from Valeant, taking a $2.8 billion loss.
ValueAct Capital, another activist firm, picked up some of the shares Ackman divested just days later.
Also of note Thursday, RBC Capital Markets analyst Douglas Miehm cut Valeant's price target from $20 to $18 per share. It seems, however, that this did not move the needle on Valeant's stock performance.
Shares have fallen from a high of $262 apiece in August 2015.