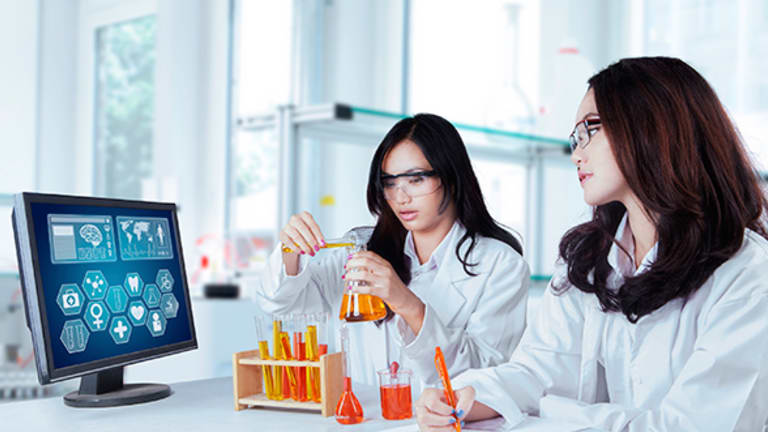 Valeant Acquires Eyegate Licensing Rights
The company paid $4 million up front for the licensing rights for Eyegate's drop device.
Valeant (VRX) has scooped up the licensing rights to microcap Eyegate's (EYEG) - Get EyeGate Pharmaceuticals, Inc. Report eye drop device
According to the terms of the deal, Valeant will pay Eyegate $4 million up front and up to $99 million in royalties. CEO Stephen From emphasized during a call with TheStreet that the deal is worth more than a hundred million dollars.
As a result, Eyegate shares more than doubled in value Tuesday, hitting $3.73 apiece. The shares were up 125% from the company's Friday close price. Valeant's shares, meanwhile, were up 2.09%, hitting $16.38 apiece Tuesday.
The companies inked an initial deal in August 2015, which gave Valeant rights to the device, EGP 407. This new deal is for a different indication - cataract treatment. The first was for treatment of uveitis. 
According to From, the company plans to use royalties from this sale to work on developing other compounds, like an eye drop that uses hyaluronic acid, which is the same compound used as a skin filler in cosmetic surgeries. 
"We'll focus our energy on that in the clinic," From said by phone Tuesday. "We'll focus a lot of our energy on this eye drop."
The deal is an interesting move given what Papa said at the J.P. Morgan Healthcare Conference he said earlier this year.
"We've done a lot of M&A in the past," Papa said at the conference. "That's not going to be something we're looking at in the future."
Regarding growth of assets in 2017, Papa said at that conference that the pharmaceutical company would concentrate on specialty-driven markets including dermatology, eye care and gastrointestinal. This was in response to the company's struggles, which began last March.
Valeant's problems began in March 2016, when the company pinned the blame on its former CFO and former controller, Howard Schiller, for misstatements of earnings. The drugmaker has since been scrutinized for its alleged accounting problems and steep price hikes on drugs it acquired during years of acquisitions fueled by debt.
Meanwhile, problems with its relationship with mail-order pharmacy Philidor Rx Services and its customer, R&O Pharmacy, as well as its legal but questionable accounting gamesmanship, caused Valeant's valuation to plunge.
Papa took the helm at Valeant during the spring of last year, and From said he noticed a change in how the company operated. 
"My first deal was done with [J. Michael] Pearson, my second is with Papa," From said by phone. "I can see looking outside in, what he's doing with Valeant is amazing."
Valeant has on the other side of the dealmaking table for about a year now, making several divestitures in hopes of bringing up the company's valuation.
In January of last year, Valeant began a string of divestitures by selling its Valeant Group Cosmederme to Intega Skin Sciences, a subsidiary of Knight Therapeutics and Bloom Burton for undisclosed terms. And just last month, the company sold several skincare assets to L'Oreal (OR) for $1.3 billion in cash.
Valeant reports earnings on Feb. 28. The company will appear at two healthcare conferences as well-at RBC Capital Markets' Healthcare Conference on Feb. 23, and at Barclays Global Healthcare Conference on March 15.
Eyegate engaged Burns & Levinson as legal advisers on the deal.