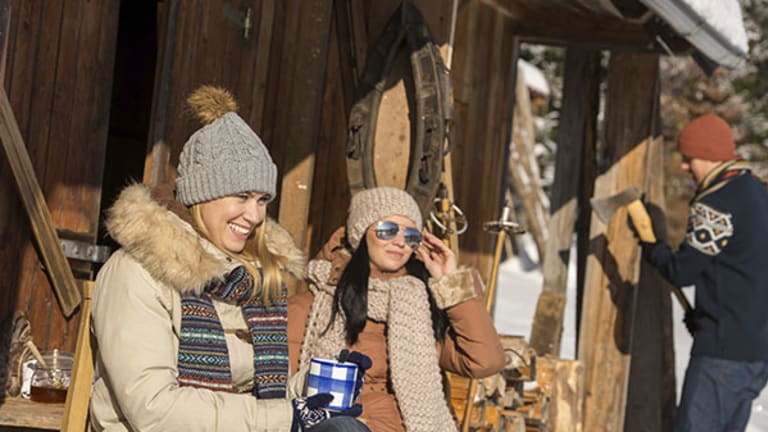 Vail Resorts' Park City Sales Boosted by Australian, Mexican Travelers
Park City CEO Bill Malone said the resort hedges against warmer weather through season pass sales, largely bought by international travelers from Australia and Mexico.
Vail Resorts' (MTN) - Get Report recent acquisitions - a $1.06 billion purchase of Canada's Whistler Blackcomb and a $136 million buyout of Australia's Perisher - is bringing an increasing amount of international travelers to its U.S. destinations and, somewhat surprisingly, many of those guests are from Mexico.
Not surprisingly, due to the company's EPIC season pass, which can be used at any resort under Vail's umbrella from California to Canada, international travelers at the Park City, Utah, destination are mostly from Australia - as Perisher season pass holders take advantage of the free range, said Park City CEO Bill Malone.
However, Malone said Mexico is the second country that Park City experiences the largest wave of guests from.
There are questions surrounding what effect the soon-to-be President Donald Trump will have on international travel - particularly from Mexico and the Middle East - as during his campaign, Trump proposed barring Muslims from entering the U.S. and building a wall along the U.S. border with Mexico.
While Malone said he does not foresee a negative effect stemming from Trump's presidency - and even praised him for suggesting that the U.S. host the Olympics again, alluding to when the 2002 Winter Olympics was held in Salt Lake City - the Mexican people are not so confident.
Mexican dance group Grupo Folklorico - made up of middle- and high-school children from Instituto Blaise Pascale in Oaxaca - cancelled a scheduled April trip to Palo Alto, Calif., last week due to "the socio-political situation in the U.S.A." Too many parents were fearful of sending their children to the U.S. under a Trump presidency, the dance group told the Huffington Post last Friday, Dec. 9.
"I think our business would do well no matter which candidate was elected," Malone said.
Meanwhile, season passes - largely bought by international travelers because they essentially pay for themselves in six ski days - have helped Park City hedge against the rise in global temperatures.
Adults can purchase the EPIC season pass for $769 while children receive the pass for a $399 discounted price. An adult single-day ticket costs $124 and a child single-day ticket amounts to $79.
Park City had to delay its slope opening by eight days this year due to warmer weather in November but because people primarily purchase season passes - and book their stay at Park City in May - ahead of the ski season, the company did not experience much of a profit loss.
Park City delayed its slope opening from Nov. 18 to Nov. 26.
The average person spends about $400 a day on other activities at the ski resort including concert events and "paddleboard yoga," where people can take yoga classes in 95-degree water in the nearby 10,000-year-old Homestead Crater, Malone said.
"With global warming predicted to raise winter temperatures four to 10 degrees Fahrenheit this century, ski resorts must deploy new tactics to prevent economic loss," Malone said. Park City invests heavily in new technology related to snow making, to ensure even in warmer years its profits will not suffer.
Malone added that November sales make up only an estimated 4.7% of Park City's total annual revenue.
Shares of Vail slipped leading up to the company's first quarter earnings report on Dec. 9 due to some investor concerns that it would lower guidance because of November's warmer-than-expected weather. The company instead reiterated its full year EBITDA guidance range between $567 million and $597 million.
November results "represent a relatively small portion of our revenues for the ski season," Vail CEO Rob Katz said on the company's earnings call.
Malone said Park City's peak months are January, February and March.
Shares of Vail rose just under $1 to $161.41 on Friday afternoon.