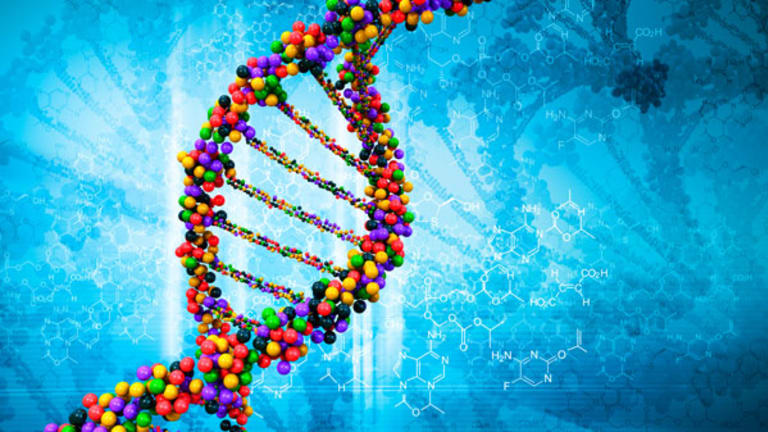 Using Re-Engineered Immune Cells to Kill Leukemia Induces Lasting Remissions
A new form of cancer immunotherapy known as CAR-T promises to radically change the way certain blood cancers are treated.
A new form of cancer immunotherapy known as CAR-T promises to radically change the way certain blood cancers are treated.
SAN FRANCISCO (TheStreet) -- Treatment with re-engineered immune cells designed to kill leukemia has led to complete remissions in more than 90% of a small group of children and young adults with an aggressive form of the disease enrolled in an ongoing, early-stage study.
More than two-thirds of the patients remain cancer free six months following treatment and 75% of patients are still alive, said researchers from the University of Pennsylvania and Novartis (NVS) - Get Report , speaking during a media briefing Saturday at the American Society of Hematology (ASH) annual meeting taking place here.
This new form of cancer immunotherapy, which scientists refer to as CAR-T for the receptor added to killer T cells in the lab, promises to radically change the way certain blood cancers are treated. CAR-T therapies are also generating tremendous commercial and investor interest. The UPenn-Novartis joint venture is competing with Juno Therapeutics, a red-hot private company expected to price a $150 million initial public offering early next year.
Other CAR-T companies include Kite Therapeutics (KITE) and a joint venture between Celgene (CELG) - Get Report and Bluebird Bio (BLUE) - Get Report .
The study updated today enrolled 39 children and young adults with relapsed, treatment-resistant acute lymphocytic leukemia (ALL). After the experimental UPenn-Novartis treatment known as CTL019 was given, 36 of 39 patients, or 92%, went into complete remission, meaning there was no evidence of disease in their bodies. Six months after receiving CTL019, 70% of patients remain cancer free, and only five patients have required subsequent treatment. Seventy-five percent of the patients are still alive.
"With this longer followup, we now have children who remain in remission a year or more after treatment solely because of this T cell therapy," said lead study investigator Dr. Stephan Grupp of The Children's Hospital of Philadelphia. "Our next step is to conduct a Phase II, multi-site trial to assess the safety and efficacy of this treatment in multiple centers and to further evaluate its long-term potential to become a replacement for stem cell transplant for children with relapsed, treatment-resistant disease."
CAR-T therapies are personalized for each patient. The process starts by harvesting T cells from the patient's blood. In a lab, scientists add a chimeric antigen receptor (CAR) to the surface of the T cells. This receptor allows the T cells to recognize a protein known as CD19 found on the most leukemic cells. The T cells are also programmed to multiply once attached to the CD19 protein. Once this engineering work is done, the T cells are infused back into the patient where they seek out and destroy leukemic cells.
CAR-T is not without risks. All the patients who respond suffer from severe flu-like symptoms resulting from the engineered T cells attacking leukemic cells. In some cases, the side effects are life threatening unless managed carefully.
The commercial process necessary to make personalized CAR-T treatments is complex and may not be as profitable as off-the-shelf cancer treatments. Dendreon (DNDN)  went bankrupt, in part, because of the difficulty making and selling a personalized prostate cancer vaccine. 
And when researchers have tested CAR-T therapies in other blood cancers like chronic lymphocytic leukemia, the response rates have not been as robust as those seen in acute lymphocytic leukemia.
Additional studies involving the use of CTL019 in other blood cancers will be presented later during the ASH meeting. Juno and Kite Therapeutics are also presenting data on their respective CAR-T therapies during the meeting.
Adam Feuerstein writes regularly for TheStreet. In keeping with company editorial policy, he doesn't own or short individual stocks, although he owns stock in TheStreet. He also doesn't invest in hedge funds or other private investment partnerships. Feuerstein appreciates your feedback;
to send him an email.