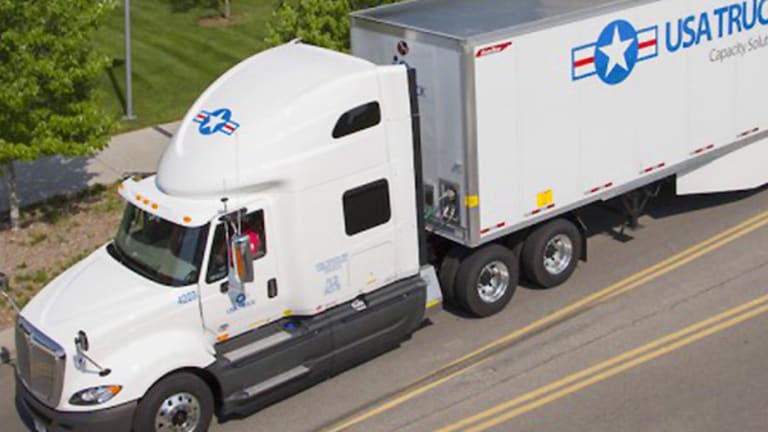 Publish date:
USA Truck's Troubles Could Invite Activist Scrutiny, Again
The company, which has survived a hostile bid and an activist campaign in recent years, could face new pressure if new management can't accelerate results quickly
The company, which has survived a hostile bid and an activist campaign in recent years, could face new pressure if new management can't accelerate results quickly
USA Truck (USAK) - Get USA Truck, Inc. Report in recent years has navigated past a hostile takeover bid and activist incursions. The company needs to hit the floor the accelerator quickly if it wishes to avoid further potholes.
The Van Buren, Ark.-based trucking firm on Tuesday reported a fourth-quarter loss of 25 cents per share, well below consensus for a two cent per share loss, rounding out what has been a miserable 2016 for the company. The USA Truck board in late January moved to shake things up, ousting CEO Randy Rogers after just a year on the job and replacing him with CFO James Reed.
Shares of USA Truck fell more than 16% on Tuesday following the earnings announcement, recovering to trade up about 5% by Wednesday midday.
A rough road is nothing new for USA Truck, which was put in play in 2013 when Knight Transportation (KNX) - Get Knight-Swift Transportation Holdings Inc. Class A Report launched a hostile bid for the company. USA Truck rejected that offer as too low, and Knight eventually agreed to a standstill provision in return for an end to the litigation between the companies.
In May 2014 a pair of activist firms, Baker Street Capital Management and Stone House Capital Management, reached their own deal with USA Truck which gave the firm two board seats. Though Baker Street exited in 2015 Stone House remains a shareholder, with a 7.8% stake as of November 2016, and Thomas Glaser, one of the activist-backed nominees, continues on the USA Truck board.
Stone House founder Mark Cohen did not respond to requests for comment.
CEO Reed, who joined the company as chief financial officer in November, on a call with investors Tuesday called the results "unacceptable" and pledged to return USA Truck to profitability this year.
"The USA Truck management team understand that we must execute and accelerate the pace of change at the company," Reed said. "Our results have been unacceptable, and we are looking forward to leading USA Truck into the future on a much faster path."
Reed on the call said USA Truck's strategy is "sound," but said, "our execution and pace have not been." He said the company was focused on extracting costs by cutting non-productive overhead, including the number of idled trucks, reconfiguring its branch office structure and slashing annual salary and benefit expenses by $600,000 so far.
The company is also focused on strengthening its balance sheet in part by slowing the pace of fleet renewal, but at the same time hopes to bring down maintenance costs despite having an older fleet. USA Truck officials hope to accomplish this in part by making sure the company's oldest trucks are parked unless demand spikes.
Should the turnaround not go as planned, a new activist campaign or a fresh takeover bid could emerge. Spurned suitor Knight Transportation during its late-January conference call said it has "a meaningful amount of capacity" for additional investments and M&A.
CEO David Jackson in response to a question about consolidation said that M&A among truckers has slowed because uncertainty about future demand has made would-be buyers gun-shy. But he refused to rule out doing deals in the future.
Analysts have targeted the second half of 2017 for a recovery in the trucking business. Although results at various companies this reporting season might make early 2018 more likely, the window Jackson was discussing for acquisitions could soon be opening. Should USA Truck continue to struggle, further detours could be on the horizon.