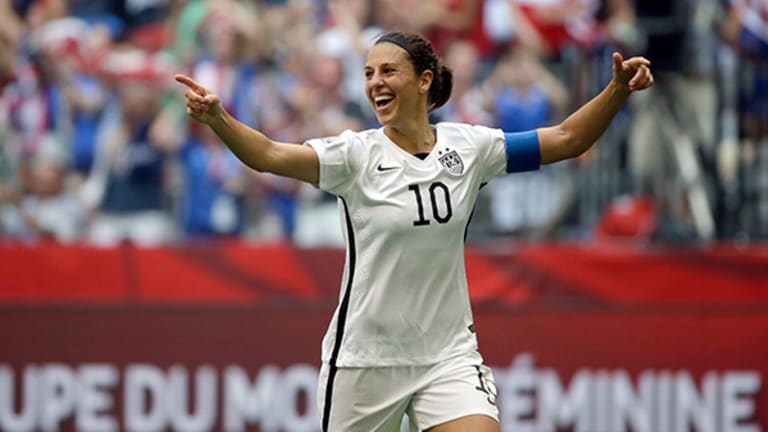 Publish date:
U.S. Women's Soccer Team Looks to Score Off the Field, Too
This year's World Cup champions might best 1999's squad as a high point for U.S. women's soccer in terms of marketability and sponsorships.
This year's World Cup champions might best 1999's squad as a high point for U.S. women's soccer in terms of marketability and sponsorships.
NEW YORK (TheStreet) -- Move over, Mia Hamm.
On Sunday the U.S. Women's Soccer Team won the World Cup for the first time since 1999, when Brandi Chastain and Mia Hamm were among the first generation of women's soccer players in the world to net major brand sponsorship deals.
But 2015 might yet best 1999 as a peak for U.S. women's soccer off the pitch, too.
The audience for women's soccer and the appetite of corporate sponsors to reach women and their soccer-playing children has expanded since the team won its last FIFA World Cup 16 years ago. In the U.S. and around the world, more women are playing soccer and more people are watching it on television -- not to mention sharing posts about teams and players on social media.
Still, while the 2015 champions have a better chance at scoring endorsements than any U.S. women's soccer team before them, brands looking to capitalize on players' new name recognition face a narrow window before memories of the tournament fade.
Early estimates
suggest this year's final was the most-watched soccer match in U.S. television history, for either men or women, with
Twenty-First Century Fox'  (FOXA) - Get Fox Corporation Class A Report
Fox
network hitting a peak of 22.86 million viewers during the broadcast. And besides its growing TV audience, the U.S. women's team has a platform it didn't in 1999: social media, which can reel in casual fans that would have missed women's soccer matches otherwise.
Social media "helps people to find a game when they wouldn't otherwise see it," said Chris Bevilacqua, a sports media industry analyst and co-founder of Bevilacqua Helfant Ventures. "That's how they get people interested in consuming something on impulse."
But brands will have to act quickly if they want that social media audience to see their ads, said Darren Heitner, a sports entertainment attorney and owner of Heitner Legal.

"It's very similar to Olympic athletes," said Heitner. "In a month or two it'll be football season and most people will not be thinking about women's soccer."
"Who knows how long Carli Lloyd will continue to have name recognition?" he added. "Right now she's the biggest athlete in the country, male or female, but it'll become increasingly hard for her and her representatives to command big dollar deals."
That short time window gives an edge to brands that have done their homework and can move swiftly after the final whistle, said Simon Wardle chief strategy officer at Octagon, which includes sports marketing for advertising holding company Interpublic Group of Companies, Inc. (IPB) - Get INDEXPLUS Trust 6.0518 % Index Plus Trust Ctfs 2003-15.5.33 Series 2003-1 Report.
"It's great to have a thanks or congratulatory creative prepared," wrote Wardle in an email. "But what differentiates the good sponsors from the great sponsors are ones which have brand-centric creative prepared that can be rolled out quickly and perceived by consumers as real-time marketing."
Despite a two-year lull between this World Cup and the next Olympic games, there will still be more chances to watch women's soccer in 2015. The U.S.-based National Women's Soccer League will end its third season this fall; in Europe, England, France and Germany boast some of the world's most competitive women's soccer leagues.
Those contests could tempt brands with international reach to sponsor women's soccer players, said Marty Conway, a faculty member in Georgetown University's Global Business of Sport program.
Many of the current official sponsors of U.S. soccer are international companies including AT&T (T) - Get AT&T Inc. Report, Anheuser-Busch-InBev (BUD) - Get Anheuser-Busch InBev SA/NV Sponsored ADR Report, Coca-Cola (KO) - Get Coca-Cola Company Report, Johnson & Johnson (JNJ) - Get Johnson & Johnson (JNJ) Report, Marriott (MAR) - Get Marriott International, Inc. (MAR) Report, Mondelez (MDLZ) - Get Mondelez International, Inc. Class A (MDLZ) Report, Nike (NKE) - Get NIKE, Inc. (NKE) Report and Powerade.
"If I'm a brand manager, the question I might ask is, 'Globally, can Carli Lloyd or Abby Wambach or Alex Morgan help me outside the U.S. as well as inside?' And I think the answer probably is yes," said Conway.
Besides international companies, niche brands trying to target women and families might see women's soccer players as worthy spokespeople, added Conway.
"One of the great opportunities is in health and wellness, which didn't exist in '99," said Conway, referencing the mixture of tech startups like FitBit (FIT) - Get Fitbit, Inc. Class A Report and health-conscious foods that have enjoyed rapid growth since 1999. "If you would have looked at this space 16 years ago, it would have been the Wheaties box. But now, look at the products that have replaced them as the poster child for wellness."
Carli Lloyd, who scored a hat trick in the championship match, is currently endorsed by Usana Health Sciences (USNA) - Get USANA Health Sciences, Inc. Report and just last week signed a sponsorship deal with Visa through the 2016 Olympics.
Her teammate, Alex Morgan, a breakout forward from the 2011 World Cup, is among the most-marketable players on the U.S. squad with
, according to
ESPN
.