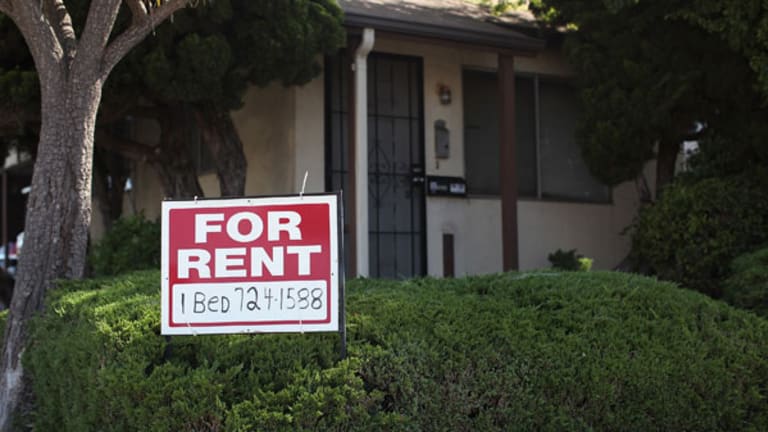 U.S. to Become A Nation of Renters: Morgan Stanley
Analysts predict the business of buying single family homes and renting them out could grow to a $100 billion market in a few years.
NEW YORK (
) -- The business of buying single-family homes and converting them into rentals is not just a short-term, opportunistic bet on rising home prices.
It is a sustainable business model that could grow into a $100 billion market opportunity over the next few years from $17 billion currently, according to analysts at Morgan Stanley.
Single- family rentals is not a new business. According to analysts at KBW, from 1973 to 2011, single-family rentals constituted 10-12% of occupied housing and 31-35% of occupied rentals.
But this has been a unique period of opportunity for investors in the single-family rental space. A historic level of distressed homes for sale, price declines that have made housing remarkably cheap and high demand for rental units amid constrained credit conditions have combined to create an unprecedented opportunity for investors to buy vacant, foreclosed homes in bulk and rent them out.
Institutional investors with deep pockets have swarmed into the business, with private-equity player
Blackstone
(BX) - Get Report
leading the charge.
But the untested business model and the considerable operating risk have many doubting the
.
Housing bears fear that these big investors will pull out of the housing market once competition increases and returns dry up and
first-time homebuyers and trade-up buyers
who have been squeezed out of the market may still not step in to fill the void.
Morgan Stanley is optimistic, however. For one, they expect homeownership to continue to decline for the next few years and the renting class to increase. Converting distressed stock to rentals will help meet this growing demand.
Secondly, while the yields currently are modest at 5% to 6% after capex, home price appreciation will augment cash flow yields, driving a return on capital to above 10%. Moreover, the analysts expect margins to expand over time. Rents should climb 3% to 4% while expenses grow by a slower 2%.
Another big driver would be financing. The Wall Street Journal
reported Wednesday that Blackstone and
Deutsche Bank
(DB) - Get Report
are in talks to securitize rental payments on 1,500 to 1,700 rental properties.
Securitizing payments from single-family rentals has its challenges. There is no data on the payment track record of people renting previously foreclosed homes.
But if it takes off, it could prove a "key development in the industry's life cycle" according to the analysts, as it frees up money for investors to grow faster and gives them a cheaper cost of capital.
The best way to play the opportunity in the single-family rental space is to buy single family REITs, according to the analysts.
American Residential Properties
(ARPI)
is their top pick.
Since investors spend considerable money refurbishing homes,
Home Depot
(HD) - Get Report
and
Lowe's
(LOW) - Get Report
stand to benefit. The analysts prefer Lowe's given "higher relative margin upside, stronger return of capital and more attractive valuation."
Buying U.S. banks with exposure to cities where buy-to-rent investors are active would be another way to play the opportunity. The analysts recommend
Bank of America
(BAC) - Get Report
,
SunTrust
(STI) - Get Report
and
TCB
(TCB)
-- Written by Shanthi Bharatwaj in New York.
>Contact by
.
Disclosure: TheStreet's editorial policy prohibits staff editors and reporters from holding positions in any individual stocks.