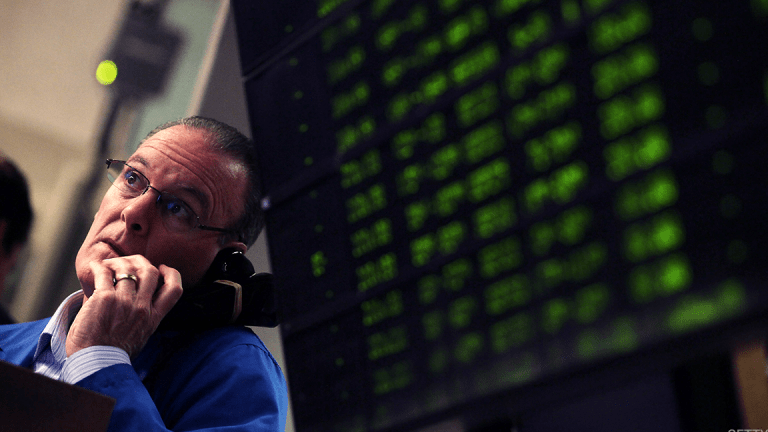 US Stocks Wobble as Investors Dump Equities Amid Trade Tensions, Valuation Risks
U.S. stocks could be closing in on an inflection point this week as global investors dump equities amid escalating trade tensions with China and question valuations in an environment of slowly accelerating inflation and rising economic risk.
U.S. stocks could be closing in on an inflection point this week as global investors dump equities amid escalating trade tensions with China and question valuations in an environment of slowly accelerating inflation and rising  economic risk. 
The S&P 500 has given back nearly 3% of its impressive year-to-date gains in the seven days that followed President Donald Trump's threat to impose steeper tariffs on Chinese imports, even as corporate earnings continued to surprise investors with stronger-than-expected bottom-line gains and near-term profit outlooks.
However, with the world's two largest economies now locked in a trade war stalemate that threatens to slow global growth and reduce risk appetite, and U.S. stocks sitting near all-time highs but trading at historically expensive valuations, investors are shedding equity risk in favor of safe-haven assets in what could be the start of a months-long rotation that would kill the longest rally in history. 
"With the S&P 500 close to its all-time high and with recent upside surprises in the macro data, the US administration might be willing to accept some pain in the markets in order to extract more concessions out of China," Bank of America Merrill Lynch said in a recent client note. "There is also the possibility that the Trump administration does not believe that the trade war negatively affected the markets."
"With the Fed clearly on hold, any near-term market pain would now be clearly attributable to the trade war," the bank added. "With election campaign season also approaching, another bout of market weakness should get the US-China deal over the finish line. However if this scenario does materialize we would see downside risks to our current growth forecasts in many regions."
In a separate note, published Friday, BAML noted that $20.5 billion in equity market outflows were recorded last week, the third largest exit of the year, with more than $14 trillion fleeing U.S. benchmarks. 
The exodus, which was paralleled by a $7.3 billion inflow into government bonds, comes amid the final throes of a surprisingly strong first quarter U.S. reporting season, where collective S&P 500 profits are expected to rise 1.3% from last year -- far ahead of the initial forecasts of a 2.9% decline -- before advancing by a similar rate over the three months ending in June.
However, U.S. stocks are also trading at historically rich valuations, with the 12-month forward price-to-earnings ratio of the S&P 500 pegged at 16.7, notably higher than the ten-year average of 15.1 and a concern for investors who may think the Trump administration could sacrifice some of the "house money" the market has earned this year in order to pressure China to cut a trade deal that favors the United States.
That reluctance may have triggered the frosty reception investors gave to Friday's debut of recently-listed shares in Uber Technologies (UBER) - Get Uber Technologies Inc. Report , which fell nearly 8% while shedding $12 billion in market value -- and extended declines in pre-market trading Monday -- amid the swirl of news surrounding U.S.-China trade talks that swung U.S. benchmarks in and out of positive territory for much of the session.
Another component of concern may come from a subtle change in language from Federal Reserve President Jerome Powell, who told reporters last month that the current environment of low inflation was likely "transitory", suggesting the central bank's dovish stance on rates -- which have been hugely supportive for U.S. stocks -- could change in the months ahead.
If the Trump administration makes good on its threat to target more China-made goods for fresh U.S. tariffs, as the President intimated this weekend, price increases on everything from furniture to consumer electronics products will likely be passed on to U.S. customers, stoking inflation concerns after April CPI data showed core consumer prices rising at a 2.1% clip.
Others, however, note the slow-moving impact of tariff decisions on growth and inflation and point to suggestions of a near-term U.S.-China trade deal as triggers for another leg up in global stock markets.
"Tariffs tend to dampen the economy at a snail's pace although the micro effects are more immediate," said Stephen Innes of SPI Management in Hong Kong. "The market consensus is still heavily biased towards a US-China trade deal, so if talks were to fall off the edge, then and only then would the market impact be tremendous".
"Markets have shrugged off the tariff announcement with little more than a stumble and investors remain optimistic that the escalation will prove short-lived and be followed soon by a Trump-Xi agreement."