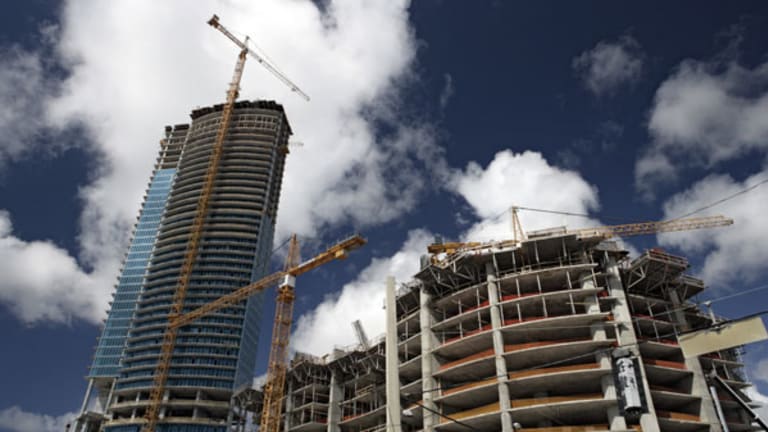 Rare-Earths Spat With China Could Be 'Slam Dunk' for U.S. Firms
President Obama's decision to file a complaint against China's rare earth export practices could be a slam dunk for companies.
Updated from 9:30 a.m. ET. Correction: China argued Article XXXVI of GATT at the July WTO Panel, not in the January Appellate Body decision
NEW YORK (
) -- Companies trading on American exchanges could be due for a sweet slam dunk on China.
Businesses that sell advanced batteries, wind turbines, hybrid cars and more advanced technologies received some promising news from Barack Obama Tuesday when the president announced the United States would challenge China's export quotas on rare-earth elements.
"If China would simply let the market work on its own, we'd have no objection," Obama said. "But their policies currently are preventing that from happening. And they go against the very rules that China agreed to follow."
China produces about 97% of the rare-earth exports exchanged on the world market, according to think tank Institute for the Analysis of Global Security, which is stunning when you realize that companies like
Apple
(AAPL)
,
Boeing
(BA)
and
Toyota
(TM)
depend on these 17 chemical elements for their products.
The United States, the European Union and Japan all requested on Tuesday consultations with China concerning rare earths tungsten and molybdenum,
according to the World Trade Organization.
The claim, essentially, is that China has deliberately limited exports of rare-earth materials to artificially raise the price on those materials, which has forced companies -- many of them American -- to pay much higher prices.
A September 2011 government
report found that China had severely under-reported its rare-earth elements quota for 2010. The Chinese government claimed to have produced some 89,000 metric tons of rare earths, but the U.S. Geological Survey found the actual number at about 130,000 metric tons.
White House press secretary Jay Carney rejected the idea at a Wednesday press briefing that the rare-earth dispute was a political move during an election year and said the move was consistent with Obama's policy since he became president.
Donald Lewis, a Stanford Law School research fellow who teaches Chinese law and international economic law, said that the president's speech was probably about both politics and sound policy.
"We don't live in a political vacuum, we all know that an extremely important presidential election is around the corner ... but there are the economic issues too," Lewis said. "There have been very substantial complaints made to the U.S. government, to the U.S. Trade Representative Office
and the Department of Commerce by American companies regarding these trade practices."
There's a real chance that the WTO will hear this complaint, which could result in formal action by the organization or a Chinese settlement.
The rare-earth elements dispute is very similar to a raw-materials dispute settlement the
WTO's Appellate Body passed in a January decision to bring China's export duty and quota measures "into conformity with its WTO obligations."
The body found China's raw materials practice inconsistent with Article XI of the General Agreement on Tariffs and Trade, which states, simply, that a party may not introduce quotas on exports. (It also found China at odds with Article VIII about fees and Article X about transparency.)
In the raw-materials case, the United States alleged China had imposed restraints on exports of materials like bauxite, magnesium and zinc, which created scarcity and caused higher prices in the global market.
Like the current U.S., E.U. and Japan complaints against China's rare earth export practices, the raw materials complaint highlighted their disadvantages to China for technology production.
"Specifically with the rare-earths case, I think that should be a slam dunk for the U.S. and the E.U. and Japan, because we've just had the raw materials export case come out in the U.S.'s favor," said Lewis.
There is one GATT rule that China could use to craft in defense of its rare-earth exports: Article XVIII, which is also known for its "infant industry" language.
This article states that developing countries can, under certain circumstances, apply quantitative restrictions and grant tariff protection in order to help establish a specific industry in economic development.
An interesting twist China argued in the earlier July 2011 WTO Panel on the raw-materials decision was for Article XXXVI of GATT. Simply, Article XXXVI defends developing countries' ability to gain an increasing share of world export activity.
You might be wondering how China's export quota practice would increase its share of world exports.
Well, China argued in the July Panel decision that by imposing an export quota it would be able to retain more of its own raw materials to be used for production by Chinese companies. The finished products made using the raw materials would then increase China's share of exports in the world market.
It is likely that China could use this same argument against the rare-earth elements dispute by the United States, European Union and Japan.
In short, Lewis said the Chinese have tried to justify derogations from the language of Article XI's general prohibition on quota restrictions.
Molycorp
(MCP)
shares rose sharply Tuesday after the president issued his remarks. Molycorp owns the largest rare-earth elements mine in the United States at Mountain Pass, Calif.; however,
the mine ceased operation in 2002 due to environmental concerns and increased competition from the company's low-cost rivals in China.
The Mountain Pass mine once supplied a majority of the world's rare-earth elements, according to Molycorp's Web site.
U.S. Trade Representative Ron Kirk said in January that the WTO Appellate Body's Jan. 30 raw materials decision was a victory for U.S. manufacturers and workers.
Should the rare-earth elements dispute be upheld or force a Chinese settlement, American industries that sell everything from cars and wind turbines to televisions, cameras and advanced batteries could be poised for another cheer. But China will certainly claim a legitimate argument.
-- Written by Joe Deaux in New York.
>Contact by
.
>Follow Joe Deaux on
. Subscribe on
.